Best Cooking Utensil Set For Home Chefs
Last updated:
December 17, 2021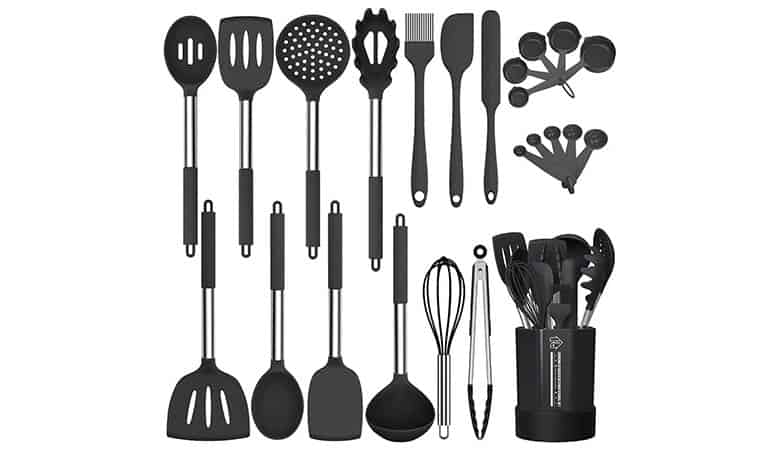 EDITOR'S CHOICE

Fungun Silicone Cooking Utensil Set
Durable Stainless Steel
BPA Free
Can Withstand up to 446°F
CHECK LATEST PRICE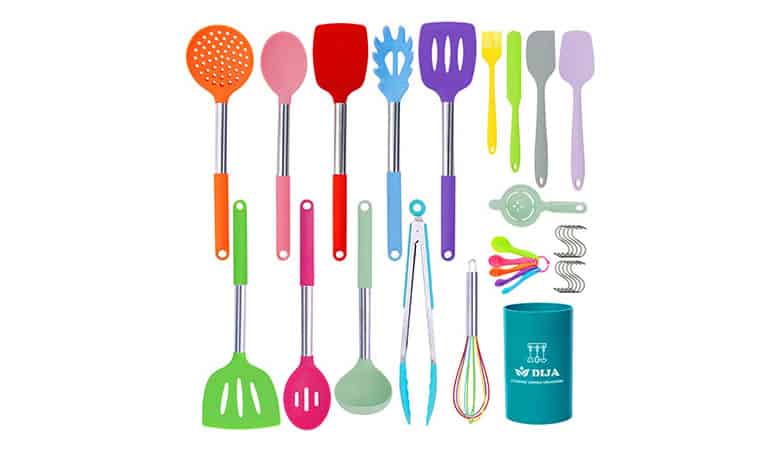 EDITOR'S CHOICE

Dija Silicone Cooking Utensils Set
S Shraped Hooks
Nylon Core
Non Slip Grips
CHECK LATEST PRICE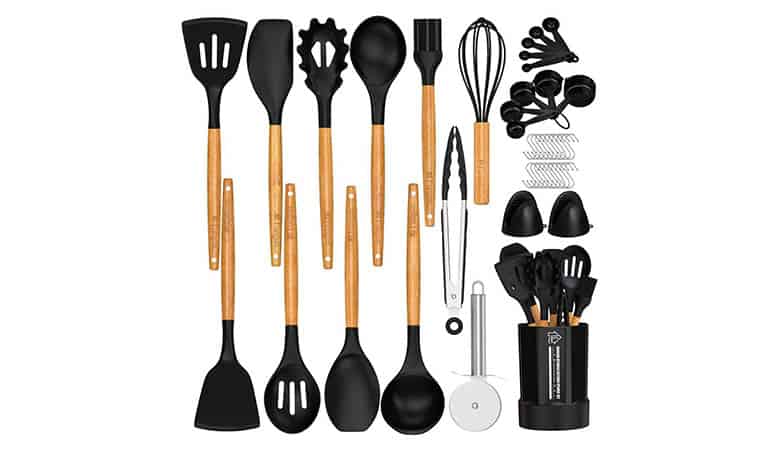 EDITOR'S CHOICE

Fungun Silicone Kitchen Cooking Utensil Set
Wooden Handles
Good Utensil Combination
BPA Free
CHECK LATEST PRICE
Whether you cook once in a while or on a daily basis, you need to have high-quality utensils at your disposal. This is not something you should take lightly because the wrong utensils can leach chemicals into your food or be uncomfortable to use.
What should you look for in cooking utensils? Utensils used in the kitchen should be durable, lightweight, and soft so that they won't scratch your expensive pans and other cookware. They should be resistant to damage so they will last a long time.
Silicone is considered to be one of the most popular kitchen utensil materials because it achieves all of the above features and more. With that in mind, read on to discover the best cooking utensil set for home chefs, along with four other options.
These utensils will give you everything you need to start cooking delicious, healthy meals while saving money on kitchen tools.
Best Overall: Fungun Silicone Cooking Utensil Set
This professional silicone set for the kitchen contains measuring spoons, measuring cups, a slotted spatula, a slotted spoon, a flexible spatula, a slotted turner, a solid turner, kitchen tongs, a pasta server, a solid spoon, a draining spoon, a soup ladle, a whisk, and a brush.
Since it's such a comprehensive set of utensils, this makes a fantastic gift for a new homeowner or a newly-married couple.
The pieces in this set are made of food-grade silicone so they're safe and they have silicone-steel handles. They're all free of BPA, so you don't have to worry about harmful chemicals entering your food. They won't break or bend, and for increased safety during use they have anti-scalding handle sleeves.
You can expose these silicone utensils to temperatures of around 446 degrees Fahrenheit without them becoming damaged, so they're ideal for various types of cooking. Their silicone protects your pans and prevents your expensive cookware from being scratched.
They come in a variety of fun colors to choose from, so you can pick the best ones to match your kitchen décor.
Runner Up: Dija Silicone Cooking Utensils Set
It comes with a slotted spatula, a skimmer spoon, a slotted turner, a solid turner, a slotted spoon, a solid spoon, a soup ladle, a pasta server, an egg whisk, an egg separator, a brush, a flexible spatula, a spoon spatula, a spreader spatula, tongs, and a holder.
These utensils are built to be durable, as they can resist heat up to 446 degrees Fahrenheit. They're non-stick and don't scratch your pans, so this is the best cooking utensil set for nonstick cookware. The utensil heads are made of a strong nylon core to prevent melting, warping, bending, and other types of damage, therefore increasing their lifespan.
These silicone utensils come with stainless-steel handles to further increase their durability and longevity. This is top-grade stainless steel that has a non-slip grid pattern so that you can hold them comfortably. While soft enough to protect your cookware, these utensils are strong and won't become rusty easily.
When purchasing them on Amazon, you can choose between a grey or multi-colored utensil set.
Alternative 1: Fungun Silicone Kitchen Cooking Utensil Set
In the set, you'll get one slotted turner and slotted spoon, a pasta server, a serving spoon, a soup ladle, a turner, a pizza cutter, a spoonula, a spatula, a basting brush, a whisk, tongs, five measuring cups, and five measuring spoons.
This set is a must for every home chef because it comes with many extra accessories in the pack. These are not always found in other utensil sets, such as silicone mini gloves for taking hot pans out of the oven, a utensils holder to organize your utensils on the counter, and hooks so that you can conveniently store your utensils in the kitchen to free up valuable counter space if you have a small home.
You can expose these durable utensils to temperatures of up to 446 degrees Fahrenheit, so they won't let you down when you're cooking up a storm. 
For increased durability, the utensils holder has a circular opening at the bottom. This keeps the utensils in good condition as it ensures they're always stored in a dry environment, which is especially important since they have wooden handles and you don't want them to become breeding grounds for mold and bacteria.
Alternative 2: Fungus Silicone Cooking Utensil Set With Copper
This copper is resistant to rust and all the pieces in this set have been coated with top-grade oil so that they will last for a long time without bending or breaking.
The silicone used in these utensils is free of toxins and doesn't contain any corroding particles. The utensil handles are well-balanced so that they feel comfortable to use during long cooking sessions. 
While the silicone utensils feel light to hold, they are non-stick and resistant to heat up to 480 degrees Fahrenheit, which is more than what you'll find with other utensils on the market, even those that are made of silicone.
The pieces included in this set are two sizes of slotted spoons, a slotted turner, a pasta server, a basting brush, a flexible spatula, a spreader spatula, a slotted spatula, a deep soup ladle, a solid spoon, a solid turner, tongs, an egg whisk, and a holder for all the items.
If you're a home chef, you might find that it's unfortunate that this utensil set doesn't have extra accessories, such as a pizza cutter or extra hanging hooks, that you will find in other kitchen utensil sets, but it gives you many basic items that you'll use regularly.
Alternative 3: Country Kitchen Silicone Cooking Utensils
This eight-piece set is made out of strong silicone and wood, and provides you with the perfect kitchen utensil set when starting out, such as if you've bought a new home or are learning how to cook.
The set includes a ladle, serving and mixing spoon, slotted basting spoon, slotted turner, spoonula, angled spatula, spaghetti server, and whisk. They're all resistant to temperatures up to 450 degrees Fahrenheit. For peace of mind, they're BPA-free so you don't have to worry about harmful toxins ending up in your food.
Since this set arrives in a box, it makes a wonderful gift for a loved one who enjoys cooking. The utensils come in three beautiful and stylish colors to suit your home décor. With their wooden handles, these cooking utensils give your kitchen a lovely rustic feeling while being durable so they will last for several years.
Having the right cooking utensils is essential to protect your pots and pans from scratches, while also ensuring that you've got heat-resistant and non-toxic kitchen tools.
With that in mind, here's what to know about cooking utensils, such as if you should choose ones made of silicone instead of other materials.
Are silicone utensil sets good?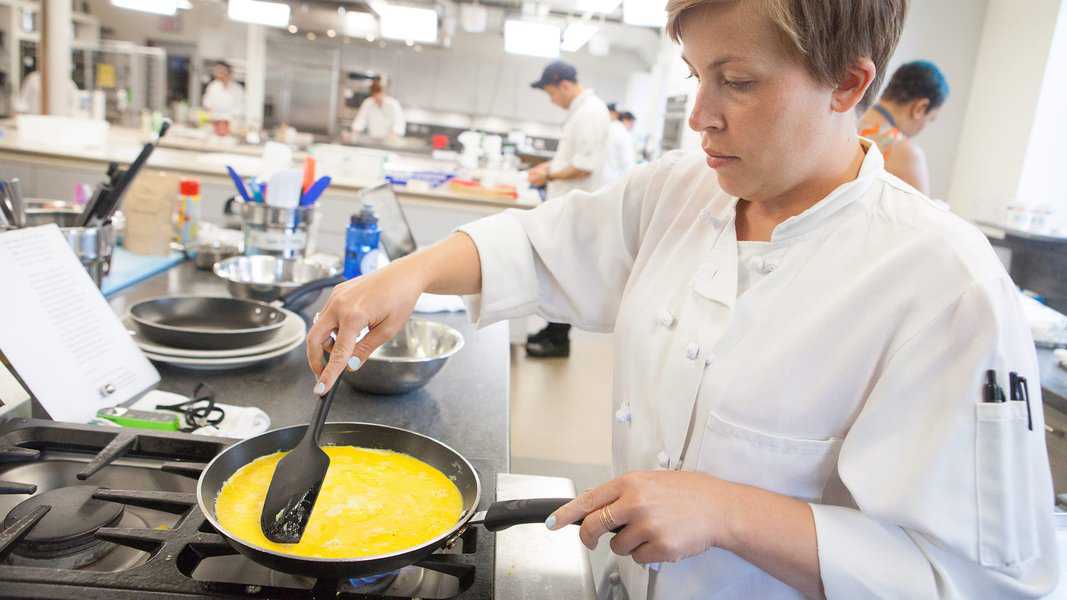 Silicone utensils are beneficial because they're heat-resistant, non-toxic, and resistant to stains.
Silicone is flexible, can be washed in the dishwasher, and very strong. Best of all, you can use silicone kitchen utensils in your cookware, such as when stirring food on the stove, without worrying about them damaging your expensive pots and pans.
Unlike other materials, such as plastic, silicone rubber doesn't react with food or produce dangerous fumes during the cooking process.
However, it's important to ensure that you purchase silicone utensils that are non-toxic. Cheaper silicone can contain harmful chemicals, so make sure that the silicone utensils are free of BPA and of food-grade quality. You should gauge the quality of silicone by smelling it – cheaper silicone will have a stronger odor than high-quality silicone – and touching it. When you pull and twist silicone utensils, they should be tough yet flexible without becoming deformed easily.
Are bamboo cooking utensils safe?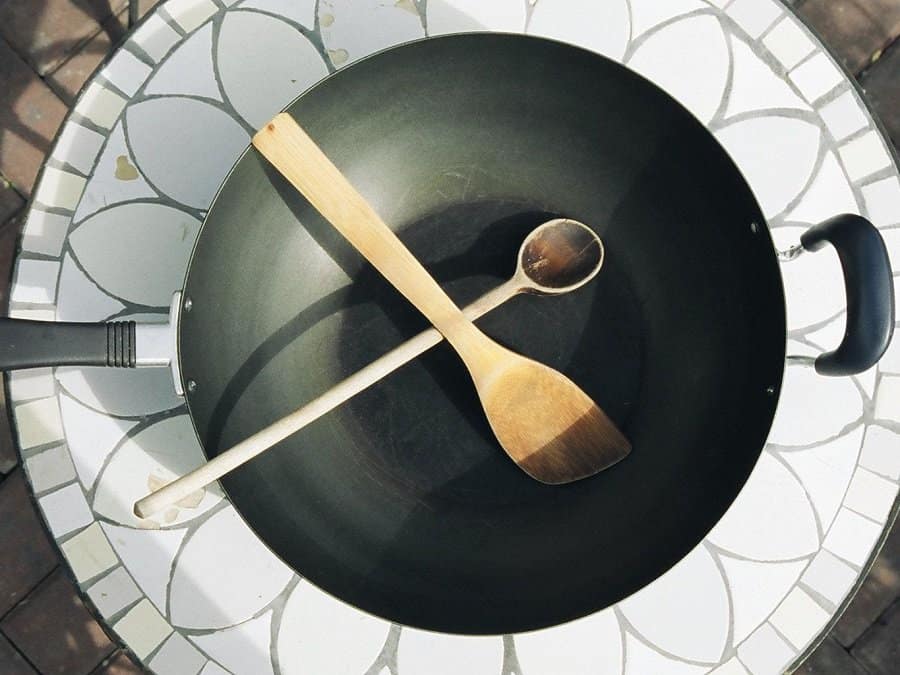 Bamboo utensils have many benefits. These include how they're lightweight, flexible but durable, and resistant to both odors and stains.
If you want to buy bamboo cooking utensils, you have to ensure they're of a high quality. This is because you can find ones that are toxic. In Europe, there have been recalls of bamboo utensils as a result of their binding agent, which is usually made up of a melamine-formaldehyde resin. This is a plastic that, when made poorly, can release toxic components that are harmful to the kidneys while also being carcinogenic.
A good tip when purchasing bamboo utensils is to choose ones that have been constructed out of solid bamboo. These don't contain harmful chemicals such as formaldehyde. This is because when bamboo is first cut into strips, it has to be glued together to form the utensils, and the glue is what typically contains the formaldehyde which you want to avoid.
What every kitchen must-have?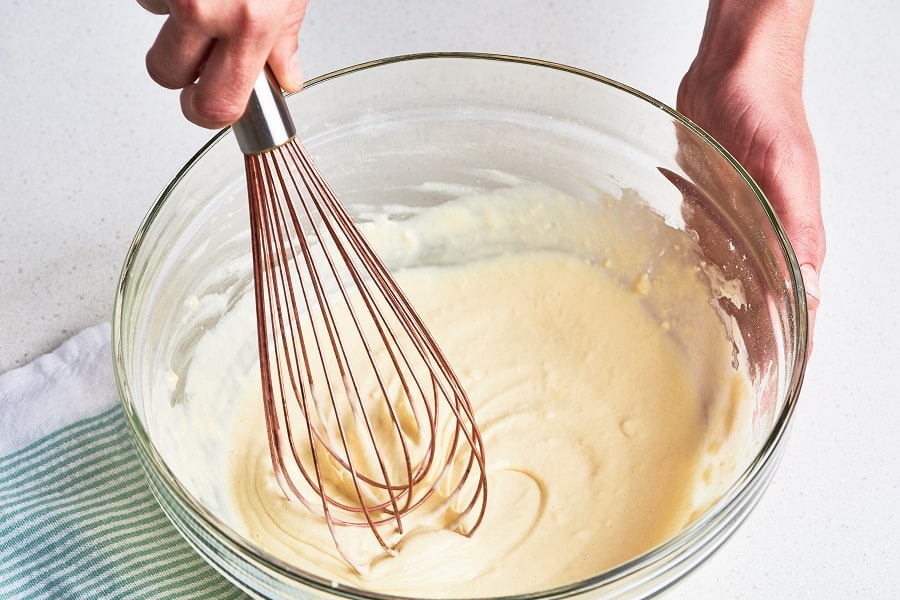 If you want to start cooking more at home, you should invest in the most important kitchen essentials. Some cooking utensils to own that you'll be able to use for cooking a variety of dishes include the following:
Measuring spoons and cups
These are essential for baking and cooking purposes, especially when you need to ensure your ingredients are in precise quantities.
Slotted spatula
This is a thin but flexible spatula that allows you to scoop deeply into pans so you can flip food such as fish, burgers, and fritters during the cooking process.
Tongs
Tongs help to keep your hands away from the heat source, while also being useful for flipping foods such as chops, chicken, and steak. You can also use them for picking up smaller foods, such as roasted veggies.
Whisk
This tool gives you a quick way to emulsify cooking ingredients like oils and vinegars, such as when making marinades. It's also useful for whisking eggs and baking.
Ladle
This can be used to scoop soups, stews, and other liquids out of a pot.
Slotted and solid turner
These are two important utensils. A slotted turner allows moist foods to be handled while it conveniently drains their excess liquid. A solid turner is great for flipping foods during the cooking process.
Spoonula
A spoonula is a blend between a spatula and a spoon because it looks like a spatula but has a spoon-like end instead of a flat end. This is a useful cooking utensil because you can use it to stir foods while they cook. The spoon gives you greater coverage while the flexible body helps you to scrape all the ingredients so that they don't burn.
What is the best material for a spatula?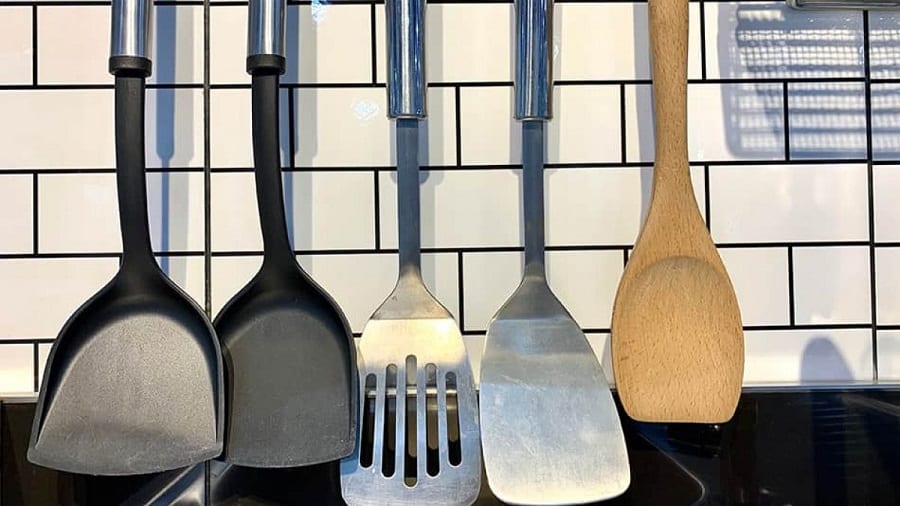 Two common materials that are used to make spatulas are wood and silicone, but you can also find spatulas in metal and plastic. All of these have pros and cons. Let's explore them.
Silicone
● Silicone spatula pros: this material is heat-resistant, gentle on your cookware because it's soft, and flexible so it makes the spatula comfortable to use.
● Silicone spatula cons: it can be difficult to recycle silicone, and some low-quality silicone products can contain chemical fillers which you want to avoid.
Wood
● Wood spatula pros: wood is soft so it won't damage your cookware, it's heat-resistant and stays cool, and is easy to grip.
● Wood spatula cons: wood can be difficult to clean because it's porous, wood can crack and splinter, and it can become stained easily.
Plastic
● Plastic spatula pros: plastic is usually cheaper than other materials, and it's lightweight.
● Plastic spatula cons: plastic can't be used at very high temperatures, and it's not eco-friendly. It can leach chemicals into food.
Stainless steel
● Stainless-steel spatula pros: it's easy to clean, and resistant to heat.
● Stainless-steel spatula cons: it can scratch cookware.
As you can see, silicone has many features that make it one of the best materials for spatulas.
It won't leach chemicals into your food like plastic, it's easy to clean and strong as well as heat-resistant, plus you don't have to worry about it splintering like wood or scratching cookware like stainless steel.
If you want to cook delicious and healthy meals at home, you'll obviously need the right utensils, such as spatulas, measuring spoons, and tongs.
If you love cooking and have already purchased cookware, you want to ensure you maintain the quality of your pots and pans, which is why you need to buy high-quality kitchen utensils that won't damage them.
In this article, we've featured some of the best kitchen utensils on the market, looking at their construction and other features that make them safe and user-friendly. There are basic cooking utensil sets that give you the essentials, but we've also included more comprehensive utensil sets that contain items you might not need every day but will be glad you have when you need them.
We've also featured some important information about kitchen utensils so you can buy the healthiest, most durable ones, taking your cooking expertise to a higher level.
Sources: