Best Electric Grill For Indoor Use
Last updated:
December 19, 2021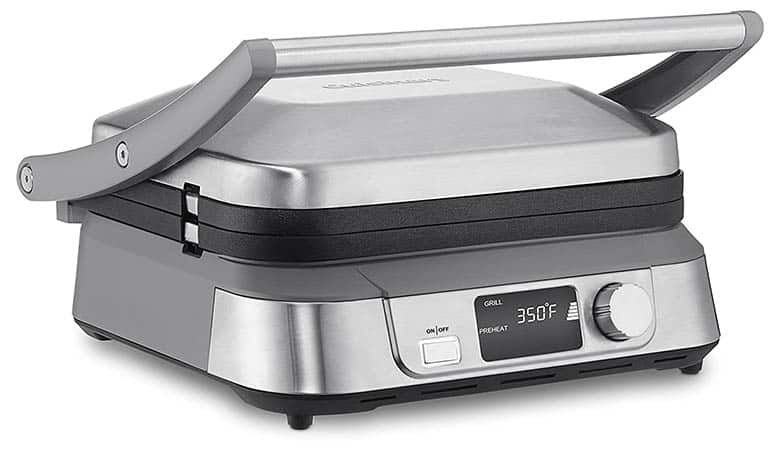 EDITOR'S CHOICE

Cuisinart Electric Griddler
Wide Temperature Range
Reversible Plates
Gourmet Recipe Pack
CHECK LATEST PRICE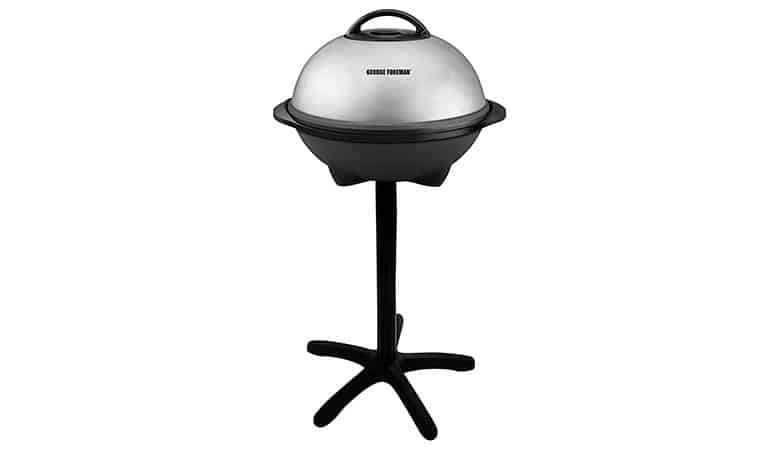 EDITOR'S CHOICE

George Foreman Grill
240 square inches grill surface
Vented Lid
Authentic grilling
CHECK LATEST PRICE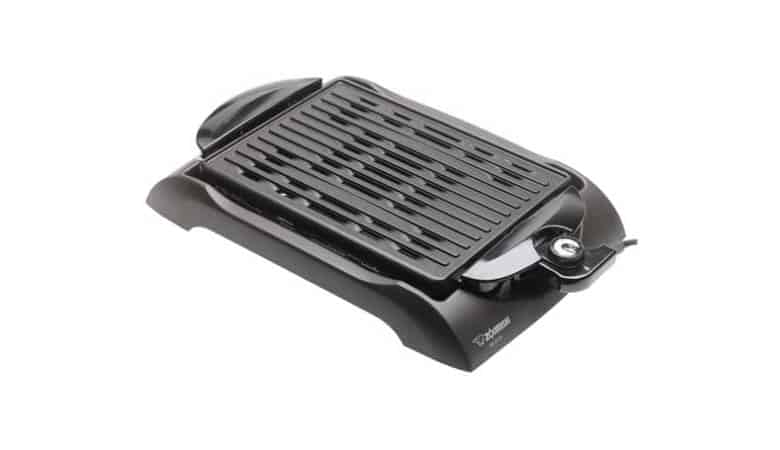 EDITOR'S CHOICE

Zojirushi EB-CC15
Cool Touch Handles
Heavy Duty
Japanese Quality
CHECK LATEST PRICE
You might want to grill in your home or on your apartment balcony but worry that you can't – you don't want to smoke out the whole place or release toxic fumes, after all.
But with an indoor electric grill, you can safely enjoy grilled foods indoors.
What's the benefit of an indoor electric grill?
This type of grill usually offers more temperature controls than other grills so you can achieve the temperature you need to cook different foods perfectly. 
If you want to purchase an electric grill, you might not know which one is the best one and what features you should look for in a grill to get the best cooking experience. Don't worry – here's our guide to the best electric grill for indoor use.
Best Overall: Cuisinart Electric Griddler
This grill by Cuisinart tackles that issue, and it actually has reversible plates that make it more versatile. 
This electric griddler has user-friendly controls so that you can cook your food to perfection. It's got an LCD display that shows you the function, timer, and temperature. You can adjust this griddler's temperature from 175 to 450 degrees so that you can use it as a contact grill, half grill/ half griddle, full grill, or panini press.
With its floating cover design and reversible plates, you can easily adjust the cooking function of this electric griddle without a hassle. It comes with five-in-one cooking options and you can also make use of a sear function. Since it's designed with an S-shaped heating element, it works effectively to heat up the reversible plates in a consistent, even way.
As a bonus, it has a sleek and modern design that will look good in any kitchen. It's also built to last, thanks to its stainless-steel top cover, handle bar, and control panel construction.
When you purchase this electric griddler, it comes with gourmet recipes included in the pack to help you get started with cooking delicious foods with it.


Runner Up: George Foreman Indoor/Outdoor Electric Grill
This George Foreman grill is ideal for both indoor and outdoor use, so whether you're a homeowner or you're renting your place you won't feel any hesitation before using it. It doesn't require any propane or charcoal, and it doesn't result in flare-ups or that dreaded smoking, which makes it safer and more comfortable to use
This best electric indoor grill has a non-stick coating that makes cooking and clean-up afterwards easy. The coating is durable and prevents you from having to use oil or butter in your cooking, which also makes it healthier.
With its 240 square inches of round grilling surface, you'll be able to cook 15 servings of food at once, so it's perfect for large families and when hosting dinner parties.
It comes with a domed lid that traps in the heat during the cooking process so that it cooks evenly. This domed shape works well with the grill's vented lid as both enable a greater air flow to evenly cook your food.
This electric grill comes with a removable grill plate and a drip tray to prevent spills when cooking indoors.
When purchasing this grill through Amazon, you can choose between a silver or black color to match your decor.
Alternative 1: Zojirushi EB-CC15 Indoor Electric Grill
This grill is ideal for cooking a variety of foods, from vegetables to meat, and much more. It has a temperature range that goes from 176 to 410 degrees Fahrenheit to make it versatile. It has a large non-stick grilling surface that's 12 ½ by 9 ¼ inches in size, so it's useful for many different foods and differently-sized foods.
One of the biggest reasons to purchase this indoor electric grill is because it's focused on safety features to make it user-friendly.
It's got cool-touch handles that will prevent you from getting burned when carrying or moving the grill, as well as housing that stays cool. This also makes it safe for use around children, and these are safety features that you don't find on many other grills on the market.
As an extra safety precaution, this grill won't heat up unless it's been correctly installed, so you can be guaranteed of safety whenever you use this grill inside your house or apartment.
When you have to clean it, this indoor smokeless electric grill can be disassembled easily and its drip tray is dishwasher-safe. This makes it easy to maintain without much of a hassle.
Although some people have complained that cleaning this grill is difficult, it's important to bear in mind that with grills it's always recommended to wipe them down immediately after use so that they're easier to keep in good condition.
Alternative 2: Cuisinart Griddler Elite Silver
The cooking options that this grill offers are top melt, panini press, half griddle, half grill, full grill, and full griddle. It also has a dual-zone temperature control so that you can get the ideal temperature you need to cook different foods at the same time, such as if you're grilling meat on one plate and griddling an egg on the other. This will save you time when you're cooking meals for your family.
When you need high temperatures during the cooking process, you'll get to make use of this grill's sear function that operates at 500 degrees Fahrenheit. When searing, you'll appreciate its SearBlast feature that helps to lock flavor into your food. This feature also makes it the best indoor electric grill for Korean BBQ as you can cook the food right at the dining table.
Whatever food you're cooking on your grill, you'll love that the heating elements are built right into its plates. This ensures an even distribution of heat while also maintaining a higher level of heat when you need it.
Not only does this grill work well but it looks stylish with its sleek brushed stainless steel so it's sure to make your countertops look beautiful.
Best Budget Electric Grill For Indoor Use: George Foreman 4-Serving Removable Plate Grill and Panini Press
This best indoor electric grill has a non-stick coating that's three times more durable than some others on the market. This makes the grill easy to clean while living up to its promise of not requiring you to add butter or oil to your food.
Just like with other, more expensive grills, this one has a drip tray so that you can collect grease during the cooking process. It also has a fat-removing slope to keep your foods as healthy as possible.
With its capacity to make food for four people at one time, you can whip up healthy and tasty meals for the whole family by using this best indoor electric grill. It also cooks food quickly – the manufacturer states that this grill has a 35 percent faster heat-up time than some of their previous models. This means less time slaving away in the kitchen and more time enjoying delicious food.
Electric Grill For Indoor Use FAQ
If you want to start using an electric grill inside your home or apartment, you'll naturally have some questions, such as if these types of grills are really worth it or if you should stick to a gas-run grill instead.
Here's the lowdown on electric grills.
Are electric grills any good?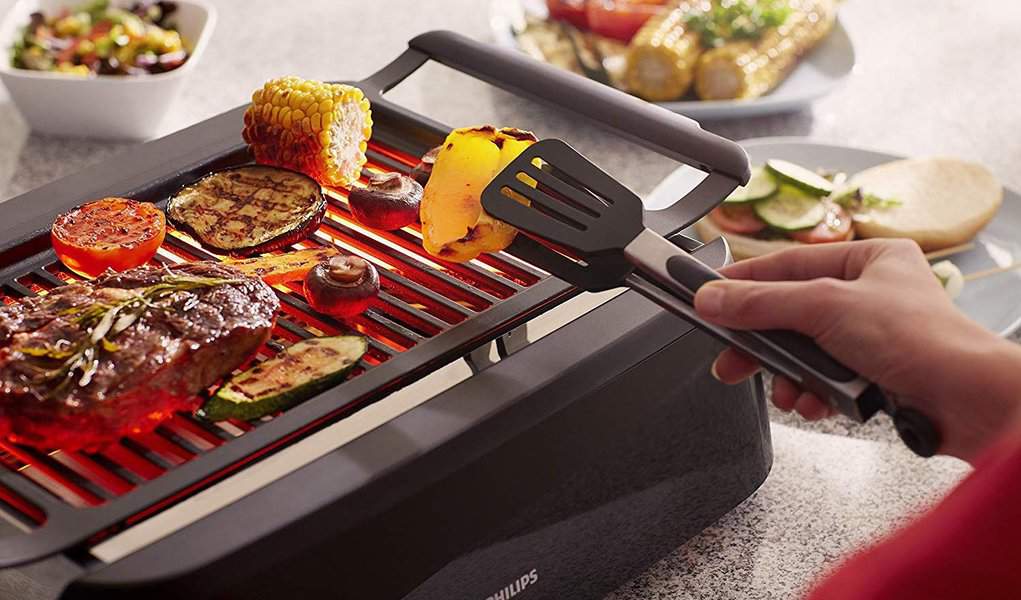 An electric grill has many advantages over other types of grills. These include how it's easy to use, it heats up quickly so you can start cooking without delay, and it's also safe to operate indoors.
If you don't have a large garden at your disposal, you'll love that an electric grill enables you to enjoy grilled foods with ease in your home, and there are even countertop models of these grills available that won't smoke out your whole house.
Of course, there are some potential drawbacks to consider before purchasing an electric grill. You won't ever be able to recreate the delicious smoky taste you get when cooking food with gas or charcoal.
In addition, since this grill runs on electricity, you're always going to have to ensure you have access to a power outlet. This can increase your electric bills if you use your grill on a regular basis.
Do indoor grills taste good?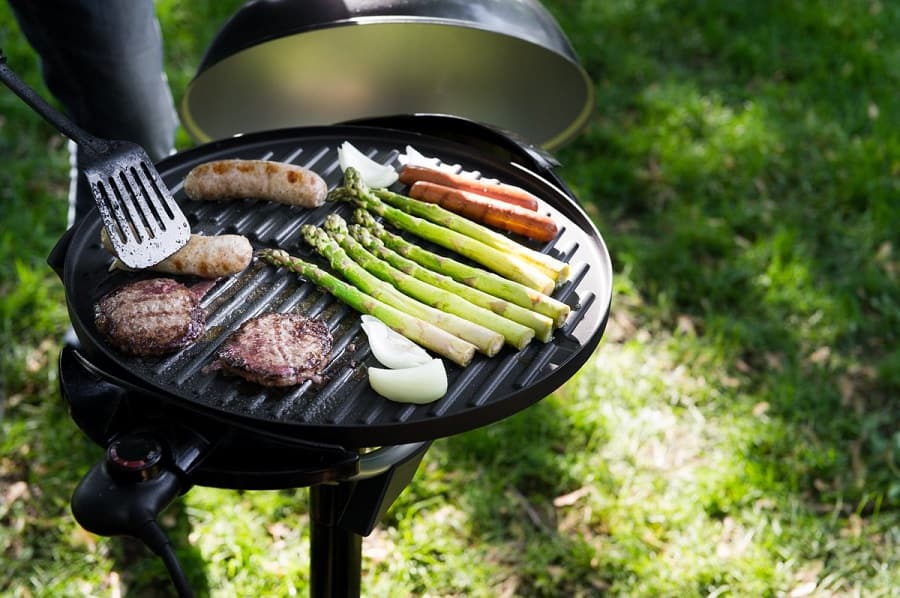 Although indoor grilling might not recreate that delicious charcoal, smoky flavor you get in food when you grill it outdoors with gas or charcoal, electric grills can still impart a delicious flavor to your food. But it's up to you to make that happen.
You can do various things to your food when cooking it on an electric grill so that it has more flavor, such as by using marinades that contain liquid smoke or dry rubs that contain dry paprika.
The great thing about using electric grills is that they're usually focused on helping you to cook healthy foods. This is because they often have a non-stick coating that doesn't require butter or oil during the grilling process, and some models come with sloped designs to ensure a run-off of grease and fat while you cook.
Can you cook steak on an electric grill?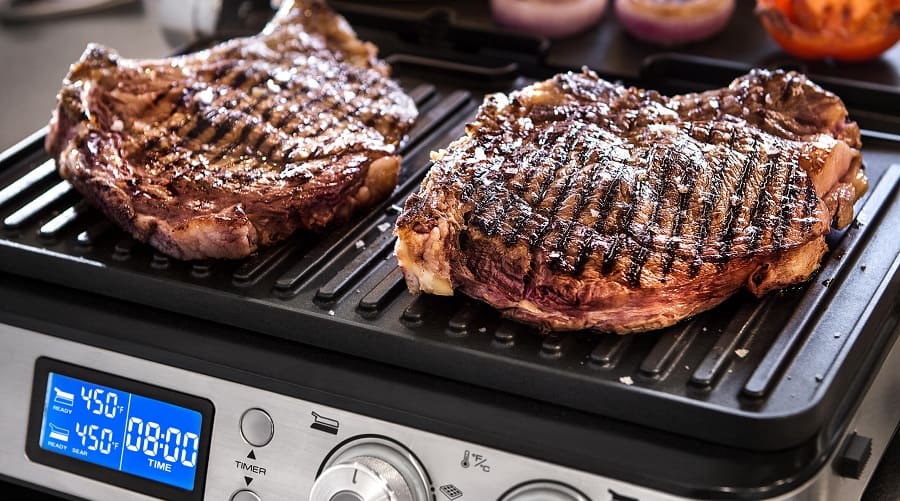 You can cook a variety of foods on an electric grill, including steak. However, there are some important tips to bear in mind so that you get a steak that's full of flavor and cooked to your specific requirements. Here are some steps to follow.
1. Once you've prepared the steak for cooking, such as by trimming its fat so that it will cook consistently as well as seasoning it, make sure you preheat your electric grill to 425 degrees Fahrenheit for 20 minutes before you put steak on it.
Pro tip: Check that a few drops of water dropped onto the grill sizzle – when this happens, it's a good sign that the grill is hot enough.
2. Cook your meat according to your preferences, such as by grilling it for about five minutes if you like a medium-rare steak and longer for a well-done steak.
3. It's important to check the temperature of the meat regularly so that you cook it at a hot enough temperature and know when to remove the meat from the grill. You can do this with a thermometer to ensure that the temperature stays hot.
4. When you've browned one side of the steak, flip it over so that you can brown the other side. Keep checking the meat so that you don't overcook it.
5. When you've cooked the steak, leave it to rest for about 10 minutes. This is done to impart more flavors into the meat, so be patient as it will pay off!
Which is better propane or electric grill?
While both propane and electric grills have their pros and cons, it helps to compare them according to different factors so that you can choose the type of grill that works best for you.
Flavor
If you love a smoky flavor in your grilled foods, then a gas grill is the one to get. However, an electric grill can be easier to use when it comes to consistent, even heating.
Ease of use
An electric grill is much easier to use and you don't have to learn a lot in order to use it for the first time. By comparison, a gas grill can take some trial and error, and it has a bit of a learning curve.
Small living space
If you don't have a large outdoor area but want to grill food at home, you'll have to purchase an electric grill. This is safe for use indoors, unlike a gas grill. A gas grill running on propane fuel shouldn't be used indoors because it can leak carbon monoxide.
Cost
When considering the price tag of a grill, it's good to know that an electric grill is usually cheaper than charcoal or gas grills.
If you want to enjoy outdoor cooking inside your home, you should invest in the best electric grill for indoor use.
In this article, we've featured five of the best electric grills, featuring their pros and potential drawbacks, so you can find one that will suit your living space and cooking requirements.
We've also featured some important information to know about electric grills, such as if they're better than grills which run on propane, and if they make your food taste good.
If you love grilling but you need to cook food indoors, choosing an electric grill is your best bet for whipping up healthier, tasty meals without a fuss.
Sources: