Best Electric Skillet For Home Cooking
Last updated:
December 19, 2021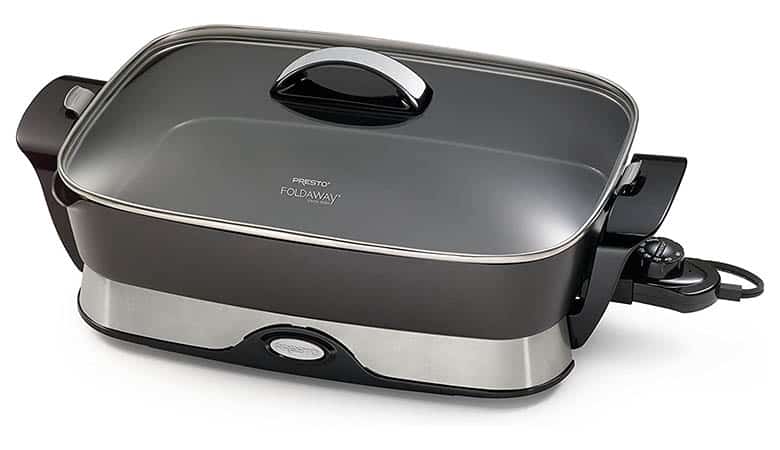 EDITOR'S CHOICE

OXO Good Grips Oil Dispenser
Easy to Clean
Drip Resistant
CHECK LATEST PRICE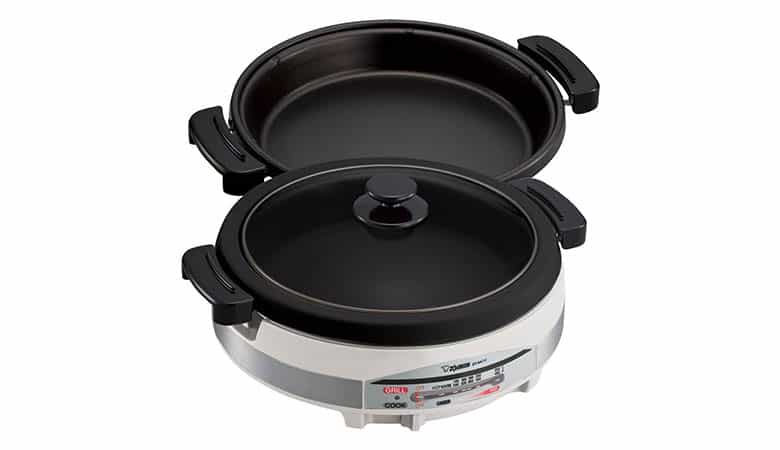 EDITOR'S CHOICE

Zulay Olive Oil Dispenser For Kichen
Pouring Accesories

Two Lid Seal
CHECK LATEST PRICE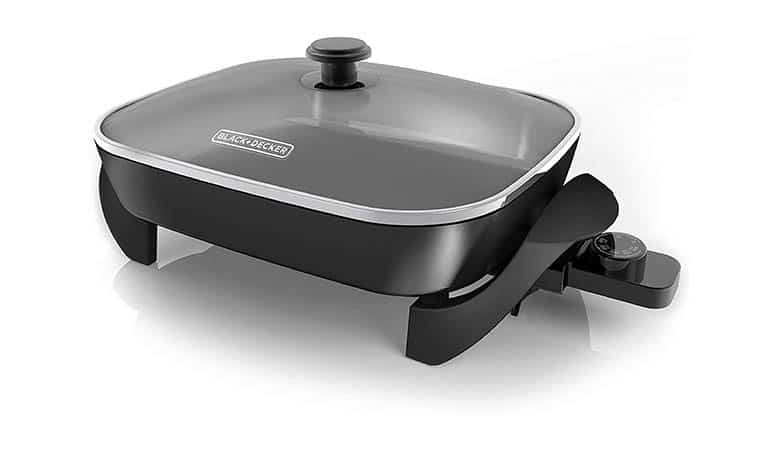 EDITOR'S CHOICE

Flyboo Olive Oil Dispenser 17oz
Anti-slip Bottom

Large Opening
CHECK LATEST PRICE
An electric skillet is a game changer in the kitchen. It's one of the best pieces of cooking equipment to cook food and keep it warm, and you can use it for a variety of cooking purposes, such as deep-frying and sautéeing foods.
How does an electric skillet work? A high-voltage electric current moves through a resistor that resists the flow of energy and transforms it into heat, which then moves onto the surface of the skillet.
Thanks to how they avoid hot spots, electric skillets maintain a consistent temperature. If you want to purchase an electric skillet but you're not sure which one is worth your money, don't worry. Here's our guide to the best electric skillet on the market.
Winner: Presto 06857 16-inch Electric Foldaway Skillet
If you're worried about food sticking to your pan, this skillet prevents that from happening. It has a deluxe non-stick surface on both the inside and outside to make cooking with it easier. You can use this electric skillet for a variety of cooking purposes, such as roasting, frying, grilling, baking, and making stews.
With its 16-inch base, this skillet can be used to make many meals and large amounts of ingredients at once. Its high walls further increase your cooking area so you can make food for a group of people in one go. This makes it the best electric skillet to purchase if you have a large family. 
This Presto electric skillet is focused on greater user-friendliness in the kitchen. Its aluminum base is light and easy to hold and use during cooking, while cleaning it is a breeze as the pan and cover are both dishwasher-safe. Its exterior non-stick coating further makes it easy to clean.
It's also easy to store this electric skillet when you've completed your cooking tasks for the day. It has fold-down handles that can detach the base from the pan. This is ideal if your kitchen is short on storage space, but you won't have to worry about it taking up a large amount of counter space as it's compact. It has dimensions of 20 (L) x 12.5 (W) x 8 (H) inches.
Runner Up: Zojirushi EP-RAC50 Gourmet d'Expert 1350-Watt Electric Skillet
This durable stainless-steel electric skillet is large and comes with two cooking pans included. There's a deep dish pan for preparing foods such as fondues and soups, and a ceramic surface that's got a non-stick coating for grilling purposes.
As a bonus, it comes with a steaming plate so you can steam foods when cooking healthy meals. This makes it a versatile piece of cooking equipment that you're sure to use regularly because you'll be able to cook different foods simultaneously.
This multi-functional skillet has a tempered glass lid and adjustable temperature control, as well as stay-cool handles for increased safety during the cooking process. You can adjust the temperature from 176 degrees Fahrenheit, which is ideal for keeping foods warm, all the way to 480 degrees Fahrenheit. It can therefore reach very high temperatures that you won't find in many other skillets on the market.
Thanks to its high temperatures, you'll be able to use this skillet for cooking thick slices of meat and baking food. Best of all, the pans included in this skillet are convenient and comfortable to handle during the cooking process because they're lightweight.
Alternative 1: Black & Decker SK1215BC Family Sized Electric Skillet
This best electric skillet has a non-stick surface to make it ideal for cooking various foods, especially sticky ones like fried eggs that can cause a mess. It has a quick-release temperature probe and an user-friendly dial control so that you can always get the desired temperature when cooking or if you want to keep foods warm in the skillet.
That makes this electric skillet perfect for using directly from the heat to your table, and it can also be used as a serving pot!
This is a large skillet that has a big surface area and deep interior so you can cook to your heart's content. You'll love that you'll be able to make healthy foods with this skillet because of how it has a pan tilt leg that moves fats and oil away from the ingredients you're cooking. This skillet has a 12 x 15 inch cooking surface so it's more than enough to meet your cooking requirements.
You'll love that this electric skillet will reduce your cooking time because of how it heats up quickly, so it's ideal for quick breakfasts or other meals on busy days, and it's large enough to cook for the whole family. Since its sides are deep, this skillet increases your cooking surface while making it ideal for cooking foods such as stir fries as you'll be able to toss your ingredients easier.
Alternative 2: Dash Electric Skillet + Hot Oven Cooker with 14 inch Nonstick Surface
When you purchase a skillet, sometimes you have to buy other accessories in order to use and maintain it correctly. That's not the case with this Dash electric skillet as it comes with everything you need to use it right out of the box – this includes anti-slip feet, a recipe book and recipe database access, as well as removable cords for increased convenience.
When buying new cookware, you might worry about non-stick coatings and if they're really safe, so you'll be pleased to learn that this electric skillet by Dash has a TruGlide PFOA-free non-stick surface. This means that it doesn't contain any perfluorooctanoic acid, a known carcinogen, so it's safe for making contact with your food. This non-stick coating also makes it easier to use and clean the skillet.
As with many other skillets on the market, this one comes with a tempered glass lid. But it has an extra feature: the lid has a tight silicone seal to preserve flavor and heat during the cooking process.
This electric skillet has a versatile size: it's five inches in height and 19 inches in length. Despite its large size, it's light as it's made of metal so you won't have a problem carrying it or tossing ingredients with it.
This best electric skillet comes in three trendy colors: aquamarine, red, and black.
Alternative 3: Cuisinart CSK-150 Nonstick Oval Electric Skillet
To ensure you don't burn or undercook food when using this electric skillet, it comes with a temperature control dial – but what sets it apart from other skillets on the market is that it also has an indicator light. This skillet can heat up to 450 degrees Fahrenheit and it heats up quickly, therefore saving you time in the kitchen.
It also has a slightly different design from competitors when it comes to its glass cover. Not just used to help you keep an eye on how your foods are cooking, the glass cover is reinforced with a stainless-steel handle and rim, and its side handles make it easy to carry and transport.
If you're worried about harmful toxins being released during the cooking process, you'll be pleased to know that this skillet doesn't contain BPA, bisphenol A, which is an endocrine disruptor.
This electric skillet has the following dimensions – 13.5 (L) x 19.75 (W) x 6 (H) inches – so it's much more compact than some other electric skillets on the market. This makes it the best electric skillet for small living spaces as it won't take up a lot of counter space.
What is the best electric skillet? If you want to purchase an electric skillet, you might not know how to go about it and which model is the best. So, with that in mind, let's explore what you need to know about electric skillets, such as the important features to look for when shopping for one.
How do I choose an electric skillet?
There are some important things to look for when shopping for an electric skillet. Here's a rundown of essential features your skillet should have to ensure cooking success.
Check the maximum temperature. Some skillets go all the way up to 400 degrees Fahrenheit, which is useful for a variety of cooking tasks. If you want to deep fry food, you'll need to ensure that the skillet can reach up to 450 degrees Fahrenheit.
Look at the sides of the skillet. A skillet with taller sides is ideal if you want to deep-fry foods or if you're going to cook large quantities of food. This design also works well for braising or cooking oddly-shaped foods.
Ensure it has heat-resistant handles. Otherwise known as cool-touch handles, these are important so that you don't burn yourself when moving the skillet around during the cooking process.
Find a skillet with a glass lid. This will ensure you can keep an eye on foods that are cooking to ensure they are cooked to perfection.
Opt for a non-stick coating. This means that the food won't burn as easily or get stuck to the skillet, and it makes the skillet easier for you to clean after a cooking session.
Look for easy-to-clean features. These include being able to disassemble the skillet to clean its parts and putting its parts into the dishwasher. Some skillets can be submerged into water, while others cannot.
How long do electric frying pans last?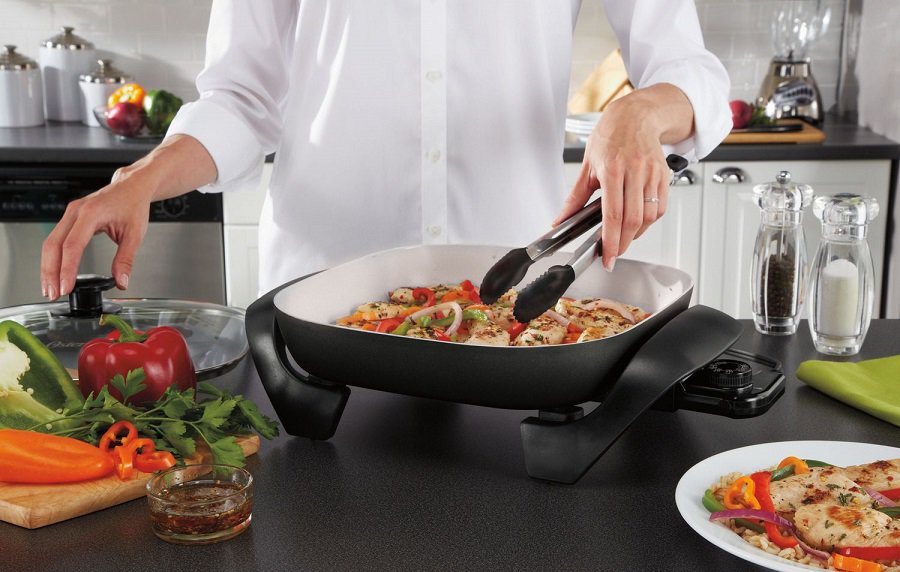 You should aim to replace your electric frying pans every five or so years. Ensure you keep a lookout for any signs that the frying pan is reaching the end of its life, such as if it's discolored, badly scratched, or warped.
If you have non-stick pots and pans, these will also last about five years. If the surface of the electric frying pan has started to peel or it looks pitted, these are also signs that it's time to retire it. Of course, you could potentially increase your pan's lifespan by ensuring you maintain it properly, such as by being careful when scraping off bits of food that are stuck to the surface with metal utensils.
It's important to bear in mind that generally non-stick electric skillets that are cheaper usually have a shorter lifespan than what you'll gain from a multi-coated skillet. Therefore, it's worth it to spend money on a more expensive one that's got layers of high-quality coatings.
Does an electric skillet use less electricity than a stove?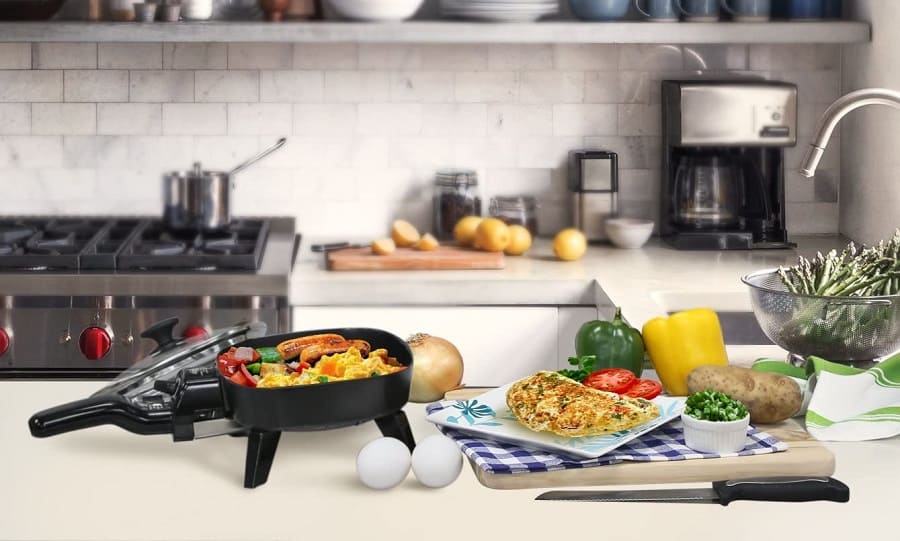 If you've ever cooked food on the stove or oven only to find that it's heated up your kitchen, you'll love that an electric skillet doesn't do this! Your kitchen will stay cool while you cook. 
But, how much power does an electric skillet use? An electric skillet generally uses about 1500 watts (approximately 120 volts) to cook foods at very high temperatures – all the way up to 400 degrees Fahrenheit. However, this cookware can run as low as 1000 watts for lower-end models and provide even more than 1800 watts for high-rated models (via Publican Anker).
Electric skillets use less heat than a conventional stove top burner. In addition to that, its enclosed heating element is safer to use than an open burner (via Publican Anker). A stove top burner uses more energy the larger it is. Their wattage ranges from 1,200 watts for the smallest burners to 3,000 watts for the larger ones.
Can you use an electric skillet as a slow cooker?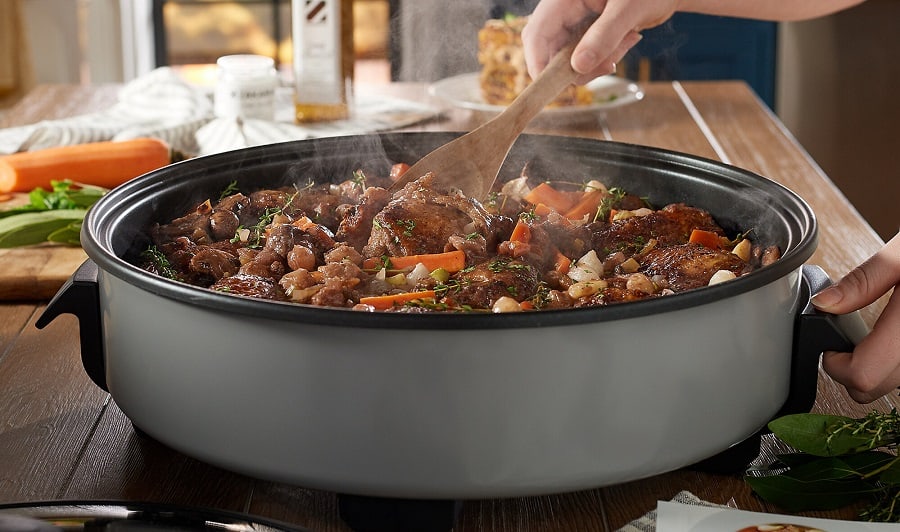 It's possible to slow-cook foods in an electric skillet, but this should only be done on moderate heat. Set your electric skillet's heat to 200 degrees Fahrenheit, then choose the simmer mark on the temperature dial and make sure you cook your food on both sides. When slow-cooking foods such as meat, you can hold it with tongs so that you can sear its edges if you want.
If you primarily want an electric skillet that you can slow-cook foods in, you should make sure that you buy a skillet that's deep as that will ensure you properly cook the food – and it will slow cook much better than if you use a shallow skillet.
During the cooking process, it's a good idea to ensure that you regularly check the vegetables or meat that you're slow-cooking in your electric skillet regularly so that they reach the ideal temperature.
If you're looking for a versatile piece of cookware to add to your collection, the electric skillet is a good choice. It can be used for a variety of cooking techniques and many have lots of safety and user-friendly features to make using them more comfortable and convenient.
In this article, we've featured some of the best electric skillets on the market. We've looked at their pros and cons so you can find the skillet that's best for your and your living space – such as ones that are compact, easy to carry and store, and that are large enough to accommodate cooking for large families.
Making delicious stir fries, deep-fried foods, and burgers at home doesn't have to be a nightmare. By switching from a pan to an electric skillet, you can ensure that you produce tasty foods every time – without clean-up afterwards being a stressful experience.