Best Fillet Knife For Fish
Last updated:
December 21, 2021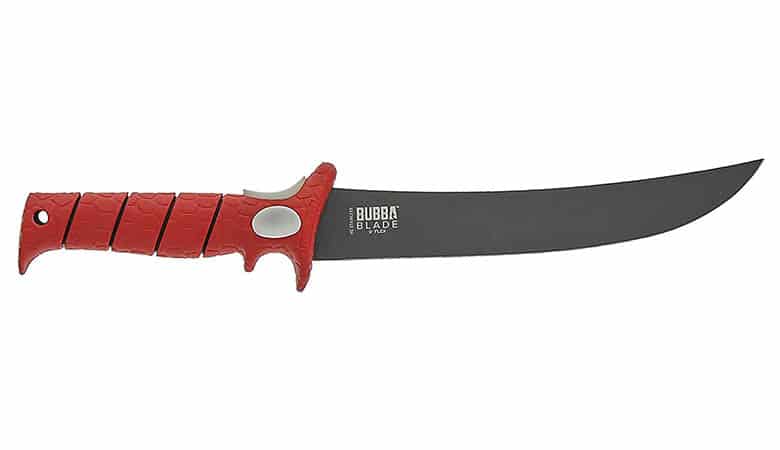 EDITOR'S CHOICE

Bubba 9 Inch Flex Fillet Knife
Both Flexible and Durable
Holds Edge
Non Slip
CHECK LATEST PRICE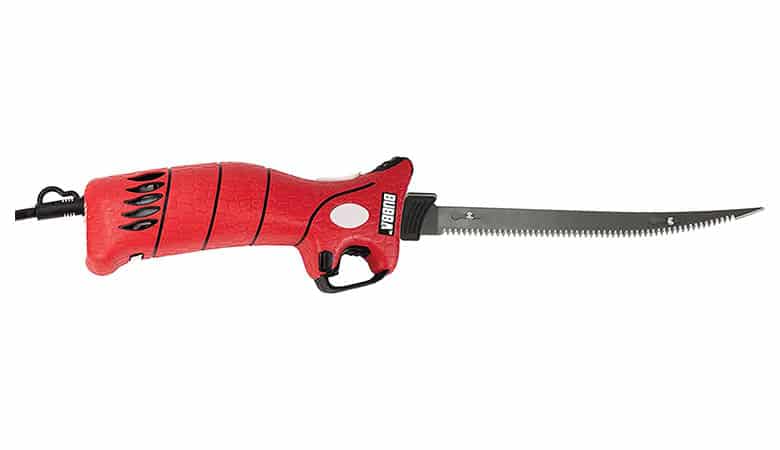 EDITOR'S CHOICE

Bubba 110V Electric Fillet Knife
Easy to Use
Premium Components
Trigger Guard
CHECK LATEST PRICE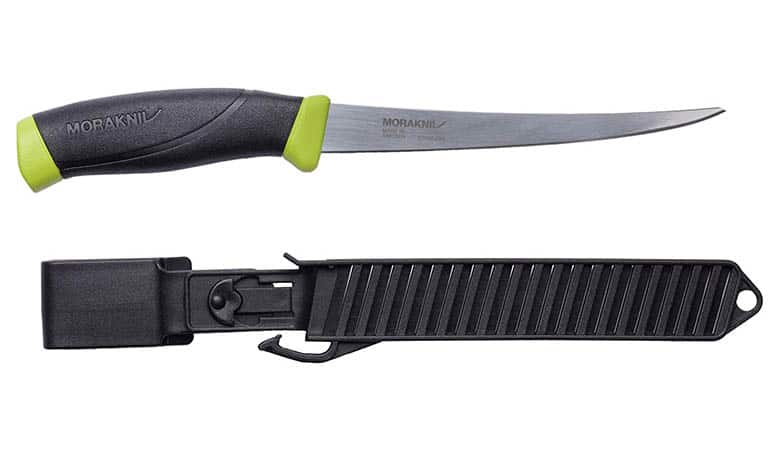 EDITOR'S CHOICE

Morakniv Fishing Comfort Fillet Knife
Flexibility and Control
Dishwasher Safe
Good Quality
CHECK LATEST PRICE
While you might think you can simply use your chef's knife when you need to fillet fish, you are setting yourself up for disappointment. This is because you need a fillet knife that's designed in a special way to make your task easier.
What, exactly, is a fillet knife? This type of knife is built to separate fish meat from bones, as well as make precise cuts in the delicate meat which can easily get torn up by the wrong kind of knife.
With the above in mind, here's your guide to choosing the best fillet knife for fish, whether you fillet a lot of fish in the kitchen or you need a knife you can take with you on fishing tips. We'll look at all of these knives' pros and cons to help you choose the one to suit your needs.
Best Overall: Bubba 9 Inch Flex Fillet Knife with Non-Slip Grip Handle
This flex fillet knife's overall length is 15 inches and its blade is nine inches. Its non-slip grip handle is one of its most outstanding features because the last thing you want is to nick or slice your fingers when filleting fish!
Some people who have purchased this filleting knife have reported that the non-slip handle works well even when their hands are wet or slimy from cutting fish, so it won't let you down.
For increased peace of mind when using this best fishing fillet knife, which is said to maintain its sharp blade for a long time, it has safety guards to protect your skin from the blade as well as sharp fish spines.
What you'll love about this knife is that its blade is thin enough to make it easy to hold and manoeuvre when you're removing meat from the bone. It's Ti-Nitride coated so that it resists rust for greater durability. This knife will be able to cut through fish scales without a problem, but it can do much more.
Runner Up: Bubba 110V Electric Fillet Knife with Non-Slip Grip Handle
If you reckon that you need an electric fillet knife instead of a manual one to make filleting fish much easier, then you'll be pleased to know that Bubba is a company that also offers these types of products. This knife is a 110-volt electric corded fillet knife that's made with a stainless steel handle for increased durability.
This knife has many features to increase the comfort of using it, such as how its handle has holes in it to provide maximum airflow.
What's noteworthy about this electric fillet knife is that it comes with four different blades so that you can use the most appropriate one for the filleting task at hand. The blades are a 7-inch E Flex, a 9-inch E Flex, a 9-inch E Stiff, and a 12-inch E Stiff blade.
The 7-inch and 9-inch E Flex blades are both serrated and can be used to fillet small and medium fish. The stiff blades in the set, on the other hand, are ideal for filleting medium and large fish without a lot of effort. So, this set gives you a comprehensive set for filleting fish.
The knife is built to last, thanks to its dual-rivet blade that's coated in titanium nitride stainless steel for increased strength. In fact, all the blades in this set are made of stainless steel that's coated with titanium nitride to resist corrosion.
Alternative 1: Morakniv Fishing Comfort Fillet Knife with Sandvik Stainless Steel Blade
This stainless-steel fillet knife comes with a high-friction, patterned handle that ensures you can hold it securely even when your hands are slimy from filleting fish, and it also works well if you find yourself in rainy conditions during a fishing trip. The handle is also a bit curved so that it can fit comfortably in your hand, therefore preventing hand strain.
The knife blade is made out of Sandvik 12C27 stainless steel. This is a type of steel that's renowned for its hardness, durability, corrosion-resistance, and razor sharpness, so it's sure to last you for a long time.
This is a long and flexible knife that works well to give you more control when filleting fish, which is exactly what to look for in the best filleting knife as you need to manoeuvre the knife through the flesh and make precision cuts.
The blade steel has what's known as cold-rolled quality, meaning that it has great edge retention and this ensures you'll get all the meat off the fish bones with greater ease and fewer movements, therefore reducing how long it takes you.
When purchasing this fillet knife, you can choose between a 3.5-inch blade or 6.1-inch blade length. The 6.1-inch blade works well for a variety of fish sizes, which makes it a versatile fillet knife to own. 
Alternative 2: Mister Twister 120V Electric Knife
If you want another electric knife model to consider, this one by Mister Twister is worth checking out. It's a 120-volt knife that's light and easy to hold so that you can get the manoeuvrability you need when filleting fish without it slipping from your grasp. Its design looks a bit like a fire lighter, with an indent at the bottom where you can comfortably rest your fingers.
The blade is quick and convenient to release, and it's razor-sharp to reduce the time required to fillet fish.
You can control the speed of this knife depending on your requirements, and you'll love that the motor is strong but quiet. You'll be able to fillet tons of fish in one go without getting tired. It works well on both small and large fish, and can be used to cut through various types of meat.
It's so powerful that some people who have purchased this electric fillet knife have said that they use it to cut many other things. Some people cut baked goods with it, while one person mentioned using it to cut through memory foam!
This knife also looks good as it's in bold green and yellow colors. This makes it easy to find in your fishing gear as it won't go unnoticed.
When the knife's blades run out, you can get replacement blades to customize how you use the fillet knife. These blades are affordable and you can get them in different lengths depending on your requirements.
Alternative 3: Kershaw Clearwater 7'' Fillet Knife (1257X)
This Japanese fillet knife has a seven-inch blade that's made of 420J2 stainless steel. This type of steel is resistant to corrosion and prevents stains, so it will last you for several years. What's great about this knife is that its grip has bright orange accents so that you won't lose sight of it during a fishing expedition.
The knife comes with an ABS sheath that has a convenient belt holster included to keep your knife in great condition while ensuring you store it comfortably.
If you regularly have to fillet a variety of fish, this knife is worth purchasing. It can easily fillet salmon, tuna, cod, catfish, eel, tilapia, snapper, and more, so it's the best fillet knife for saltwater fish. Since its blade size is seven inches in length, this knife is ideal for filleting fish such as trout and walleye that are around 20 inches in size.
If you have to fillet medium or large fish, this knife has many features to make your task much easier. It can cut through fish very smoothly and quickly so you won't have to do more than one or two passes. 
It's the perfect fishing knife to keep in your boat or tackle box, or right in your kitchen if you're going to be filleting in the comfort of your home.
This knife comes with a hard sheath that has a convenient loop so you can hang it up for storage.
A fillet knife has to be quite specific in its features to ensure cutting success.
Here are some common questions related to fillet knives, such as what the most essential features are to look for in a fillet knife before purchasing it.
What kind of knife is best for filleting fish?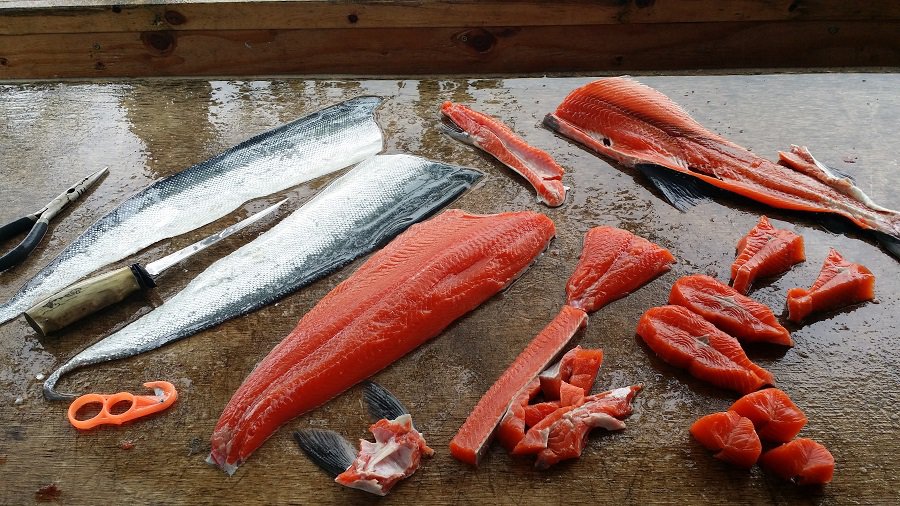 Fish is delicate, so you need to use a knife that has a long, thin, and flexible blade when filleting it. This enables you to manoeuvre through the flesh and separate it from the bone.
The knife should have a very sharp blade so that you can make precise cuts, such as when filleting small fish that have tiny bones. The flexibility of the blade is also beneficial in that it helps you to remove the skin on the fish without wasting meat that accidentally gets cut away.
Other important features to look for in a quality fillet knife include a textured or contoured handle. This makes the knife easy and comfortable to grip, especially during wet weather conditions. You can also find knife handles that help avoid hand fatigue, which makes them useful when you're filleting for long periods of time.
What makes a good filleting knife?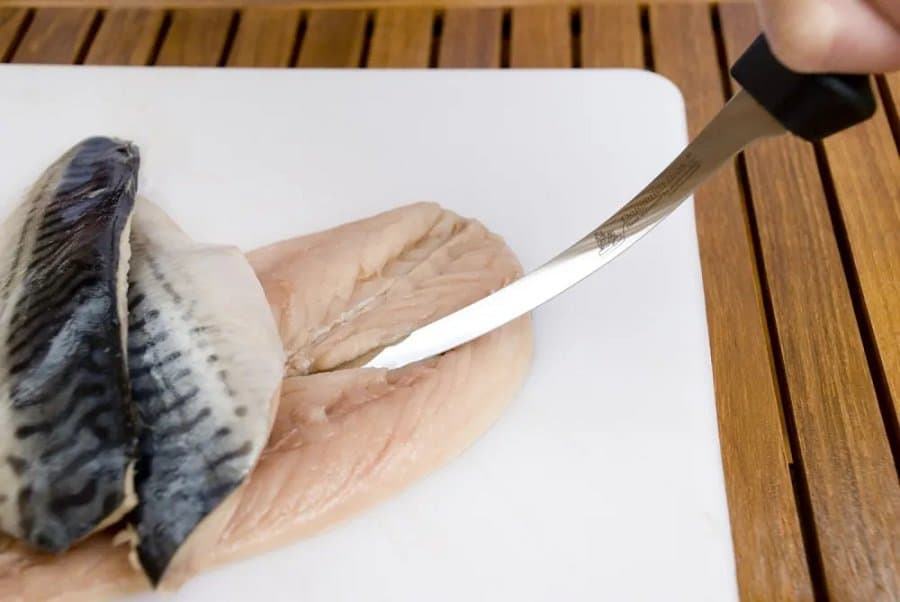 While we've already looked at what makes a good fish filleting knife, there are some important things to consider when it comes to the blade of the knife in particular. Obviously, this is one of the most important components of a fillet knife as it will be making direct contact with the fish you're filleting. You will have to make some choices when choosing the best blade.
That said, it's a mistake to neglect the handle of the fillet knife. Using the wrong fillet knife handle can lead to slippage or hand fatigue.
With the above in mind, here are some things that make a filleting knife better than its competitors:
Stainless-steel blade. This is the best material for a knife blade as it won't rust easily. This is especially important if you're using it in wet environments (such as salt water) which are particularly damaging to metal. Stainless steel is also resistant to corrosion, therefore increasing its lifespan.
Thin blade. Avoid thick blades as you want to be able to get right into the fish meat and separate it from the bone with easy movements. That also means you'd do better with a blade that's flexible instead of stiff.
Durable handle material. You can find various materials that are used for knife blades, such as steel or plastic. Steel is more durable. Choose a knife handle that feels comfortable, otherwise no matter how strong your blade is, you won't be able to use it properly if you don't have a comfortable, durable handle.
How thick should a fillet knife be?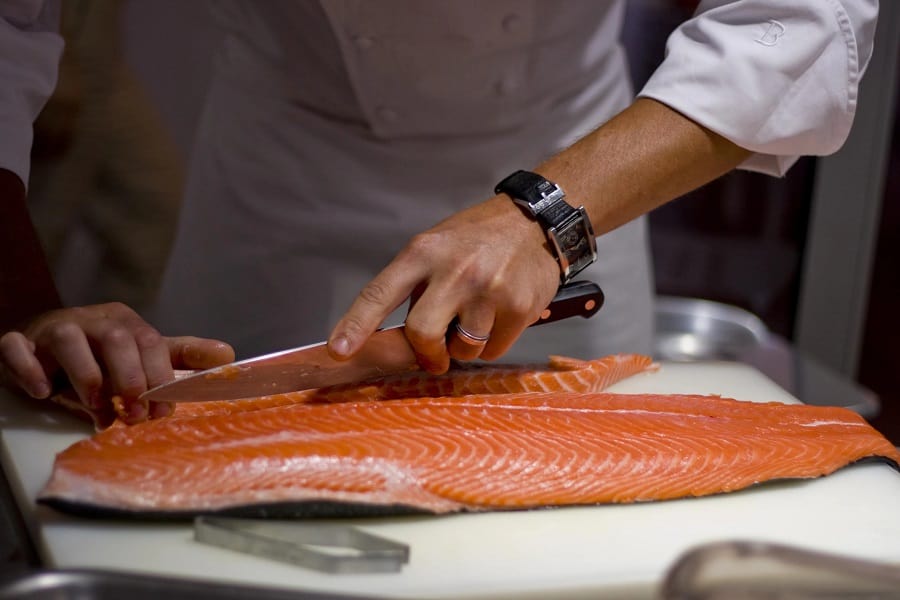 You should look for a fillet knife that has a thin blade. Remember this rule: the thicker the blade, the less flexible it will be – and this will cause you problems when trying to cut through fish and separate it from the bone.
Fillet knives usually have blades that are around 2.5 to 3.5mm thick at the spine. This enables them to bend while maintaining an edge. Generally, you should aim for a blade that's around 2mm or 2.5mm thick. This is because getting a knife that's too thin could cause it to break as it won't be flexible.
On the other hand, blades that are thicker could make it more difficult for you to separate the fish meat from the skin. This, actually, is why a boning knife is too thick and not as suitable for filleting fish as a fillet knife.
How do you sharpen a fillet knife?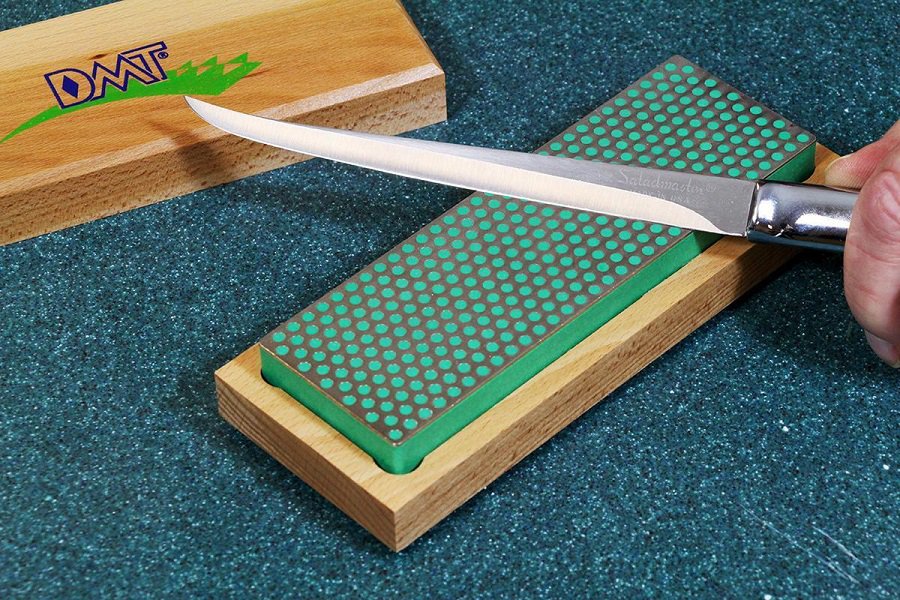 You can sharpen your fillet knife with a variety of tools, such as a sharpening stone or electric sharpener. Let's explore how to sharpen a fillet knife with a sharpening stone as this is one of the best and most practical tools.
1. Put the stone on a flat surface and hold the knife blade so that it's at a 20-degree angle across the stone. Hold the knife firmly but gently with the use of one hand.
2. Use the four fingers of your other hand to place a bit of pressure on the edge of the knife blade so that it is pushed against the stone.
3. With a quick movement as though you're slicing a thin layer on top of the stone, move the fillet knife forward. Don't go back and forth; move in one direction, as you would when filing nails.
4. Once you're satisfied with sharpening one side of the blade, turn the knife over so that you can sharpen the other side. Do the same movement as before.
5. To ensure that your knife is properly sharpened, make sure you repeat the sharpening process on both sides of the blade several times.
If you need to fillet fish, don't try to make do with a regular knife from your kitchen as that will lead to disappointing results.
It's essential to purchase a fillet knife designed for fish, such as one of the knives we've featured in our buying guide. This will ensure clean, smooth cuts and greater precision when undertaking the delicate task of filleting fish.
You can use your fillet fish for a variety of other tasks, such as mincing shallots and onions, and making delicate cuts when garnishing foods such as fruits and vegetables on the plate.
Besides our product review, in this article we've also featured some common questions related to fillet knives, such as how thick they should be and what blade features they should have, so that you have all the information you need to purchase the best fillet knife on the market.
Sources: