Best Oil Dispenser For The Table
Last updated:
December 14, 2021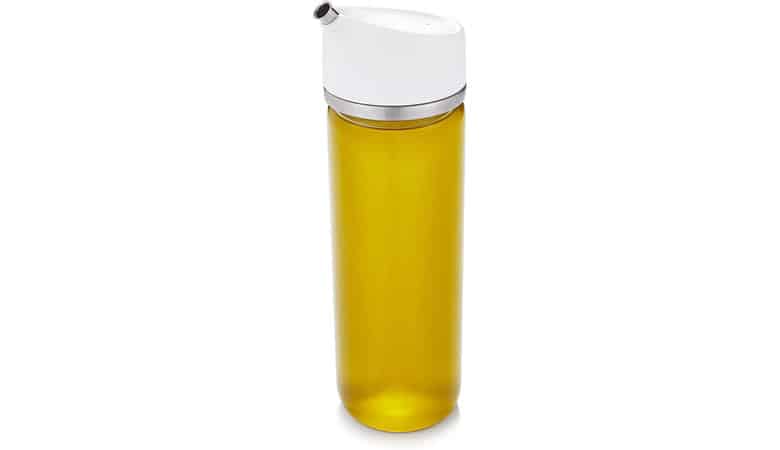 EDITOR'S CHOICE

OXO Good Grips Oil Dispenser
Easy to Clean
Drip Resistant
CHECK LATEST PRICE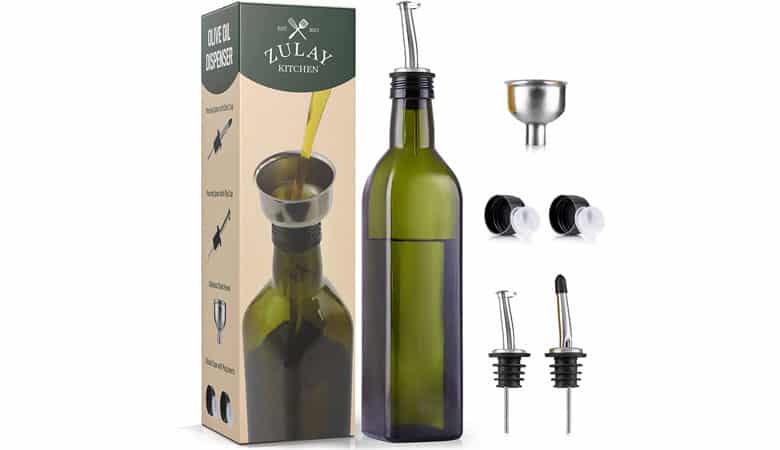 EDITOR'S CHOICE

Zulay Olive Oil Dispenser For Kichen
Pouring Accesories
Two Lid Seal
CHECK LATEST PRICE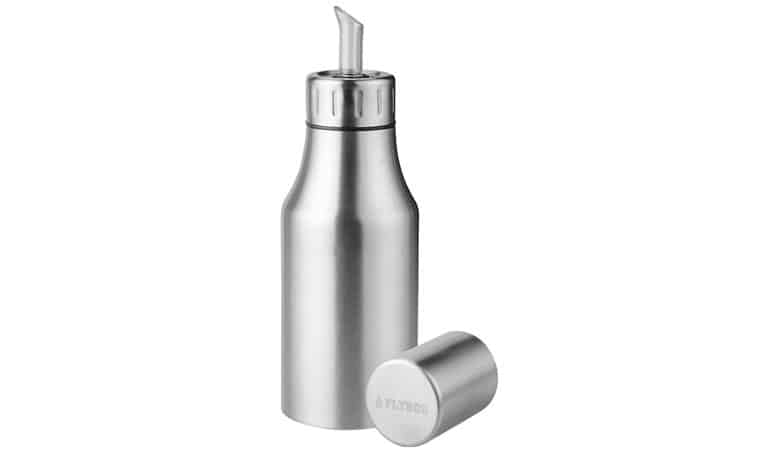 EDITOR'S CHOICE

Flyboo Olive Oil Dispenser 17oz
Anti-slip Bottom
Large Opening
CHECK LATEST PRICE
Whether you're starting the Mediterranean diet or just want to eat healthier, you'll be interested in adding more healthy oils to your meals, such as olive oil.
To ensure you drizzle this oil over foods such as salads and focaccia without spilling it, it's a good idea to invest in an oil dispenser.
What, exactly, is an oil dispenser? A dispenser is a container that has a spout so you can pour oil easier. It's usually made out of glass, but it can also be made out of other materials, such as ceramic or stainless steel.
This container preserves the quality of your oils because it prevents oxygen and light from negatively affecting them. With this in mind, let's explore the best oil dispenser for the table and four high-quality alternatives.
Winner: OXO Good Grips 12 oz Precision Pour Glass Oil Dispenser
For starters, it makes use of two-flow speeds. This means you can drizzle the oil or pour the oil if you want to add more of it to your meals. This will prevent you from consuming too much oil, bearing in mind that even healthy oils can't be consumed in large quantities. It's easy to control the flow speed: tip the dispenser a bit if you want a drizzle, then tip it more to get a faster flow.
This dispenser has a glass body and stainless-steel trims which not only ensure that the dispenser is durable but it makes the dispenser look trendy so you can use it on the dining table when having guests around.
You can use this dispenser for other condiments, such as vinegar and soy sauce. However, avoid storing any thick condiments in it as they can clog the spout.
If you like this oil dispenser and you want to use it for various oils and sauces, you should invest in more than one. You can buy packs of two from Amazon.
Runner Up: Zulay Olive Oil Dispenser Bottle For Kitchen
To ensure you consume healthy oils that are good for you, you need to store them in bottles that are resistant to heat, light, and oxygen.
This will prevent the oils from becoming rancid while increasing their lifespan.
The glass dispenser contains a silicone airtight seal cork to prevent spills.
It also has an anti-overflow air duct that helps you to control the flow of the oil, without causing any leaks that run down the bottle and stain your tablecloths.
This duct also helps you to prevent using too much oil.

This oil dispenser bottle is made with a 304 stainless-steel easy-flip cap and seal cap, both of which help to prevent the oil from being exposed to oxygen and moisture which can impact its flavor.
It comes in three colors. If you're going to be storing an expensive or delicate oil, it's ideal to purchase a dark brown or green dispenser so that they prevent UV light from degrading the oil.
The transparent dispenser is useful for storing oils and liquids such as salad dressing, vinegar, and soy sauce.
Alternative 1: Flyboo Olive Oil Dispenser 17oz
This oil dispenser isn't made of glass like many others on the market. It's made of stainless steel so that it's strong and durable. It's free of harmful BPA and comes with a convenient dust-proof cover to ensure the quality of the oil is preserved. It's such attention to detail that makes this one of the best olive oil dispensers on the market.
This oil dispenser comes with features that make it easy to use and clean. You can wash it by hand or put it in the dishwasher without worrying about it getting damaged.  
While you might be used to transparent oil dispensers, this one is a stylish addition to your kitchen because of its steel construction. It works well with modern or industrial décor. Stainless steel has many other benefits: it doesn't risk breaking if you knock it over or it crashes to the floor, therefore also preserving your expensive oil.
While this best stainless steel olive oil dispenser comes with a 500ml capacity, you can purchase larger ones of 750 or 1,000mls.
Alternative 2: AMINNO Measuring Oil Dispenser
If you want to watch your calorie intake and prevent pouring too much olive oil over your salads, this oil dispenser by Aminno is worth considering. It comes with convenient measurements on the bottle so you can see exactly how much you're putting on your food, which makes this an excellent item to help you control your portions. This feature also makes it great for baking when you need to add oils or liquids to recipes in precise amounts.
For increased convenience, this oil dispenser's measurement marks are listed in tablespoons and teaspoons. You won't have to worry about using and cleaning a bunch of measuring spoons when cooking or baking as you can do so much with this oil dispenser without requiring other tools.
Thanks to its innovative design, this oil dispenser will help you use less of your expensive oils while also ensuring a tidy counter because of how it doesn't leak. It also looks good when stored on your kitchen counter, which is a bonus.
Alternative 3: Rachael Ray Solid Glaze EVOO Olive Oil Bottle Dispenser with Spout
Renowned chef Rachael Ray has designed this oil dispenser to make it easier than ever to add healthy oils to your meals. The bottle has a built-in handle that makes it easy to grip and hold when pouring oils so you won't use too much at once. This is further achieved with the bottle's unique spout that ensures you get the right amount of oil you want without any spills.
These bottles come in bright and colorful colors, and their unique shape makes them look attractive on any kitchen counter. At first glance they look like pretty vases! They are smartly designed to complement the design of other Racheal Ray kitchen items so that you can build a beautiful collection in your home.
Since they're so attractive, these oil dispensers can be used during the cooking process or used as serving vessels when you host dinner parties.
But, they're so much more than pretty items to own. What's great about these oil dispensers is that their user-friendly design makes these bottles versatile. You can use them to drizzle oil over your foods, but you can also use them to store chocolate sauce and other dessert toppings, or even liquid dish soap so that you don't use too much of it when washing dishes.
These bottles have a 24-ounce capacity so you'll have more than enough to use for cooking or during meals.
Now that you have a better idea of the type and brand of olive oil dispenser to purchase, you might not know if an oil dispenser is really necessary.
With that in mind, we've answered some important questions about oil dispensers.
What type of bottle is best for olive oil?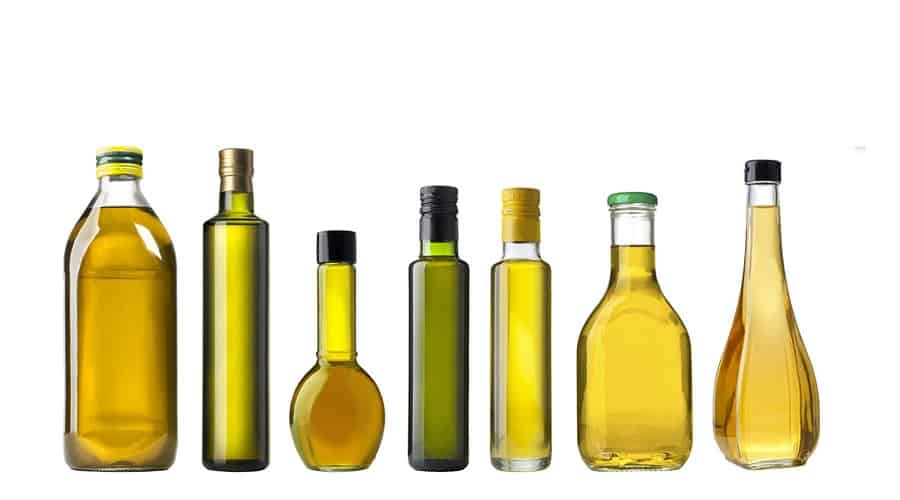 When storing olive oil at home, you have to make sure that the bottle or dispenser will preserve the oil's quality and extend its lifespan.
It has to have some important features, so let's check them out.
Make sure you use a dark-colored glass bottle that will filter out the UV light. To achieve this, an alternative to glass is to opt for a stainless-steel container or dispenser.
Never use plastic bottles for your olive oil. This is because chemicals inside the plastic can enter the oil and produce toxins.
Avoid reactive metal bottles, such as copper or iron, which cause reactions with the oil. This can make it dangerous to consume the oil.
Ensure that the bottle can be closed tightly, such as with a lid or cap, as this prevents oxygen from entering the container and making the oil stale.
Should you use an oil dispenser?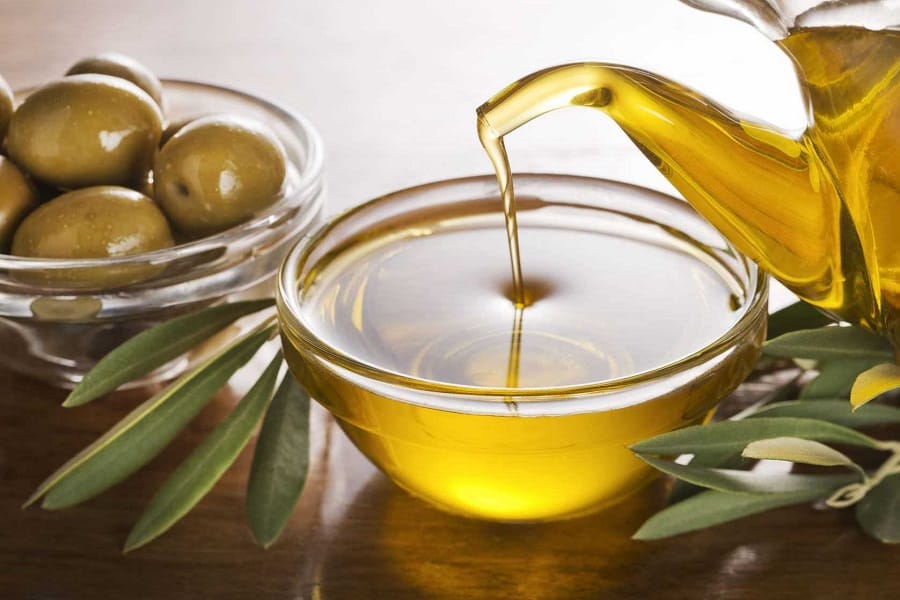 You might think you can simply use the container in which your olive, or other, oil came in, but this is not always a good idea. There are many good reasons why you should invest in an oil dispenser for the kitchen.
These include the following:
An oil dispenser makes it easier to measure the amount of oil you want to add to your cooking or meals. This prevents you from putting too much oil or splashing it all over the place.
Oil dispensers are usually built to look stylish, which makes them more attractive to use than if you're pouring oil out of a regular bottle or the oil's original bottle.
Oil dispensers prevent oil from leaking and spilling all over your tables, tablecloths, or countertops.
Oil dispensers increase the lifespan of your healthy oils. This is because they're usually dark to prevent UV exposure, while also sealing your oils securely to prevent oxygen from getting into them and reducing their lifespan.
How do you clean an olive oil dispenser?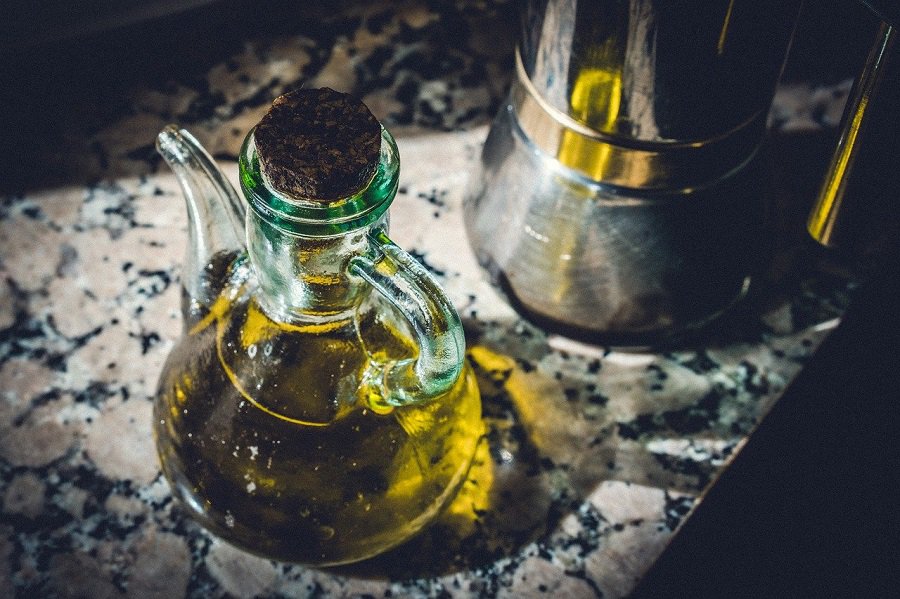 You have to clean your olive oil dispenser regularly to prevent any remaining oil inside the bottle from going rancid. How you clean your olive oil dispenser will depend on the style and design of the bottle. Some dispensers can be disassembled for easier cleaning, while others are dishwasher-safe.
Generally, though, to clean your olive oil dispenser and remove any stale oil that's stuck to its walls, you'll have to first drain as much of the oil as you can.
Then, pour hot water into the dispenser to flush out the dispenser and its spout. Mix degreasing dishwashing liquid with hot water and stir in a tablespoon of distilled white vinegar.
This helps to remove unpleasant odors and it also works well to cut through the grease.
Pour this blend into the bottle and use a bottle brush if the dispenser's design permits this so that you can scrub away any excess oil.
If you can't clean the dispenser with this brush, you should close the dispenser and shake the bottle well.
Pour out the liquid and rinse the bottle well with water.
If it's still not smelling or looking clean, you'll have to pour in half a cup of the same solution and add a tablespoon of raw rice. Then, shake the bottle again to get the mixture to work. The rice will help to scrub away any excess oil.
You might have to repeat the above steps a few times until the dispenser or bottle doesn't have any odors.
When cleaning your oil dispenser, remember to remove the spout of the dispenser and put this in the washing liquid we mentioned earlier, ensuring it's completely submerged. Use a pipe cleaner to scrub inside the spout. Then, rinse the spout under some water.
Should you store olive oil in the fridge?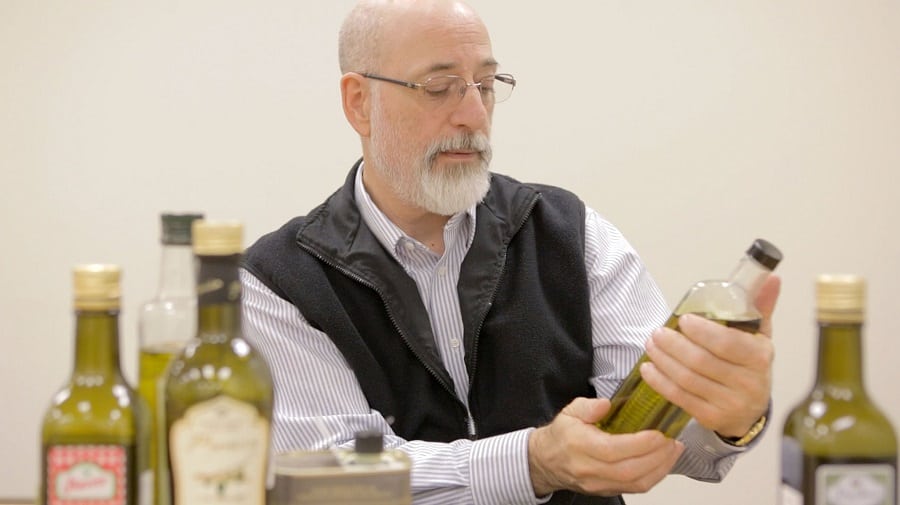 While you might think you should store your olive oil in the fridge, this is not necessarily the case. Olive oil needs to be stored at a temperature of between 55 and 60 degrees Fahrenheit so that it retains its quality. However, if you find that your room temperature is warmer than approximately 65 degrees, you will have to refrigerate the oil to prevent it from becoming rancid.
Note that refrigerating oils is useful for long-term storage of all types of olive oil except extra-virgin oil. This is because when it's exposed to cold temperatures these cause condensation that negatively impacts the oil's flavor.
Very cold temperatures will make your olive oil bottle become solidified and cloudy. Although the oil becomes liquid again at room temperature and can be used as usual, over time exposing the oil to temperature fluctuations can decrease its freshness.
If you want to eat healthier, you should be adding more healthy oils to your diet.
For that, you'll need an oil dispenser that makes controlling how much oil you're adding to meals much easier while preventing spills. You can also use your olive oil dispenser for other liquids, which makes it versatile.
If you've ever wondered, "what is the best olive oil dispenser?", after reading this article you now have a better idea.
In this article, we've provided you with five of the best oil dispensers on the market to purchase. We've also answered some important questions about oils such as olive oils so you can choose the best type of bottle to keep your oils healthy and prevent them from becoming rancid.
Sources: