Best Pizza Stone For Your Kitchen
Last updated:
December 21, 2021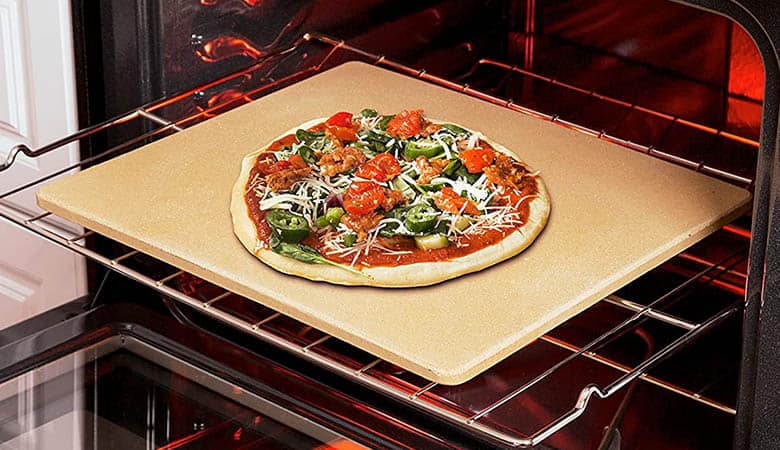 EDITOR'S CHOICE

Honey-Can-Do Old Pizza Stone
Durable and Crack Resistant
HeatCore Feature
Lightweight
CHECK LATEST PRICE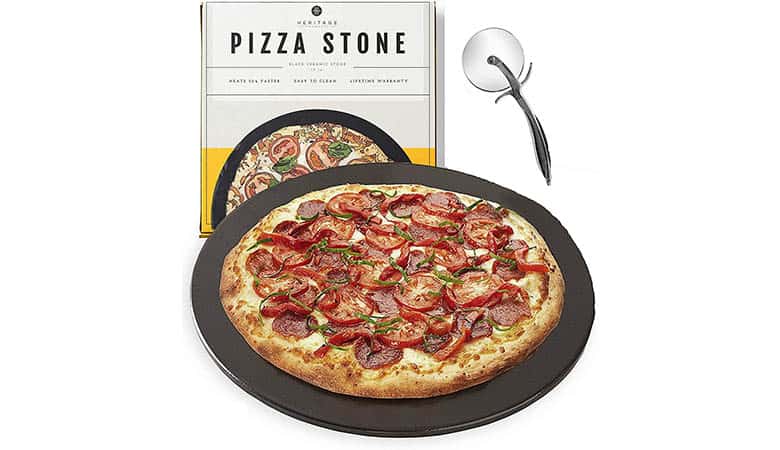 EDITOR'S CHOICE

Heritage Pizza Stone
BBQ Compatible
Retains Heat Longer
Nonstick Coating
CHECK LATEST PRICE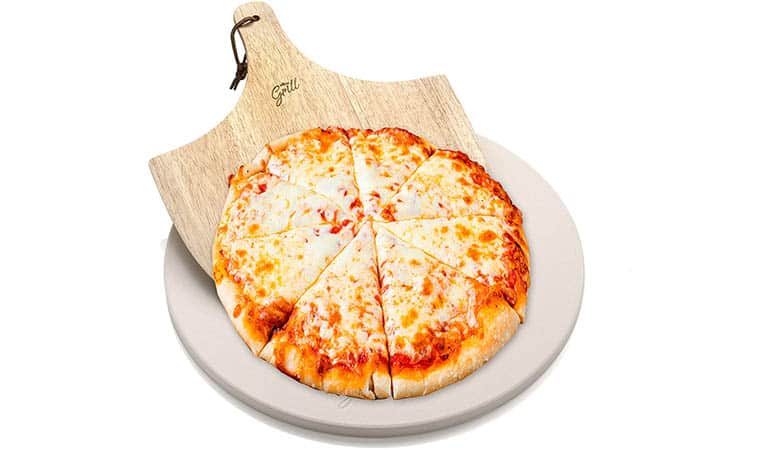 EDITOR'S CHOICE

Pizza Stone by Hans Grill Baking
Gas Hob Compatible
Wood Paddle
Thick
CHECK LATEST PRICE
You might make good pizza in your electric oven, but honestly you need to purchase a pizza stone to take your pizza quality to a higher level!
This stone has a variety of uses that will make you churn out much faster pizzas that have better, crispier crusts.
What, exactly, is a pizza stone?
This is a porous stone on which you bake pizza and sometimes other baked goods. It absorbs moisture from the pizza dough so that you get a more satisfying and crispy pizza instead of a soggy one.
There are a variety of pizza stones on the market, such as stones made of different materials and shapes, so you need to ensure you make the best choice when purchasing one.
Read on for our guide to the best pizza stone for your kitchen so you can start making pizza like a pro.
Winner: Honey-Can-Do Old Stone Oven Rectangular Pizza Stone
Because of its excellent heat-distribution properties, this pizza stone can be used to bake bread and other pastries, so it's not limited to making pizza.
The design of this pizza stone is such that it has raised edges so that it's easier for you to pick up and remove the pizza when it's been cooked. It's also rectangular in shape which makes the process of placing your pizza on it and popping it into the oven more user-friendly. This is why some people prefer rectangular pizza stones to round ones.
With its 14.5-inch length and 16.5-inch width, you can make large pizzas with this pizza stone without having to ring up your nearest restaurant to satisfy your junk-food craving. Whether you're making your own pizza dough or you're placing a frozen pizza on this pizza stone, you'll love that you get an evenly-cooked, crispy crust.
As a bonus, this pizza stone can be used on a gas grill to give you even more options for pizza nights at home. 
Runner Up: Heritage Pizza Stone, 15 inch Ceramic Baking Stones for Oven Use
Since it's made out of black ceramic, this pizza stone prevents very high temperatures from causing damage to it or making it release smoke during the cooking process, which can hamper delicious flavours in your homemade pizza.
Smoking can also cause horrible odors in your home, so this pizza stone ensures that you don't have to worry about it.

This baking stone is resistant to both burns and grease, as it has a non-stick glaze that prevents the pizza dough from getting stuck to the stone and being a hassle to remove and clean. It's built with a tapered edge that makes serving the pizza a breeze without worrying about how you're going to remove the pizza from the stone.
Cleaning this pizza stone is really easy. Simply use a bit of soap and water to remove any spills or food residue. This is great because many other pizza stones are too porous for you to use soap on them.
This user-friendly pizza stone isn't just reserved for making pizza. Its non-stick coating enables you to make a variety of baked goods, such as cookies and pies. 
With its 15-inch size, this pizza stone lets you make large pizzas and it's also large enough to accommodate frozen, ready-made pizzas.
Alternative 1: Pizza Stone by Hans Grill Baking
This increases its lifespan so you can continue making delicious pizza for years.
One of the best things about this pizza stone is that it's highly versatile. It can be used to cook pizza in the oven, on a grill, or even a gas hob. It can even fit your barbecue! It's also versatile when it comes to what you can cook on it so it'll be a useful kitchen tool that you will make good use of regularly.
If you're used to having to turn a blind eye to soggy homemade pizza, you won't have to do that anymore. This pizza stone absorbs moisture from the pizza dough and cooks the pizza evenly so that you get a crispy crust without a hassle. It's 15 x 12 inches in size so it can accommodate a large family pizza.
Alternative 2: Pizzacraft 15" Square ThermaBond Baking/Pizza Stone
It's ideal for pizza, bread, pastries as a result of how it won't become warped or cracked easily.
This best pizza stone for oven and grill cooking is made of FDA-safe Thermabond material. This is completely natural and resistant to thermal shocks so it can withstand extreme temperature fluctuations, which is a common concern with other types of pizza stone materials. 
This pizza stone's temperature-resistance means you can also use it for cooking and reheating frozen pizzas, which is great because when you try to cook a frozen pizza on a baking sheet it usually comes out soggy or its crust lacks crispiness as a result of the dough's moisture. This pizza stone is therefore a convenient item to have on nights when you want a ready-made pizza for dinner.
This pizza stone is easy to maintain as you don't have to condition or season it before use. When you want to clean it after use, simply use water.
Alternative 3: Honey-Can-Do Pizza Stone, 16''
It's too easy to burn your fingers, which is why you need to be careful. This Honey-Can-Do pizza stone is all about being user-friendly and safe.
Constructed out of a blend of lead-free clays, this pizza stone is resistant to cracking and durable to last you for several years. It can be used at temperatures of up to 500 degrees Fahrenheit in a standard home oven. It works well to absorb heat from the oven and transfers it across your pizza so that you get crispy crusts and toppings that are beautifully melted.
This pizza stone has a great feature to make it easy for you to remove the pizza when it's done. This is because it has ridges on the bottom. The bonus of this is that you can rest the pizza stone on your countertops without worrying that it will damage your delicate kitchen surfaces as a result of its extreme heat.
This Honey-Can-Do pizza stone is 16 inches in size, which makes it ideal for when you want to cook a large family-sized pizza. This size also makes it practical for baking pastries and batches of biscuits.
Now that we've looked at the best pizza stone for your kitchen as well as four alternatives to consider, let's explore some important information about pizza stones and how to use them for restaurant-quality homemade pizza.
Does pizza taste better on a stone?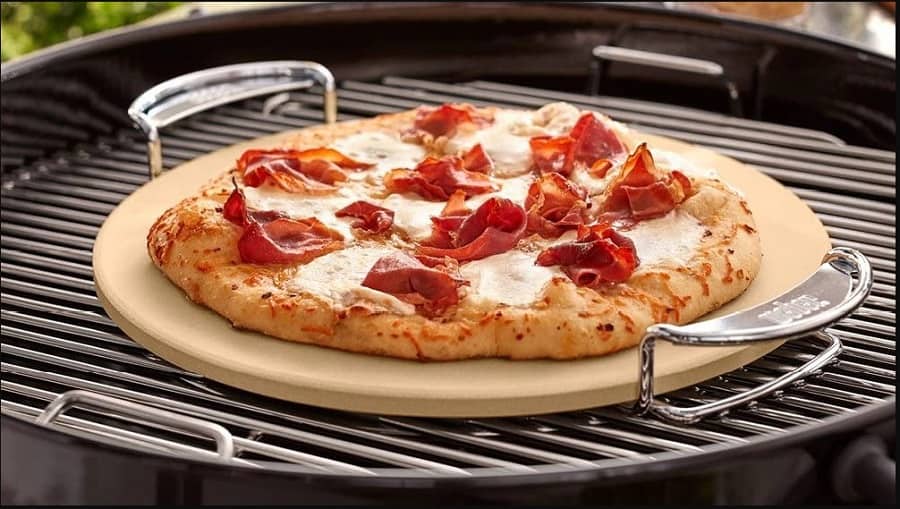 You might wonder if a pizza stone is better than a regular pan or baking sheet for making homemade pizza as delicious as possible. A pizza stone is made out of heat-retaining materials, such as ceramic, which helps to preserve heat and it also ensures an even distribution of heat so that the base and toppings are cooked properly.
Whatever material is used to make a pizza stone, it will also be porous. This means that the pizza stone draws water out of the dough during the cooking process. This helps to produce a delicious crispy crust, preventing you from having to eat soggy pizza or pizza that's cooked around the edges but soft in the center.
The beauty of how a pizza stone works also has much to do with its preheating process. When you preheat your pizza stone, this provides a burst of heat that helps the pizza crust to become puffy. You won't get this result when cooking pizzas in a tray or pan.
Should I oil my pizza stone?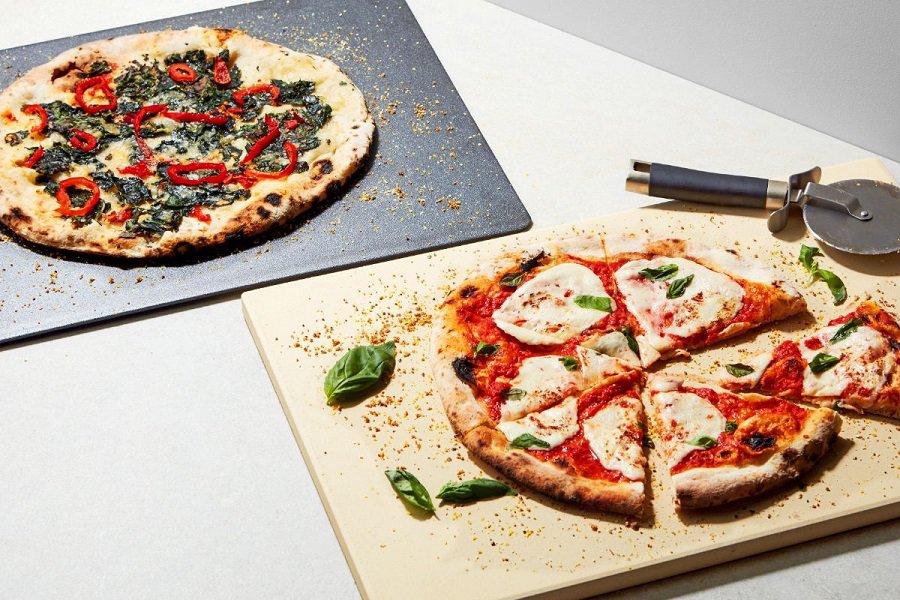 When you're ready to put your pizza in a baking tray, you might oil the tray to prevent the pizza dough from sticking to it, right? While you might think that you need to do the same thing with your pizza stone, this is something to avoid!
Your pizza stone should never be oiled or greased before use. This is because, as we mentioned earlier, pizza stones are made of porous materials, so they will absorb the oil and it will damage them.
Over time, this oil will remove the pizza stone's coating and therefore make it less porous. When the pizza stone can't absorb moisture from the pizza crust in the way that it used to, this will cause you to end up with a soggy pizza base. This defeats the whole purpose of having a pizza stone!
To prevent your pizza from sticking to the surface of the pizza stone, there are other things you can do. You can apply a bit of semolina or fine polenta to the stone as these are coarser than flour and will create a non-stick barrier between your pizza and the stone. They won't become soggy if they make contact with moisture and they won't damage your pizza stone over time. Simply sprinkle a bit onto the hot pizza stone before you place the pizza onto it.
Can I use a piece of granite as a pizza stone?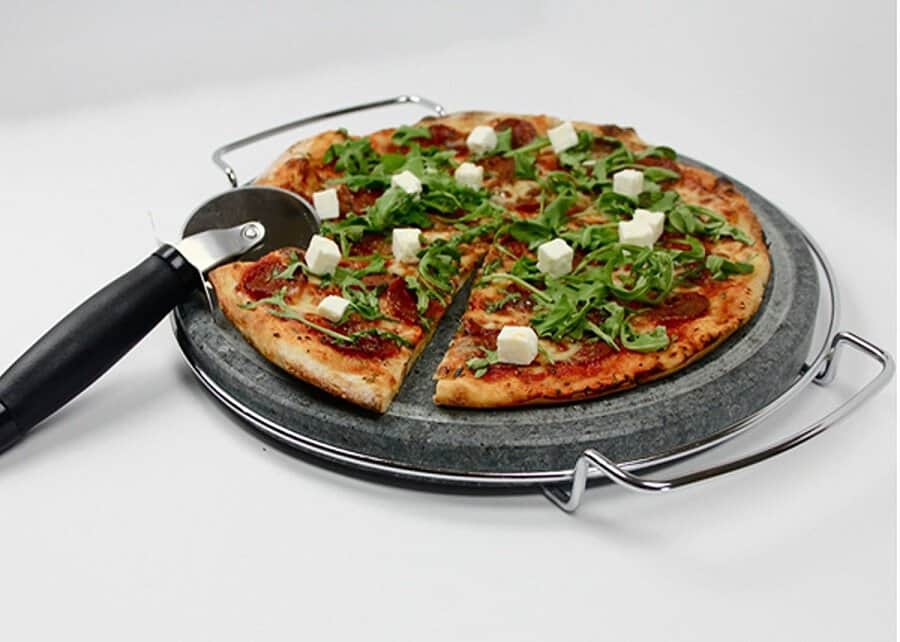 You can use granite as a pizza stone. This is because granite maintains heat very well, but granite pizza stones are not as well known or available as ceramic pizza stones which is why you might not be aware of them. There are pros and cons linked to granite pizza stones.
Pros
Granite is a good heat conductor but it feels cool when touched. This means it will keep your pizza dough cool while you add toppings to it.
Granite is heat-resistant. It can tolerate very high temperatures for long periods of time, which makes it ideal for baking pizza.
Granite is stain-resistant. It's common for pizza stones made out of ceramic to become dirty and stained very quickly. Granite doesn't get stained easily because it's not as porous.
Granite evenly distributes heat evenly. This ensures that your pizza will be cooked evenly.
Cons
Granite is heavy. This can make it difficult to put granite into the oven and then remove it.
Granite is sticky. Since granite that's polished can be smoother than ceramic, it can make it easier for pizza to stick onto the granite during the cooking process.
Granite takes a bit longer to become hot. Even though it does retain heat well, it doesn't heat up as quickly as other materials.
Granite stays hot for a long time as a result of how it maintains heat. You have to handle it carefully when taking it out of the oven.
Can you cook a frozen pizza on a pizza stone?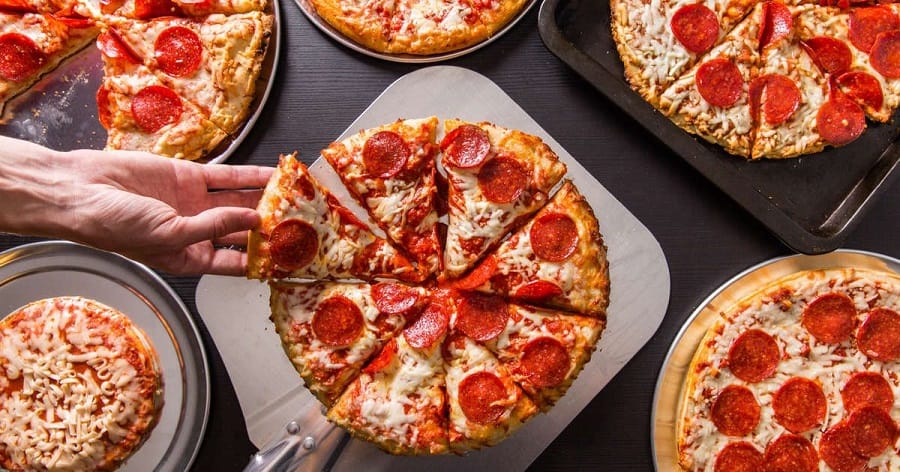 If you want to cook frozen pizza on your pizza stone, you can – and it's really easy. You don't have to follow any major preparation steps.
When you're ready to bake the frozen pizza on a pizza stone, set your oven to its maximum temperature and let your pizza stone get preheated. When it's hot, slide your frozen pizza directly onto the heated stone. Then, bake the pizza for about five to eight minutes.
The benefit of using a pizza stone for frozen pizza is that it will effectively absorb moisture in the frozen pizza so that you don't end up with a soggy crust or undercooked center. You'll also reduce the amount of time it takes to cook your pizza.
If you regularly bake homemade pizza, you'll want to get your hands on a pizza stone to make the process so much easier and give you professional results.
A pizza stone is valuable because it gives you better, crispier pizza crusts and makes it easier to put the pizza in the oven. In this article, we've featured the best pizza stone for your kitchen, along with four quality alternatives.
To help you make more delicious pizza at home, we've also featured some important information to know about pizza and pizza stones, such as how pizza stones make pizza taste better and whether or not you need to apply oil to your pizza stone in order to season it before use for the best results.
Sources: