Best Ramen Bowl For Making Delicious Ramen At Home
Last updated:
December 21, 2021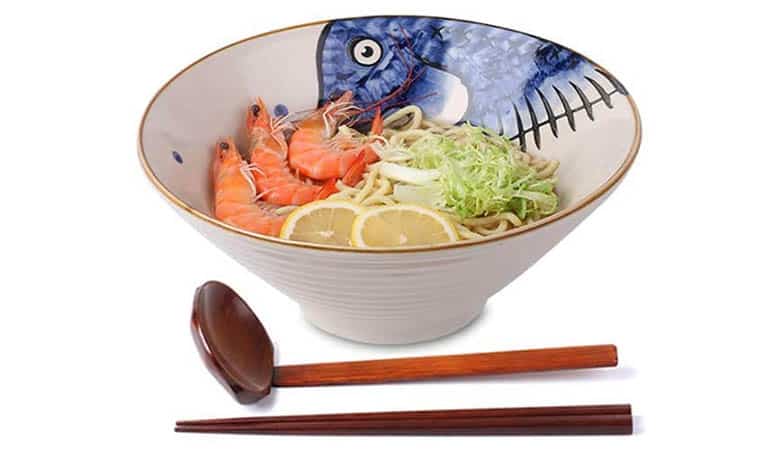 EDITOR'S CHOICE

Ceramic Japanese Ramen Noodle Soup Bowl​
Large
Glazed Bottom
High Capacity
CHECK LATEST PRICE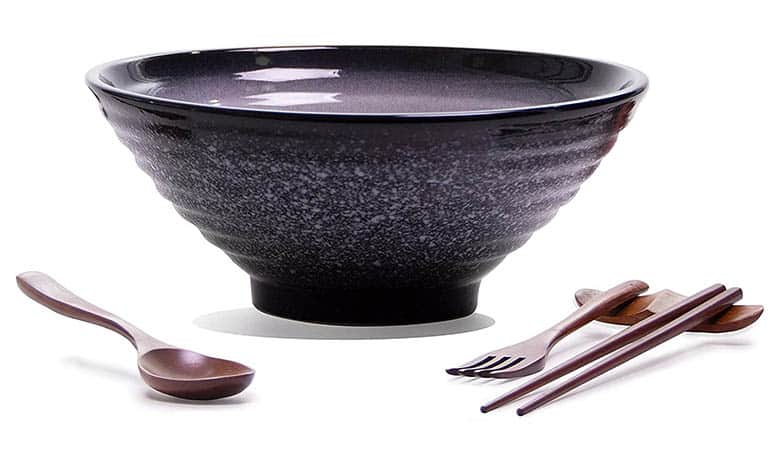 EDITOR'S CHOICE

Vallenwood Premium Ceramic Large Ramen Bowls
Utensils Included
Stackable
Ramen Recipes

CHECK LATEST PRICE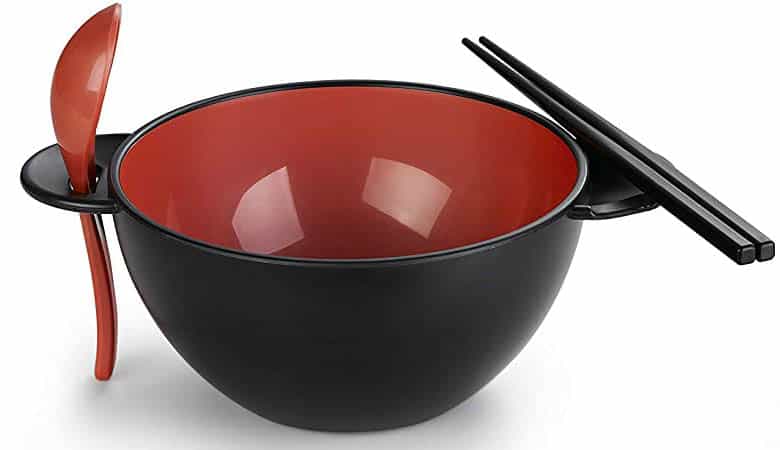 EDITOR'S CHOICE

Ozeri Earth Ramen Bowl 6-Piece Set
Natural materials
Dishwasher safe
CHECK LATEST PRICE
A ramen bowl is basically a bowl that's used for eating ramen, hand-pulled wheat noodles that are a traditional Japanese noodle soup.
While you might not think that a ramen bowl is necessary when making ramen as you could use any other bowl you already have in your kitchen, these bowls are deep and large so that your ramen ingredients won't splash around or spill.
Does a ramen bowl keep your food warm? A ramen bowl is designed to be tall so that it will maintain the warmth of your food for longer periods of time, preventing your food from being cold before you've eaten it all.
Eating ramen out of a bowl specifically designed for this food will elevate its deliciousness. With that in mind, here's your guide to the five best ramen bowls to purchase.
We'll start with the best one on the market, why it makes the number-one spot on our list, and why it deserves to be on your shopping list.
Best Ramen Bowl Winner: Ceramic Japanese Ramen Noodle Soup Bowl
These ramen bowls come in a set of six, so you'll have more than enough for your family. They have a large capacity and this ensures that the soup and all its toppings will remain inside the bowl without spilling. While it's said that a ramen bowl should have around 35 ounces of capacity, these give you 60 ounces!
These bowls are convenient because they come with chopsticks and a spoon included. These accessories are sure to make you feel like you're eating at a high-quality restaurant and they're ideal for serving when you're hosting dinner at your home.
Since they're nice and large, with a length of 9.06 inches and a 3.9-inch height, they can easily be used for a variety of other foods. For example, some people who've purchased these bowls have said that they are great for eating ice cream! They're therefore bowls that will get a lot of use in your kitchen.
These bowls look beautiful with their blue patterns, but they're also easy to use. Thanks to their larger size, you can easily pop them into the microwave and this prevents you from burning your hands when taking them out.
You can choose between blue or red ramen bowls when purchasing them via Amazon.


Runner Up: Vallenwood Premium Ceramic Large Ramen Bowls Set
If you've been cooking Asian dishes at home, you'll want to enjoy them more by investing in these beautiful ramen bowls. They are made out of strong ceramic that's restaurant-grade quality so they are sure to last you for several years
They're nice and thick, which further increases their lifespan, while also preserving the heat of your meals for longer.
These ramen bowls are user-friendly as they come with a variety of extra accessories to make you enjoy your meals at home. These include spoons, chopsticks, forks, and chopstick stands that come with the two ceramic ramen bowls in this pack. 
These bowls are focused on being healthy, and they're FDA-approved for safety. The wooden utensils are also 100-percent sustainable, which is good to know as they're kind to the environment and that will make you feel better about using them regularly.
When purchasing these bowls, make sure you scroll through the different colors that are available. You can buy these beautiful ramen bowls in dark blue, white with a blue wave pattern, or pure white. You can also choose bowls that are either eight or 10 inches in size.
After ordering them online, they come well packaged to prevent quality issues during their delivery, which also makes them a great gift for loved ones who love eating ramen.
Alternative 1: Ozeri Earth Ramen Bowl 6-Piece Set
These ramen bowls are great for you and the environment because they're eco-friendly. Unlike many other ramen bowls you can buy on the market, they are free of plastic, BPA, PVC, dyes, melamine, formaldehyde, and lead. This is important because you'll be enjoying hot food in these bowls and you don't want them to leach toxic ingredients into your ramen.
These bowls are made of plant-derived, natural materials so you can whip up healthy, delicious meals for your family and serve them in these ramen bowls.
The set of these two bowls comes with two spoons, and two sets of chopsticks, so you'll have everything you need to start enjoying Asian-inspired dishes at home. However, you can certainly use these bowls for a variety of other foods.
These ramen bowls are lightweight yet durable, so you'll enjoy using them. Best of all, when they have reached the end of their lifespan, you don't have to throw them out because they are biodegradable. The manufacturer states that when these bowls are buried underground they will biodegrade within two to three years!
These bowls are eight inches in length and four inches in height, and they come in a trendy red and black design. Alternatively, you can choose to buy them in black and beige. They have a good capacity of 33.5 ounces.
Alternative 2: Kimi Cuisine Ramen Bowl Set of 2
Their 37-oz capacity enables you to use these bowls for a variety of foods, such as pho, ramen, noodles, soups, fried rice, and more.
Since they're made of food-grade melamine, these ramen bowls are durable and resistant to damage. So, they're safe for use around children and you don't have to worry about them too much as they can be dropped without cracking.
These bowls come in a set of two, and you can buy them in a variety of trendy and striking colors which makes them ideal for serving to guests.
These top ramen bowl products come with not just one but two chopstick sets and two soup ladles, which is great as you'll have everything you need for yourself and your partner. They're the perfect set for couples. If you buy a few sets, you'll be able to use these for the whole family. They also come with two sauce cups, which is a nice extra touch.
They come in the following colors to suit various tastes: black, white, dragon (orange and black), galaxy (purple and black), phoenix (yellow, orange, and black), and white, so you'll be able to match them to your home decor.
Alternative 3: World Market Japanese Ceramic Ramen Bowl Set of 2
They're made with 100-percent grade ceramic, so they're durable and designed to last for several years.
The ceramic that's been used to make these ramen bowls is non-absorbent. It's also been insulated to enhance the flavor of your dishes while ensuring that your ramen stays warmer for longer.
These best ramen bowls come with a soup spoon and chopsticks, which is great. This makes them a fantastic gift for a ramen lover in your life, or someone who wants a beginner ramen set. 
To ensure safety when using these bowls, they have been made without any BPA or lead in them. This makes them ideal for both cold and hot meals, as you won't have to worry about them leaching toxic chemicals into your food.
You'll love that you can enjoy soup, salad, rice and other foods in these bowls – you can even use them as mixing bowls if you like, which increases their versatility in the kitchen. This best microwave bowl for ramen has a 17.5-ounce capacity.
People who have used these best ramen bowls for many years have reported that they don't get scratched easily and their colors don't fade over time.
Now that we've looked at five of the best ramen bowls on the market, you've got some good ideas of which ones you should purchase for your kitchen. However, you might have some questions about ramen bowls, so let's answer some of the most common ones.
What kind of bowl do you use for ramen?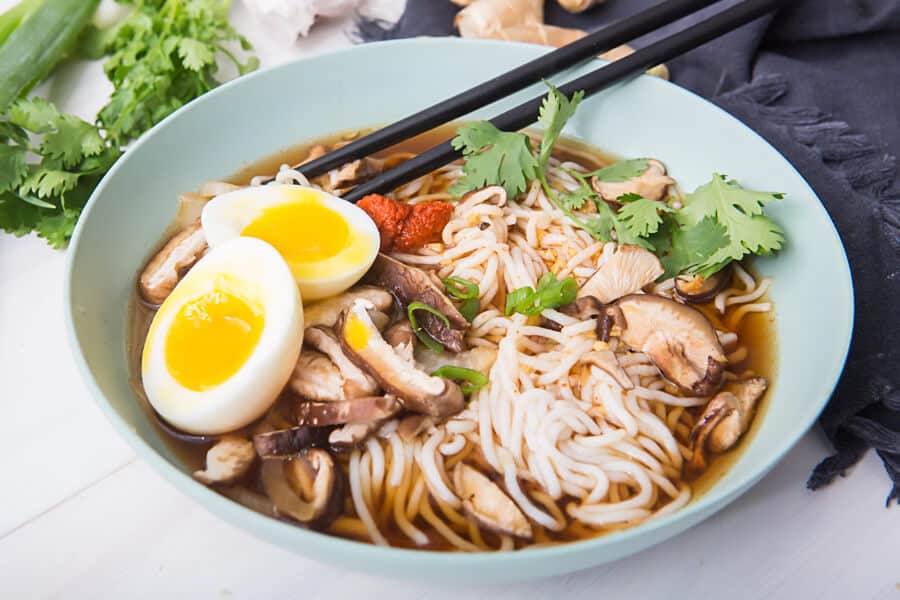 A bowl that's suitable for ramen should ideally have a spoon and chopsticks included, as this is the traditional way of eating ramen. This also makes it convenient to enjoy ramen at home.
The bowl should have a good capacity – around 34 ounces is considered the minimum – to ensure that everything in the ramen (the broth, noodles, and toppings) will fit comfortably inside the bowl. That said, you can find smaller bowls that accommodate smaller portion sizes.
The height of the ramen noodle bowl is also important. For home chefs, a ramen bowl should be tall enough to accommodate the noodles, soup, and toppings and ensure that the food stays warmer for longer. So, a height of about three inches is good, but it can be taller. By comparison, the ramen bowls you'll find in restaurants are usually around 3.5 inches in height as a result of being able to accommodate larger ramen portions.
It's also interesting to note that the rim of the bowl is important. This rim is called koen in Japanese, which means "around the mouth." It should be thin and smooth because you should be able to drink the broth directly from the bowl. That said, it shouldn't be too thin that it breaks.
Are ramen bowls microwave safe?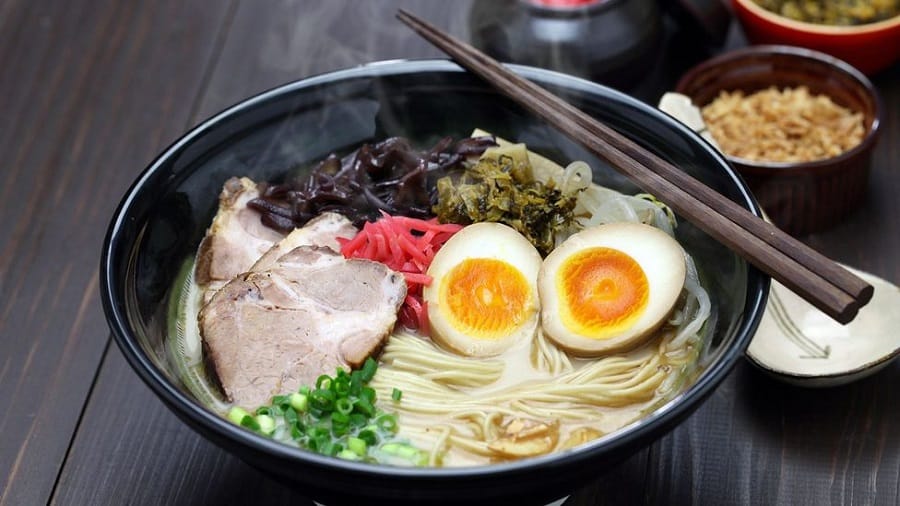 Some ramen bowls are safe for use in the microwave, while others aren't. It's therefore important to check the manufacturer's description to ensure that your bowl will be safe, before you go ahead and purchase it online.
As we've seen in our best ramen bowl reviews, ceramic bowls are usually safe for the microwave, but bowls that are made of melamine are not safe and should never be put in the microwave.
Does melamine leach into food?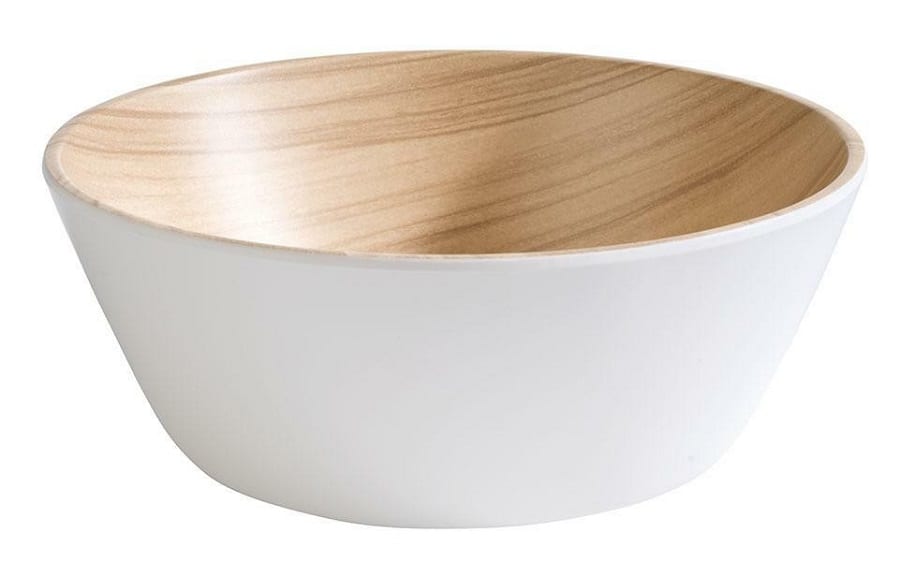 There are some precautions you have to bear in mind when you purchase melamine bowls.
Melamine is a chemical that's found in a variety of items, such as plates, bowls, and tableware. It can leach into food and it can potentially increase your risk for health problems. This chemical has been linked to health conditions such as bladder stones and kidney stones, and cancer in animal studies that have been done. Until now, there's not a lot of research that's been conducted on human exposure to this chemical.
Melamine can also refer to a type of plastic, such as when it comes to ramen bowls, but when you see this word it means the plastic contains the melamine chemical. You should never put melamine plastic in the microwave as it can leach chemicals at high temperatures. This is why it's best to make use of other materials for your ramen bowls if you want to put them in the microwave.
How do you arrange ramen bowls?

If you want to make ramen properly, there are some important tips to prepare and arrange it in your bowls. Here are the steps to follow the next time you make ramen at home.
1. Before serving your ramen in bowls, prepare all the elements you'll be using. Start by warming your soup and noodle water, prepare your ingredients (such as scallions), and prepare your containers of aroma oil and tare. You should also lay out your utensils.
2. You should warm your ramen bowl. This is important to ensure that your ramen will be hot when you consume it and prevent it from being lukewarm.
3. Cook your noodles. Don't cook them in the soup as fresh ramen noodles release starch and salt which will alter the flavor of the soup.
4. While the noodles are cooking, add the soup, aroma oil, and tare to your bowl. You should add the soup last as this disperses the tare and seasons the soup.
5. Strain the noodles. You have to move quickly so that the noodles don't become limp from being overcooked. When straining them, make
sure you remove as much of the water as you can.
6. Add the noodles to your bowl. A common technique is to fold the noodles into a bundle. This makes them easier to remove from the bowl.
7. Add your toppings. If you want to use nori, make sure you place this last as it tends to become soggy. When placing meat, put it first so that it will maintain the dish's warmth.
Enjoy! The next time you cook ramen, make sure you follow the above steps so that you enjoy the intricacies and flavors of the dish much more. Although this noodle soup is humble, it requires some important attention to detail which gives it an extra burst of deliciousness.
You might love eating ramen, but if you're eating it out of regular bowls you already have in your kitchen cabinet, you're missing out on the experience of eating it in a traditional way.
Choosing a ramen bowl for your noodles and soup is essential. This type of bowl is designed in such a way to keep your food hotter for longer, while being large and tall enough to accommodate your food.
You therefore need to purchase some ramen bowls for the home. In this article, we've featured five of the best ramen bowls for making delicious ramen at home. We've also provided some important information and advice when it comes to how to prepare ramen and what the best type of bowl is for this delicious Japanese food.
Sources: