Best Wok For Home Chef
Last updated:
December 21, 2021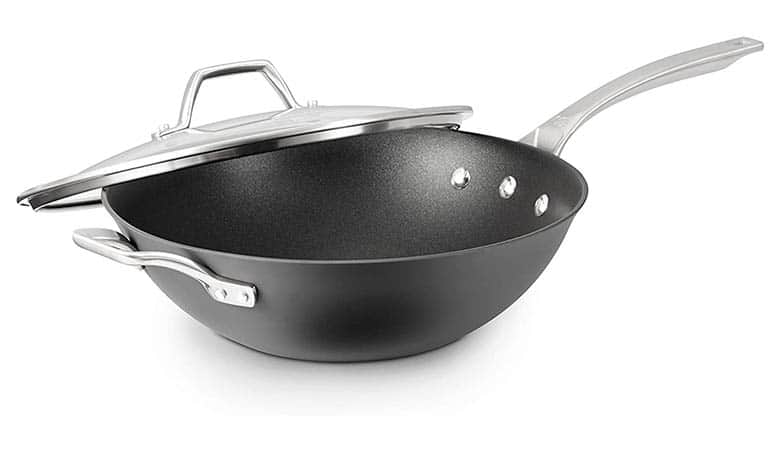 EDITOR'S CHOICE

Calphalon Signature Hard-Anodized Wok
High Temperature
Sturdy
Dishwasher Safe
CHECK LATEST PRICE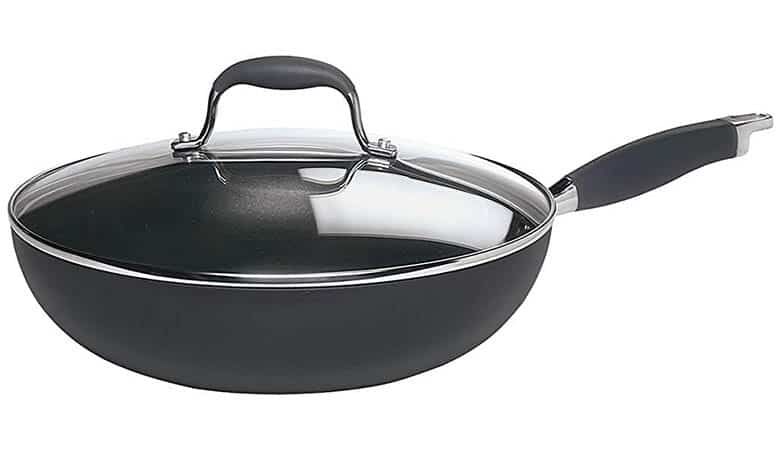 EDITOR'S CHOICE

Anolon Advanced Hard Anodized Nonstick Wok
Glass Cover
Non Stick
Flat Bottom
CHECK LATEST PRICE
EDITOR'S CHOICE

T-fal Specialty Nonstick Wok
Lightweight
Non Stick
Ergonomic
CHECK LATEST PRICE
If you don't already own a wok, it's definitely a piece of cookware that you should invest in for your kitchen.
While you might think you can do everything with a frying pan, a wok is a high-walled pan that's usually built with a round base and this design increases its cooking surface, which makes it ideal for making the perfect stir fry.
Can you use a wok for more than stir fries?
Don't think that a wok is limited to making a delicious stir fry! You can use a wok for a variety of other cooking techniques, such as boiling, braising, or even deep-frying foods.
Before you go ahead and purchase a wok, there are some important features to look for to ensure you get the most user-friendly one, such as when it comes to specific materials used in its construction that will greatly affect your cooking experience. With that in mind, here's our guide to the best wok for home chefs.
Best Overall: Calphalon Signature Hard-Anodized Nonstick 12-Inch Flat Bottom Wok with Cover
The wok has been designed with a three-layer non-stick interior so it's strong enough to last longer than woks made with a single layer of coating.
This also means you can use metal utensils on the wok, which is not usually allowed on non-stick coatings as they can be damaging – but there are conflicting ideas about whether or not you can do this with this wok, which is an issue we address in our pros and cons further down.
Since it's made of hard-anodized aluminum, this wok evenly cooks foods and can be used at temperatures as high as 500 degrees Fahrenheit. This means that you can use it on the stovetop as well as in the oven.
It's popular and renowned, as it's been named the best overall non-stick cookware by Good Housekeeping, so it's definitely one to consider if you want to invest in a high-quality wok.
This versatile wok is ideal for a variety of cooking techniques, such as pan-frying, steaming, and stir-frying foods. When making stir fries in particular, the tall sides of this wok will enable you to toss ingredients nicely.
You'll love that this wok is PFOA-free, meaning that it doesn't contain perfluorooctanoic acid which is dangerous to human health.
Runner Up: Anolon Advanced Hard Anodized Nonstick Frying Pan/ Fry Pan/ Saute Pan/ All Purpose Pan with Lid
As with the previous wok on our list, it's been built with three layers of non-stick coating which make it a quality wok to own.

The wok is made of hard anodized aluminum that allows heat to be effectively distributed through your ingredients.
One of the common problems you might experience with woks and other cookware is that it's not always easy to hold them, such as if you have to carry the wok to another part of the kitchen or you want to toss ingredients in it. To overcome this issue, this wok has been designed with comfortable yet solid handles which have been dual riveted for increased durability.
You can easily use this wok on the stovetop or in the oven, thanks to its domed glass lid. This maintains flavor and heat during the cooking process. The wok can safely reach temperatures of up to 400 degrees Fahrenheit.
This wok pan is free of various chemicals that you don't want anywhere near your food, such as PFOA, lead, and cadmium, so you won't have to worry about toxic chemicals.
Alternative 1: T-fal A80789 Specialty Nonstick Jumbo Wok Cookware
Sometimes you need a larger wok, such is if you want to cook for more family members or you're hosting a dinner party. That's why this 14-inch wok is ideal. It's made of aluminum so that it's lightweight to carry, it heats up quickly, and it distributes heat through your ingredients so that your food is cooked evenly.
It also has an even heat base that contributes to uniform cooking.
Thanks to its high-quality non-stick coating, you can cook with less oil and fat in this wok, which helps you to make healthier meals for your family.
This wok can heat up to 350 degrees Fahrenheit and it heats up quickly. You can easily use this wok for a variety of cooking purposes, such as stir-frying, steaming, sautéing, poaching, braising, as well as making soups or roasting nuts.
The wok's handle has been ergonomically designed so that you can hold it firmly but it feels comfortable during use – that's perfect for when you're spending hours in the kitchen. The handle is made of silicone and has a stay-cool design so that it's safe to use. This handle is also long so that it keeps you further away from the heat source, therefore increasing your safety during cooking.
Alternative 2: Craft Wok Traditional Hand Hammered Carbon Steel Pow Wok
If you're not sure if you should purchase a flat- or round-bottomed wok, the latter is worth considering. This is because of how it distributes heat evenly and also heats food along the high walls of the wok, therefore increasing your cooking surface.
This best carbon-steel wok comes with a steel helper handle that doesn't burn your hand when it's hot, and the wooden part of the handle has a hygroscopic surface that doesn't slip and makes it easy to grip it tightly.
This wok has been made with 15 gauge, 1.8mm thick carbon steel so it's thick enough to provide even, consistent heat while also not being too heavy to handle. This is the perfect wok to make your first wok ever as it's easy for anyone to start using.
Although you are required to season this wok, if you do it properly and regularly, and ensure you clean it after use, you will keep it in good condition so it won't become damaged.
Alternative 3: Joyce Chen , Classic Series Carbon Steel Wok Set
It comes with a 14-inch wok, a 12-inch bamboo spatula, a dome lid for the wok, and a recipe book, so you'll be able to use it right out of the box.
Since the wok is made of 1 ½mm gauge carbon steel, it heats up quickly and provides uniform heating for all your ingredients. However, you should note that it does need to be seasoned before use.
Don't worry about battling to hold the wok when it's hot. It comes with birchwood stay-cool handles. One of the handles is long and the other is a helper handle to increase the user-friendliness of this cooking equipment.
This is a flat-bottom wok that is flexible and lightweight, so it's easy to move around the kitchen and put into storage when you're done using it for the day. A flat-bottomed wok is ideal for searing foods, such as large pieces of  vegetables and meat, as you have a large, flat surface area.
As we've seen in our reviews of the best woks on the market, there are many different types of woks to choose from, such as flat- or round-bottomed woks. With that in mind, let's explore important information about woks.
Is carbon steel wok toxic?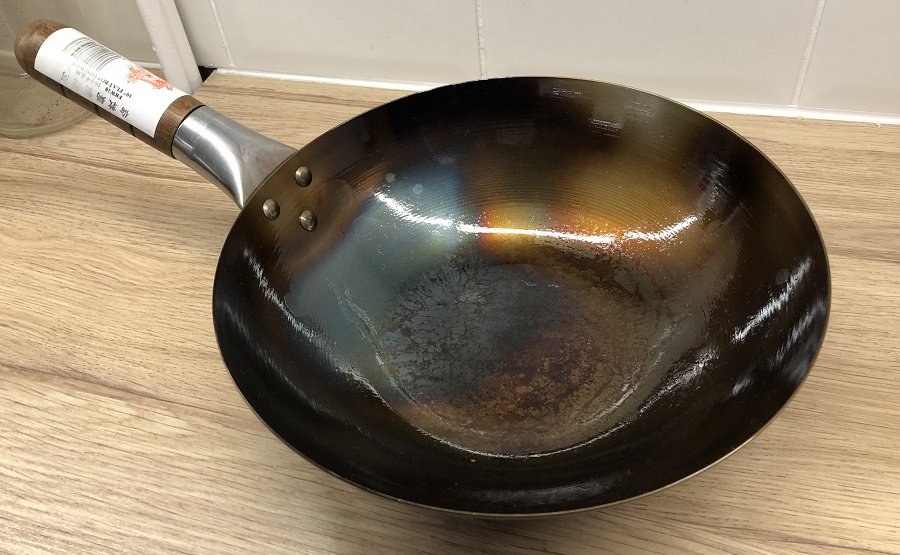 A carbon-steel wok has many benefits, such as that it heats up quickly and evenly distributes heat. However, there are some concerns about it leaching.
Carbon-steel woks and other iron cookware can leach small quantities of iron into the food. Generally, this isn't considered harmful because it's in such small amounts.
It's also important to note that carbon steel is reactive to foods containing high amounts of acid. Exposure to these foods, such as tomatoes, will increase how much iron the wok leaches.
Therefore, it's best to avoid cooking these foods in a carbon-steel wok. However, it's worth noting that this is a concern that also applies to cast-iron cookware.
Ultimately, carbon steel is safe for use in cookware because it isn't produced with any harmful chemicals.
Are non-stick woks any good?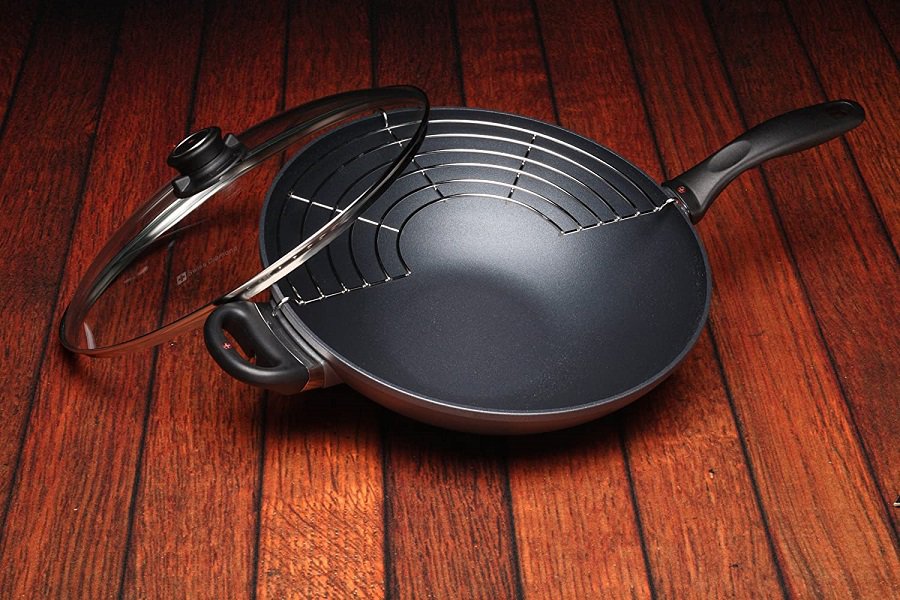 Non-stick coatings on woks make cooking and clean-up afterwards much easier. The non-stick coating also helps you to prevent sticky foods from getting stuck onto the wok, so they won't fall apart during the cooking process.
That said, there are some important things to bear in mind if you want to purchase a non-stick wok. For starters, it's very easy to scratch a non-stick wok surface, so you have to be careful with the utensils you use during cooking and how you clean the wok. Then, a non-stick wok won't give you an authentic smoky flavor in your food because it can't reach very high temperatures.
It's also good to remember that you shouldn't try to reach very high temperatures with a non-stick wok as its coating will become damaged.
If you want to cook a stir fry in a non-stick wok, for example, you will require more oil to keep the ingredients from sticking. But, since you can't make the temperature very high you won't get the same flavor from your stir fry as you would with carbon-steel woks
What type of wok do Asians use?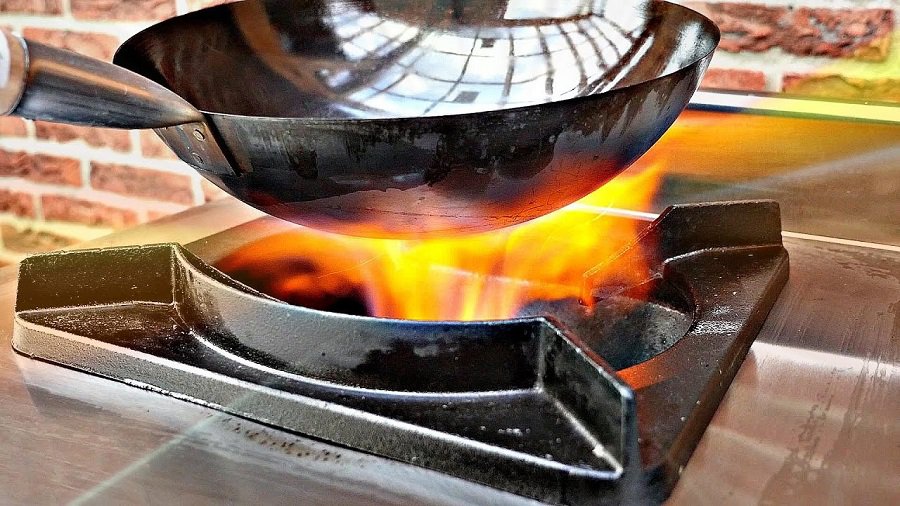 It's said that woks made of carbon steel are preferred by many Chinese restaurants and this is because of how it's inexpensive, lighter to handle than cast iron, and it seasons over time to create its own non-stick surface.
Since non-stick pans and woks can't tolerate cooking at very high temperatures, a carbon steel wok is better as you can expose it to extreme heat for various Asian dishes without it causing the wok any damage.
Is stainless steel better than carbon?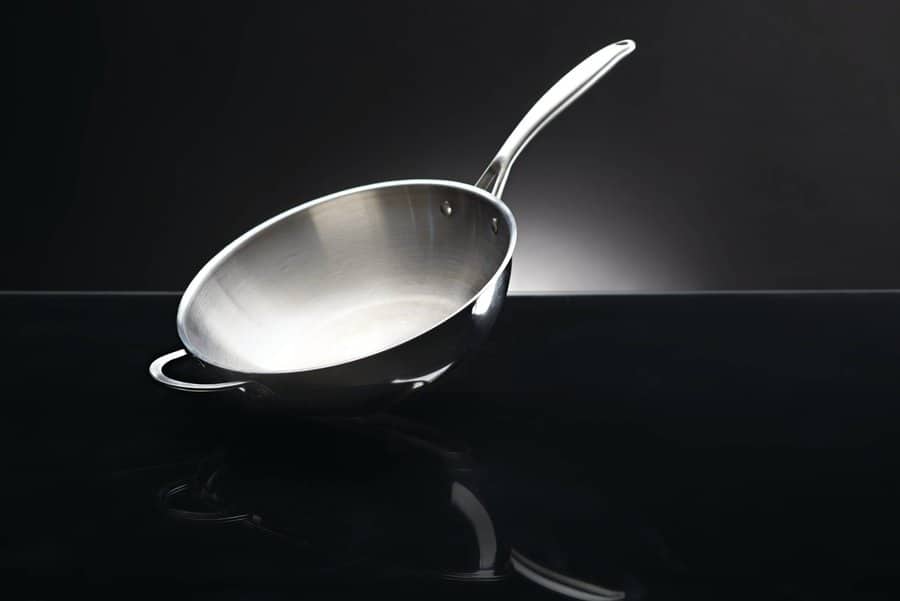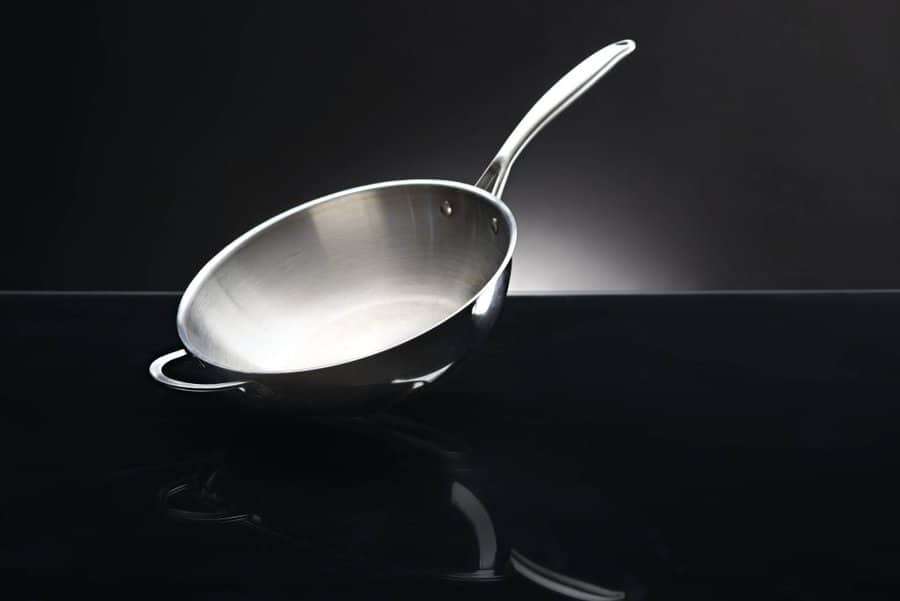 By now you might be thinking, "What about stainless steel?" While carbon steel is a popular material for woks, you will also have to consider stainless steel. The problem is that there are quite a few concerns with stainless steel. It's thinner, it doesn't produce an even distribution of heat as compared to carbon steel, and it will require you to use more oil during the cooking process.
That said, there are reasons why you might be leaning towards buying a stainless steel wok. It's really easy to maintain because you don't have to season it regularly and you can wash it easier. Stainless steel is a strong, sturdy material that doesn't become warped over time. One of the biggest benefits of stainless steel is that it's non-reactive. Unlike other materials, such as carbon steel, it won't negatively interact with acidic foods.
While they're easier to clean, stainless-steel woks don't impart as much flavor into foods as what you'll get from a carbon-steel wok. The food you cook in a carbon-steel wok gets infused with residual heat during the cooking process, plus seasoning your wok can enhance its flavor. Seasoning makes the patina of the wok heavier, creating a non-stick surface. This layer also prevents corrosion.
Maintenance-aside, it's important to focus on the foods you'll be able to cook when you invest in a wok for your home kitchen. When it comes to making food such as stir fries in your wok, a stainless-steel wok just won't cut it. It can easily burn your food because it transmits heat quickly and it can cause hot spots which turn black in the pan. Without a seasoned coating, a stainless-steel wok can easily cause food to get stuck to it.
If you don't have a wok in your kitchen, you should really buy one. While you might assume you can do the same things with a pan, the truth is that a wok offers much greater versatility.
You can use your wok to steam, deep-fry, braise, and even smoke foods. In this article, we've provided you with five of the best woks on the market that should be in every home chef's kitchen.
To help you get started with using a wok, we've also featured some important information to know about this piece of cooking equipment, such as if you should choose a carbon or stainless-steel wok for best results.
If you do a lot of cooking in your kitchen, it's a smart idea to buy two woks – one of carbon steel for general cooking and one of stainless steel for cooking with acidic foods like tomato and vinegar. This will give you everything you need to whip up delicious meals right at home.
Sources: