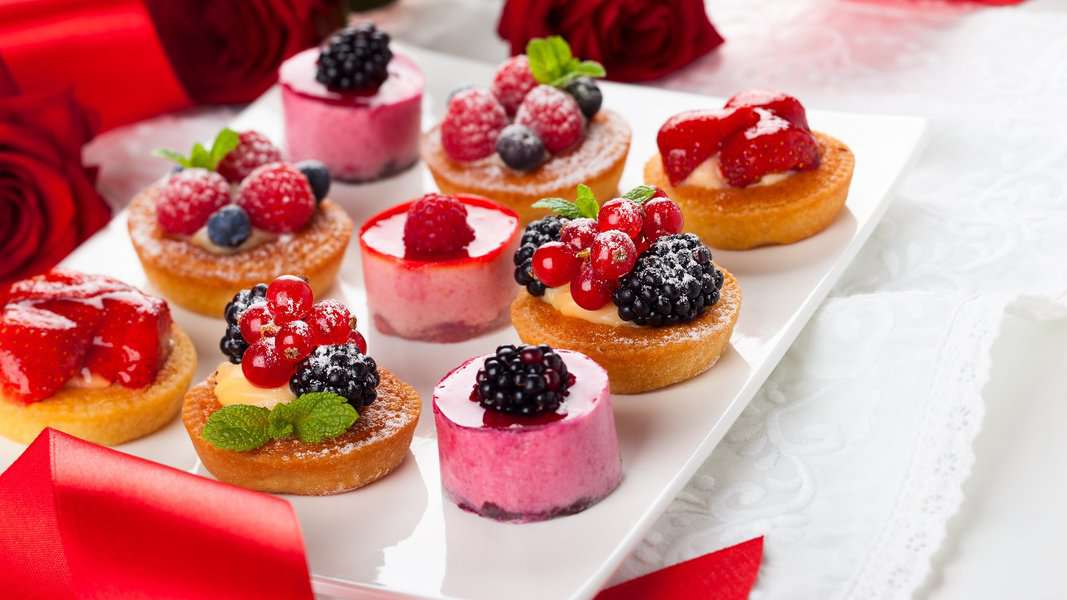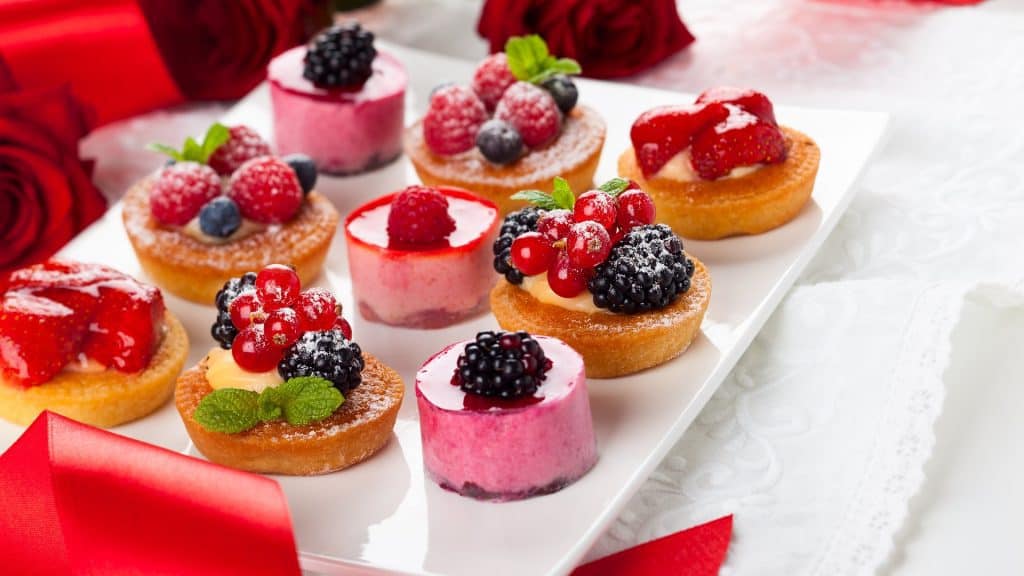 9 Must-Try Desserts In Spain
When you think of Spanish food, you might think about paella and spicy sausages, but the country also has a variety of delicious desserts that you should know about.
There are traditional pastries, cakes, and more to enjoy.
Do Spanish people like desserts?
Desserts are very popular in the country, but the types of desserts you'll find in Spain vary from one region to the next. Many desserts have variations in different areas of the country.
If you're planning a trip to Spain or you just want to gain some inspiration for making delicious desserts at home, here are nine must-try traditional desserts. They're sure to make your mouth water!
9 Best Desserts In Spain
Tarta de Santiago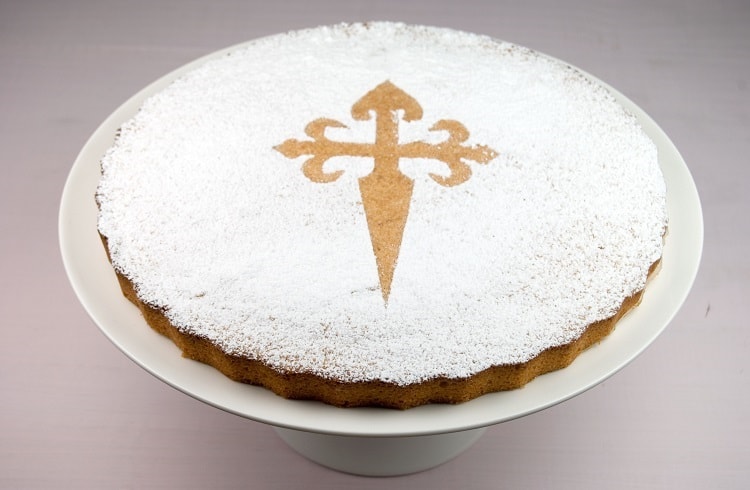 This is a traditional Spanish cake that has its roots in the 15th century. It hails specifically from Galicia in Spain. Legend has it that the cake was brought to Galicia by a pilgrim and consumed by people going to the cathedral in an ancient pilgrimage – it was too good not to start eating on the way!
The reward at the end of the pilgrimage was, ironically, the pleasure of indulging in Tarta de Santiago, this sweet almond cake.
This cake contains almond zest, orange zest, and almonds. It's moist and fluffy, and traditionally has a stencil of St. James Cross on the top. This cross is called espada, and it's a blend of a cross and sword.
Although a traditional decoration, this cake still bears that cross today. The cross goes all the way back to the year 844 when it was a symbol of the Order of Santiago, a religious and military order that was established in the 12th century. Today, the cross is linked to Christianity.
Enjoy the best Tarta de Santiago when traveling through Spain. Some of the best places to eat it are La Bodega de Santiago in Las Palmas and a chocolate shop called Mercedes Mora in A Coruña.
If you're in the U.S., you might be lucky enough to find it in local restaurants. Tomiño in New York City, which is regarded as one of the best Spanish restaurants in the city, is an example.
Flan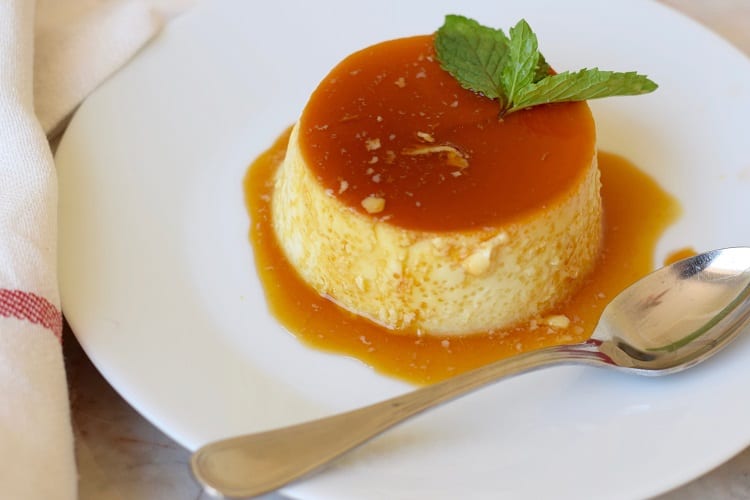 This is a classic Spanish flan made with vanilla egg custard, then covered in a delicious and sticky caramel sauce. It's light so it's perfect to enjoy after a meal.
Flan is a dessert that originated in Rome before spreading to all parts of the world, including Spain. But, interestingly, Spain played an important role in making flan delicious. In the country, caramelized sugar was added to the traditional flan recipe.
The Moors also added some important ingredients, such as almonds, to it. Ultimately, flan has remained simple and delicious, thanks to its sugar, cream, and egg ingredients.
Some of the best places in Spain to enjoy flan include Granja la Pallaresa in Barcelona, where you'll also find other traditional sweet treats; and La Mallorquina in Madrid, where you'll enjoy a decadent flan in the restaurant's charming old-school setting.
Crema Catalana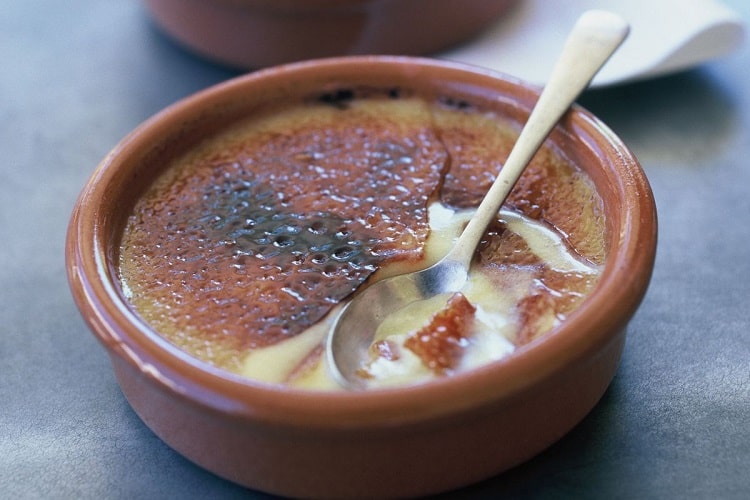 This is the Spanish version of the crème brulée of France. It contains a crust of burnt sugar and a creamy custard inside.
When made traditionally, this dessert had a spiral shape on top. It's made from milk before being thickened with eggs and cornstarch. It usually contains cinnamon sticks and lemon peels to give it extra flavor.
In Spain, Crema Catalana is a dessert that's important to its people. It's usually called Crema de Sant Josep. This is because it's served on the 19th of March to celebrate the saint's feast day.
There's also a funny story linked to the history of this Spanish dessert. Legend has it that nuns in Catalan had prepared a flan to honor a bishop who was visiting, but the flan was too liquid in consistency so one of the nuns tried to fix it by pouring spoons of hot sugar into it.
While eating the dessert, the bishop called out "Crema!" which means "cream" and "hot," so since then this famous dessert has been called "Crema Cremada," which means "torched cream."
Some of the best restaurants to try Crema Catalana include Granja M. Viader in Barcelona which offers the dessert with an unusual spicy flavor profile, and Los Caracoles in the same city where the sugar on the cream is burned with a Bunsen burner.
Churros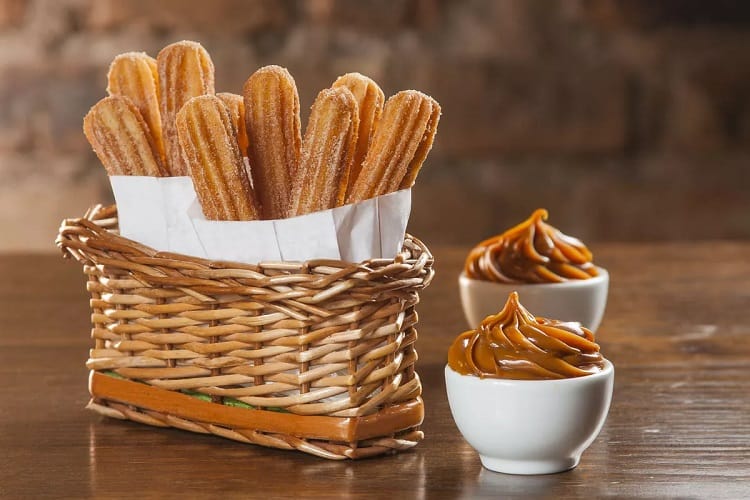 If you've heard of some Spanish desserts or visited Spain before, you'll probably know what churros are.
If not, these are fried dough fritters. They're like sugar donuts, but they don't contain a hole inside. Instead, they're long and cut into straight pieces after being fried. They're topped with honey or sugar, and can be served with hot chocolate in which to dip them. Yummy!
There are different ideas of where churros originated from. One story states that churros were originally invented by nomadic Spanish shepherds who fried dough that was made of salt, flour, and water. It's been said the name for this dessert was actually inspired by the ridged horns of native Churra sheep.
Interestingly, chocolate became part of this sweet treat when churros arrived in South America during the Spanish Inquisition in the 1500s. This was also when the Spanish were sweetening cacao with sugar cane so that it could be enjoyed as hot chocolate with churros.
If you want to try churros, the Casa Aranda located in the city of Malaga is said to be home to some of the best ones. You can also enjoy churros in various cities such as Madrid, Valencia, and Barcelona, all of which boast delicious and traditional churros in many of their restaurants.
Leche Merengada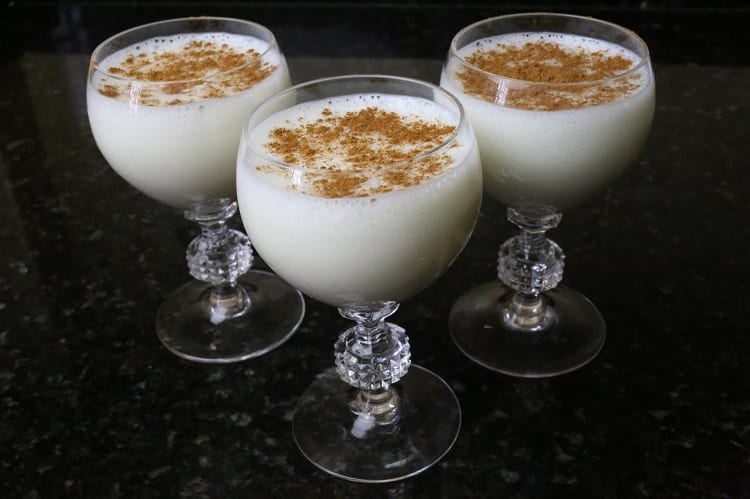 This dessert is like a blend between a smoothie and milkshake, and it's made with cinnamon, milk, egg whites, sugar, and lemon zest. It's a cool beverage, so it's perfect for summer. Leche merengada is a traditional drink that's enjoyed in Barcelona when temperatures soar, and it has a somewhat mysterious history.
Its origins aren't well reported, but it's thought to have been enjoyed as far back in history as the 1700s, becoming a household favorite in the summer.
It's not uncommon for locals to make a batch of leche merengada and leave it in the fridge to enjoy later in the afternoon when a light brunch or lunch, known as a merienda, is eaten. It's become a popular drink in the Philippines and Latin America as a result of Spanish colonization.
You can enjoy this sweet treat in a variety of locations in Spain. Try the Casa Pasteles, located in Granada, or ice cream shops such as the Horchatería Alboraya (in Alboraya), where leche merengada is said to be a highlight of the menu.
Goxua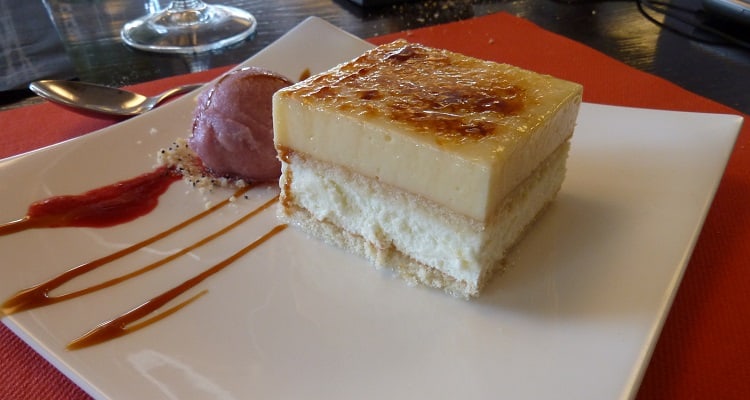 This is the Spanish version of Italy's tiramisu, and it's enjoyed in the Basque region of northern Spain. It's a layered dessert that contains a layer of ladyfinger biscuits that have been soaked in liquor, a layer of creamy custard, and a burnt-sugar layer on top.
You can use caramel sauce as a topping if you want it to be even more delicious. In the northern part of Basque Country, the dessert can also be filled with jam.
Goxua is thought to have been invented by a pastry chef called Luis López de Sosoaga in the 1970s, in Vitoria. The story goes that he was inspired to create this dessert because of catalan cream. 
How you eat goxua can vary. You can serve it in bowls or enjoy it in a clay pot, almost like a pie. If you find yourself in Spain, do yourself a favor and try the goxua on offer at Antigua, a Barcelona restaurant, as well as in Vitoria-Gasteiz, from where it's said to have originated. Restaurante Arkupe is an example of a restaurant from the region that has goxua on its menu.
Leche Frita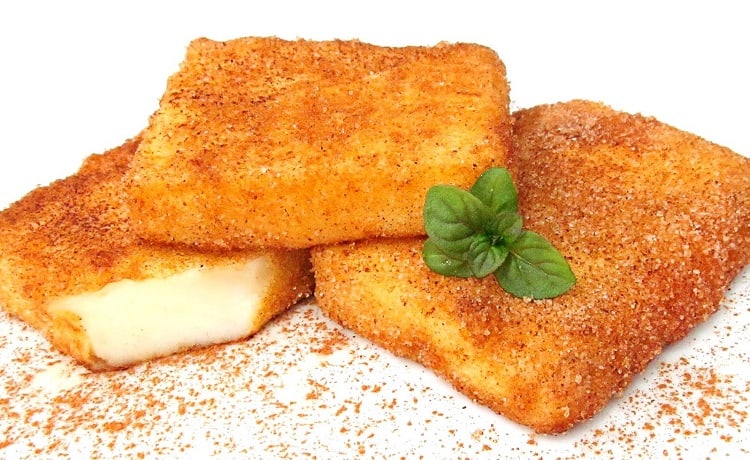 You might like milk, but this dessert will show you milk in a way you've never seen it before – fried! This Spanish delicacy is really milk pudding that's in a crunchy batter and has been dusted with cinnamon and sugar. This pudding is firm and cold, before being cut into pieces and fried in oil. Leche frita tastes a bit like custard. 
It's popular with kids and adults alike, and is a staple in the northern region of the country. It's usually served with ice cream or whipped cream.
It's said that this fried milk dessert was originally created by nuns who used to make and sell it to maintain their convents. While it's easy to make at home, leche frita is popular in restaurants, street food vendors, and pastry shops. 
If you want to try some of the best leche frita, you should go to restaurants such as Casa Mondo, which is located in Léon, Restuarante Casa Salvador, which is found in Madrid, and Asador Siboney, which is located in Arévela.
Flores de Hojaldre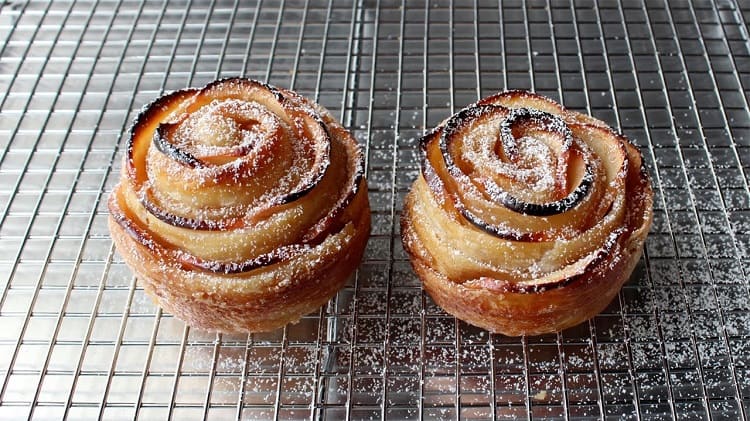 This is both a beautiful and tasty dessert. When translated, "Flores de Hojaldre" means "flowers of puff pastry." It gets its name because of how its pastry sheets are carefully moulded into flower or rose shapes.
Flores de Hojaldre is a specialty dessert that originates from Alcalá de Henares in Spain. While these pastries are usually enjoyed sweet, they can be turned into savory snacks by changing their ingredients. Instead of traditional ingredients such as apples or pears, cinnamon, honey, cocoa cream, chocolate, and fruit jam, savory alternatives include ingredients like salmon, bacon, zucchini, cheese, or mushrooms. 
There's a similar pastry called Palmeras de Hojaldre, which you've probably seen in your local pastry shop. These are scroll-like pastries that are flaky and sweet, and they're a staple in most supermarkets as well as bakeries in Spain. 
Take a bite of delicious flores de hojaldre in Spanish restaurants such as Restaurant Mendia in Barcelona.
Pestiños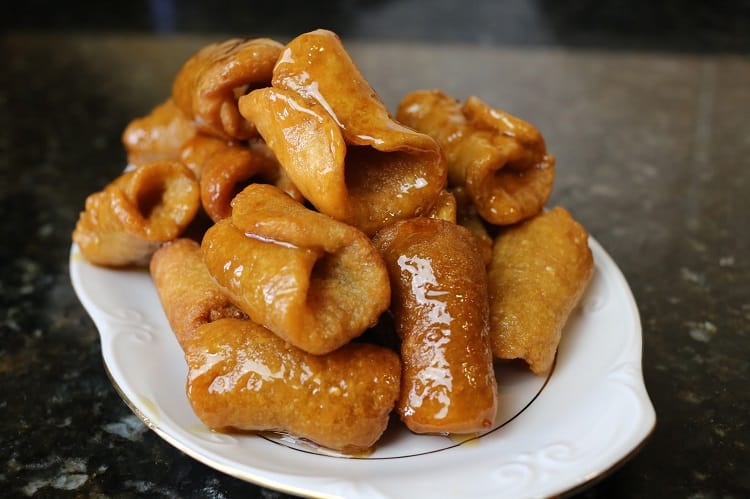 If you've never celebrated Christmas in Spain, you might not know that pestiños are a popular type of pastry that's enjoyed during the festive season. It's popular in various regions in the south of the country.
Pestiños are basically twisted fritters made with dough that's flavored with spices, anise or orange liqueurs and then deep-fried in olive oil. When served, they can also be drizzled in honey. Not just reserved for Christmas festivities, these fritters are also eaten during other celebrations, such as All Saints Day and Lent.
It's been said that these tasty fritters go all the way back to around the 16th century, as there were literary references made to them as early as 1528. How they came about is up for debate, though. Some say that they were inspired by Moroccan chebakia, which are strips of dough that are deep-fried and coated with syrup. 
To try some of the best pestiños, you should go to Restaurante del Parador de Toledo (in Toledo) where they're highly popular; and Huerta del Rey, which is situated in Valladolid in Castile, Spain. Another quality restaurant where you can enjoy these fritters is Gastrobar Doña Calma, in Cádiz, which is located in southwestern Spain.
Related Questions
What's the most well-known Spanish dessert?
Spanish flan is considered to be one of the most common and popular desserts in the country – if not the most popular dessert – as a result of how it's found on almost every restaurant menu in the country.
Why are many desserts in Spain almond-based?
The use of almonds in many Spanish desserts is as a result of the Moorish influence on southern Spain, so many desserts in this part of the country contain these nuts.
Conclusion
While you might first imagine seafood and meat-based dishes when you think of Spanish food, desserts in the country are worth sampling during your next visit.
In this article, we've taken you on a tour of the most traditional and delicious desserts and pastries in Spain – don't leave before trying them!
Sources: