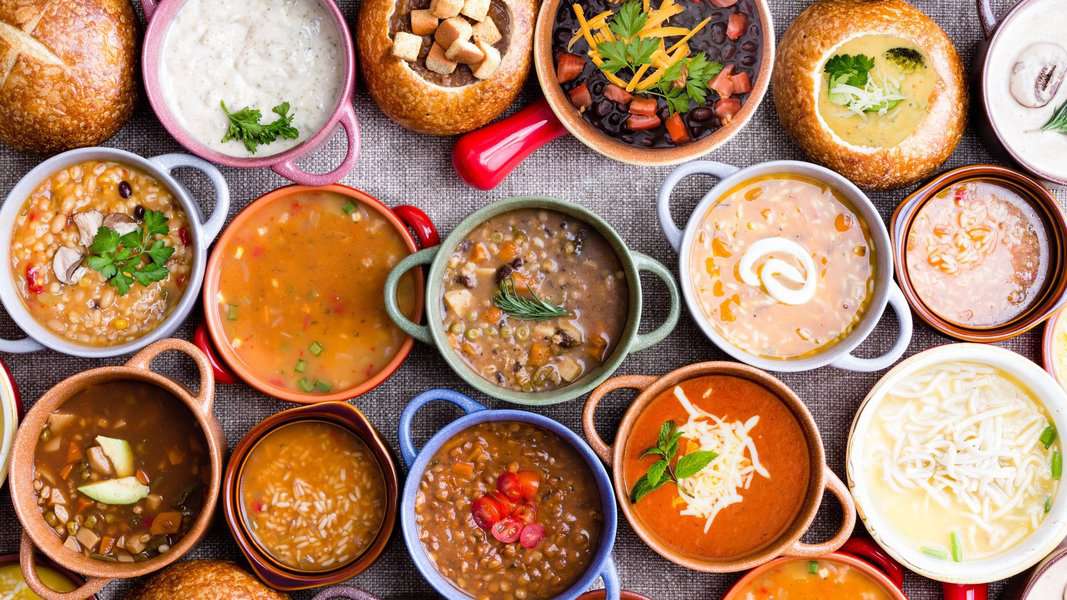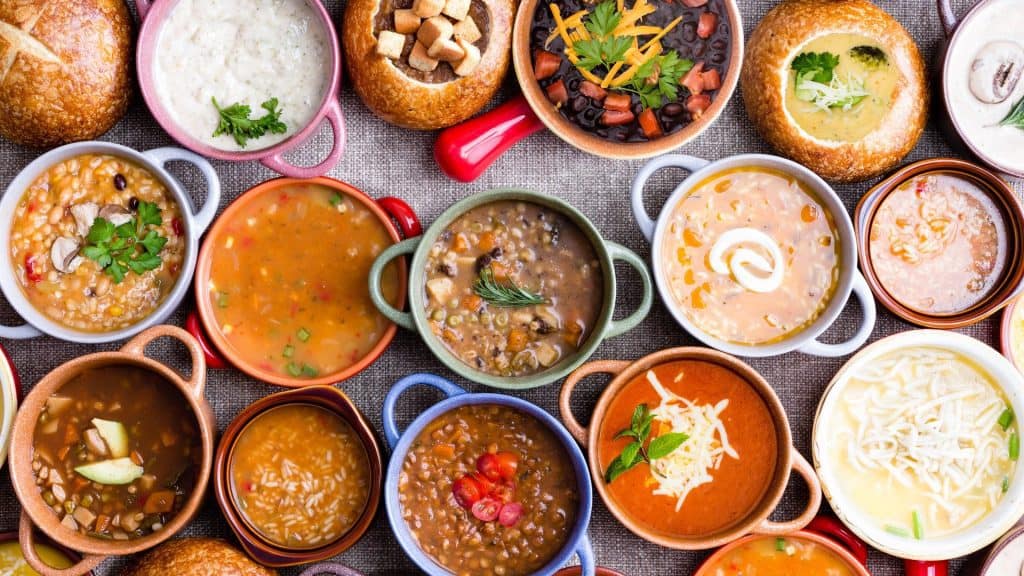 12 Famous Soups From Around The World
You should never assume that soup is boring.
There are a variety of tasty and delicious soups from all over the world that you can enjoy as an entire meal or an addition to one.
Why is soup so popular?
Soups are packed with nutrients and vitamins which make them healthy. They're also easy to prepare and enjoy, which makes them ideal when served alone or as part of a multi-course meal.
With that in mind, here are some of the most delicious and popular soups to enjoy wherever you are in the world. From Spain to Poland and Bulgaria, we've got you covered.
Top 12 Popular And Tasty Soups From Around The World
Gazpacho – Spain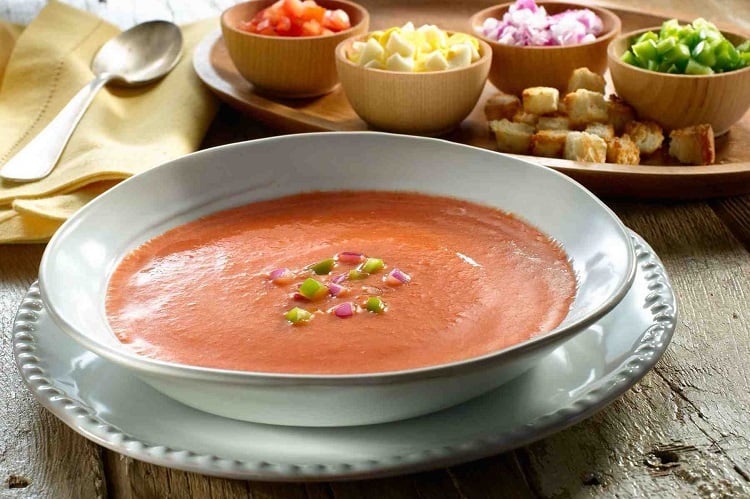 This soup hails from Andalusia, and it's filled with fresh ingredients such as pepper, tomatoes, onions, and garlic. It can be traced all the way back to the medieval period.
It used to be a dish eaten by peasants, and it didn't contain any tomatoes back then. During the 16th century, tomatoes started to get included in it, as a result of the colonization of Mexico, and this is where Spain also got the tasty ingredient.
Gazpacho is easy to make as you blend the ingredients before refrigerating it. In the south of Spain, you can use chopped hard-boiled eggs or Spanish ham as toppings. In modern times, this soup comes in many variations, such as melon, watermelon, and avocado gazpacho.
Harira – Morocco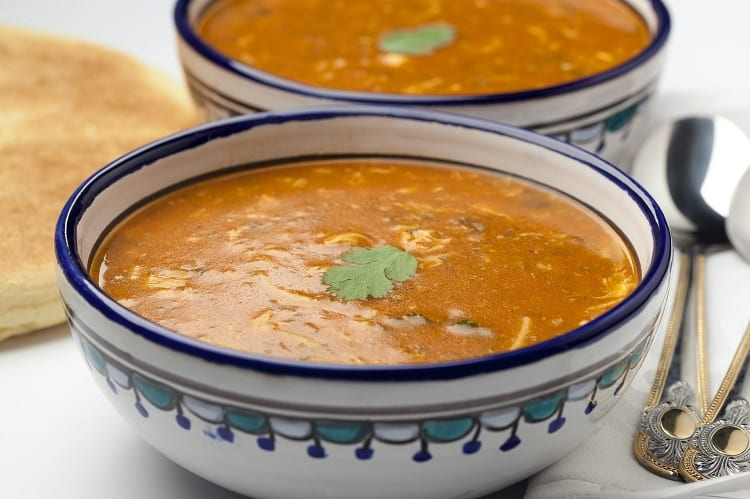 This is a delicious soup traditional to the month of Ramadan, during which Muslims fast for the day. When the fast breaks after sunset, this thick and satisfying soup is enjoyed with honey cakes and dates. However, it can also be served at other times.
During the winter months, you can find this soup served in some street cafes.
Traditionally, this soup is prepared with tomatoes, chickpeas, and lamb. It's seasoned with nutmeg, cinnamon, saffron, and ginger. It can also include ingredients such as rice or broken vermicelli to fill it up, while smen (preserved butter) gives it a cheese-like flavor.
Harira originated in Morocco, and it symbolizes the unification of people during Ramadan.
Minestrone – Italy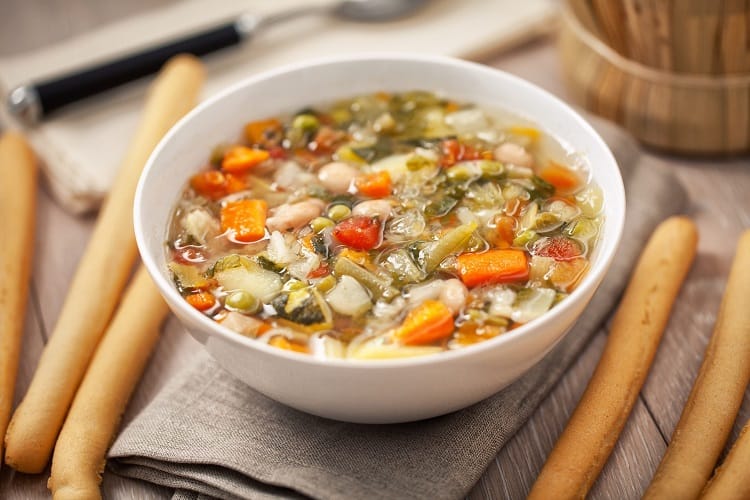 If you like soups that you can whip up with whatever ingredients you have available, you'll love minestrone. This is a famous Italian soup that's traced back to the First World War when food was scarce in the country.
Interestingly, this soup used to be prepared in the city squares and families living nearby would contribute ingredients to it, so it was always different.
A minestrone can contain a variety of vegetables, such as carrots and potatoes, but you can also use pasta, rice, or meat ingredients. This versatility means that you can use whatever's in season or available where you live.
There's no set recipe for making minestrone, but you can infuse it with flavor by sautéeing your vegetables before allowing the soup to simmer on the stove for about 20 minutes.
Caldo Verde – Portugal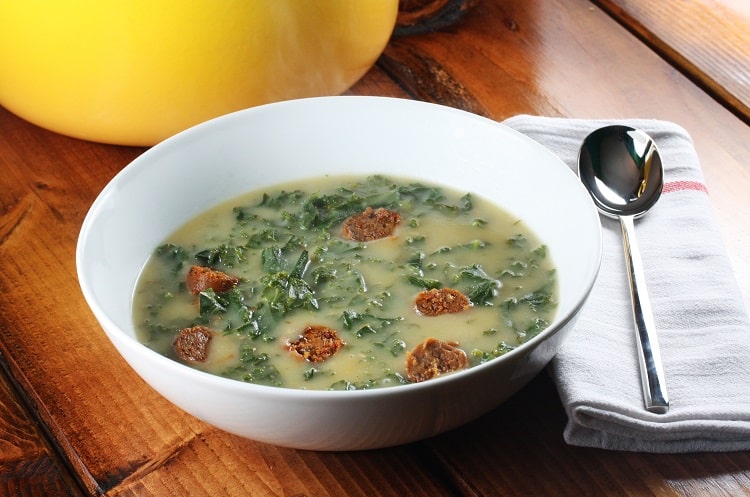 This delicious soup hails from Portugal and it's hearty. It contains collard greens, potatoes, and sliced chouriço or linguiça (smoked Portuguese sausages). You can enjoy this as a meal or an appetizer.
This is another soup that has a rich heritage. It dates all the way back to the 15th century and is said to have originated in Northern Portugal in the Minho region. It has been adapted over the years in different regions of the country. However, the soup's main ingredient is cabbage, specifically collard greens that are typically found in Minho.
How you make caldo verde is by browning the meat and then adding the other ingredients. Afterwards, when it has cooled, you should purée it with an immersion blender.
When serving it, tradition states that only one slice of chouriç is added to the bowl.
Banga – Nigeria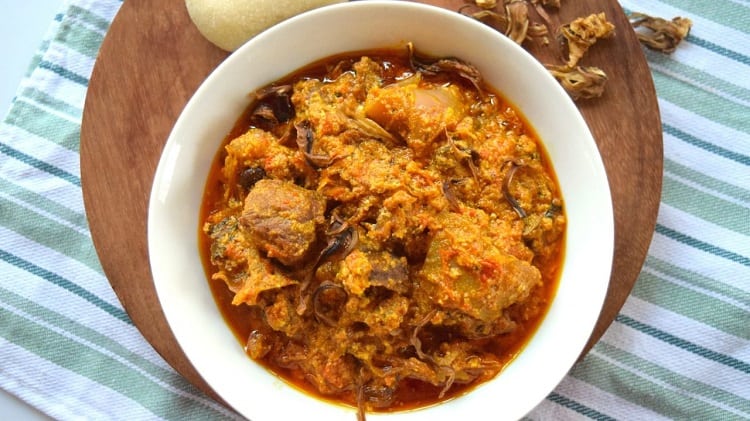 This is a popular and delicious soup in Nigeria, especially in the Niger Delta region, and it's loved by the Urhobo ethnic group. It makes use of fruits from the oil palm tree, catfish, beef, and dried seafood.
It's so famous that you can find banga spice in packets for sale in the shops. The spices include jansa, african nutmeg, castor seed, beletete leaves, and orima, which make the soup red in color. This dish is best enjoyed with eba, balls of starch, or rice.
Interestingly, this soup has different names depending on the ingredients used in the soup, how it's prepared, and the specific tribe making it.
Moqueca de camarão – Brazil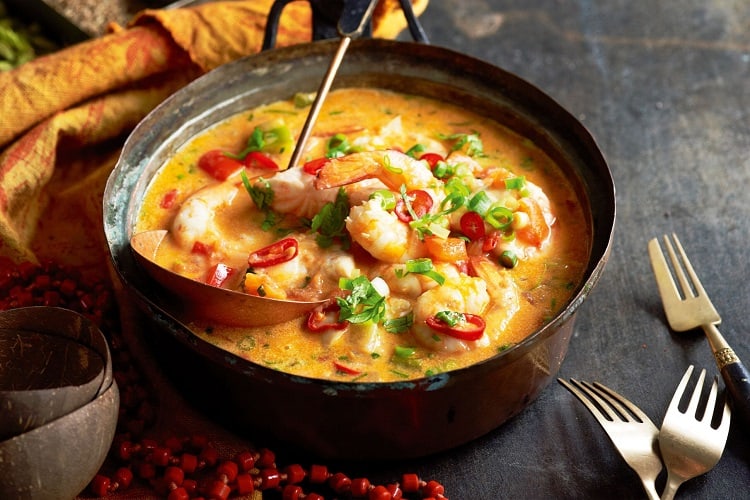 This is a famous soup that's enjoyed in Brazil's Bahia region even on hot days of the season! It includes tomatoes, a coconut broth, palm oil, and tender shrimp.
It was traditionally made in a handmade clay pot and contained the sap of mangrove trees. The inclusion of palm oil in this recipe makes the coconut milk take on a lovely orange-red color and it also enhances the flavor of the shrimp.
Moqueca is a version of the dish that dates back to indigenous Brazilian Indians, who used the word "moquém" to mean fish. Then, during the 17th and 18th centuries, Africans in Brazil developed the dish so that it contained coconut milk and palm oil, making it just like the soup that we enjoy today.
Avgolemono soup – Greece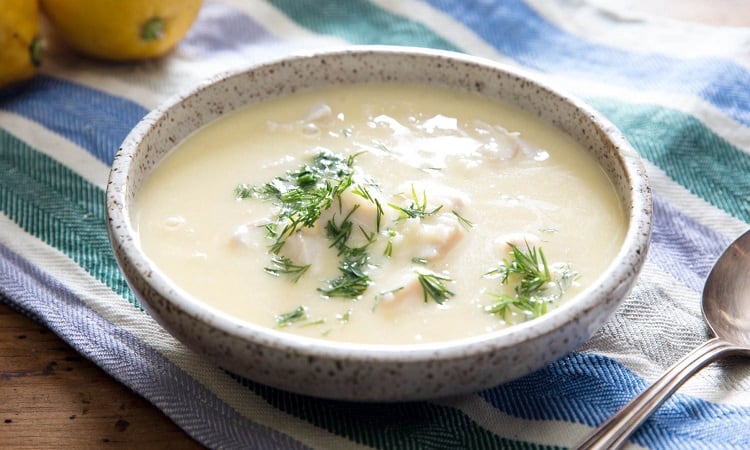 This soup is a traditional Greek soup that contains rice as well as shredded chicken. It's lemony in flavor and has a creamy texture.
While you might assume that this is just a chicken soup, it's so much more than that! It's comforting and the addition of the rice takes it to another level. While it can be enjoyed on its own, this soup can also be used in various dishes, such as vegetables and roast chicken.
Avgolemono soup was traditionally a Greco-Turkish-Arab dish. It became popular as a result of Sephardic Jews who brought lemons from the South of Europe to Italy, then to Greece in 1000 A.D.
This soup is also a traditional food eaten to break the Yom Kippur fast for Jews in regions such as the Greek port city of Thessaloniki, the Balkan states, and Turkey.
Chłodnik litewski – Poland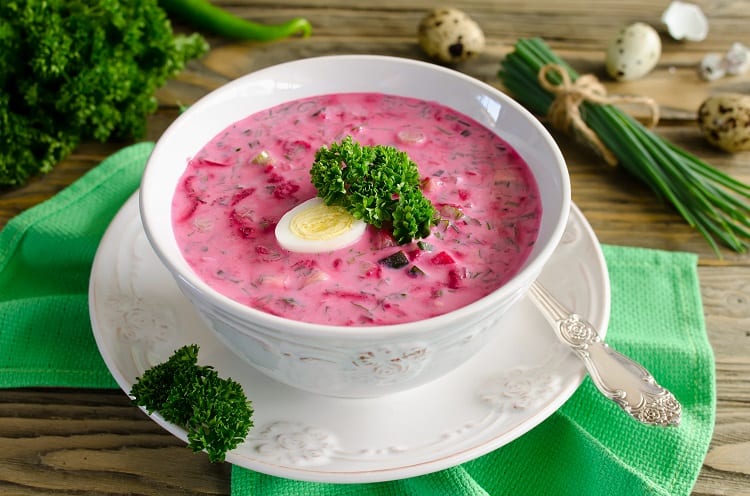 The first thing you'll notice about Chłodnik litewski soup is that it's a bright purple color. This is because of its beetroot content. The soup is made with beets that have become tender from simmering, then they're blended with radishes, yogurt, sour milk, kefir, sour cream, and cucumbers.
It's a chilled, refreshing soup that's traditionally garnished with boiled eggs, chives, and dill. Sometimes roasted meat or cold cuts are also included.
This cold soup originated in Lithuania. During the 14th and 16th centuries, in the Jagiellonion era, there were people traveling between both Lithuania and Poland, and recipes were shared. This gave rise to Poland making use of Chłodnik litewski and making it its own.
Miso Soup With Black Cod – Japan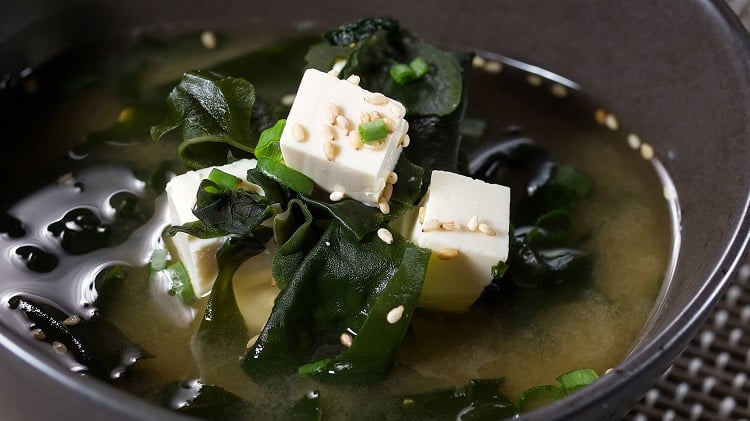 This type of soup is a classic delicacy in Japan and what makes it so popular is that it's both delicate yet full of flavor, and it melts in your mouth.
The miso gives the dish a sharp flavor, while the mirin adds sweetness which complements the fattiness of the fish. This soup has become a popular dish at Nobu restaurants.
The use of miso soup can be traced back to over 1,300 years. The word "miso" was first mentioned in literature during the country's Heian period, then during the Kamakura period Buddhist monks who went to Japan from China brought suribachi mortars that enabled them to better ground grain to dissolve it in water. This was how miso began to appear in miso soup.
As for black cod, it's much younger, having been served for the first time during the 1980s by Japanese chef Nobu Matsuhisa. It was served with miso, and that's how this soup started to gain popularity.
Cullen Skink – Scotland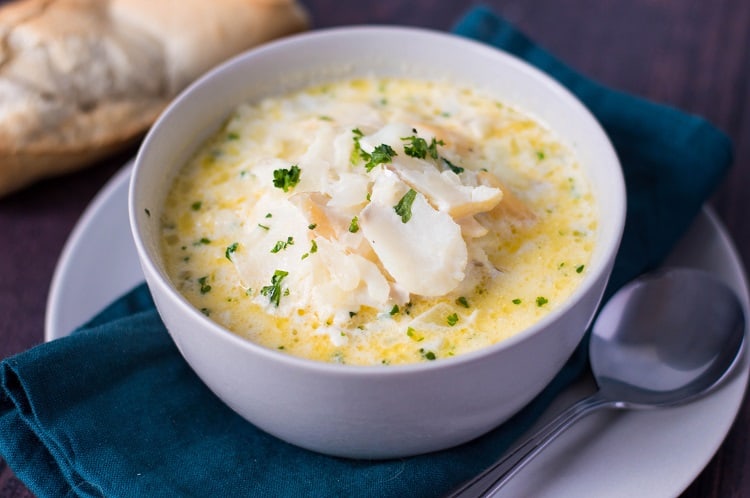 This is one of the most famous dishes in Scotland and it's a traditional soup made with smoked haddock. Its name comes from a small town in the northeastern part of the country called Cullen, while "skink" refers to a shin, hough, or knuckle of beef.
It's said that when people in the northern part of the country battled to find beef as a result of economic difficulties in the late 1800s, they would turn to fish – and smoked haddock was widely available so it became a replacement for meat in soups.
The 19th century was also a time when Cullen Harbor was a thriving location for herring fishing, which resulted in smoked haddock being produced and used in dishes.
Cullin skink is a wholesome, satisfying soup that's made with haddock, onions, and potatoes. While that in itself sounds delicious, Cullen skink can be made with other ingredients, such as cream to make it thicker, and other vegetables like Jerusalem artichokes or leeks.
Ajiaco – Colombia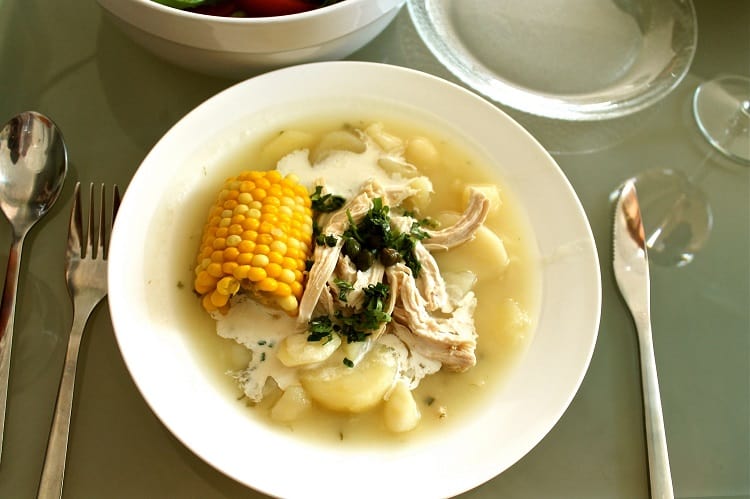 This is more than a soup, it's the national dish of Colombia and is especially popular in the city of Bogota.
It's filled with potatoes, chicken, corn, and herbs. Interestingly, for your soup to be an authentic ajiaco dish, it has to have three potato varieties that are cooked together.
Traditionally, the potatoes used in this dish are local varieties, such as papas criollas, pastusa, and sabanera. These are usually chosen to add thickness and creaminess to the soup.
The potatoes get cooked in beef or chicken broth so that they break down nicely and release their delicious flavors and textures. This soup is usually seasoned with guascas, a Colombian herb, and served with capers, avocado, and mild sour cream.
Interestingly, the origin of this popular soup is unclear. It's been said that it originated with the indigenous tribe of Tiano who are inhabitants of various regions in the Caribbean.
This has not been confirmed, but we do know that ajiaco soup was being served all the way back during the 16th century in Cuba, where it was enjoyed by the lower and upper classes alike.
Tarator – Bulgaria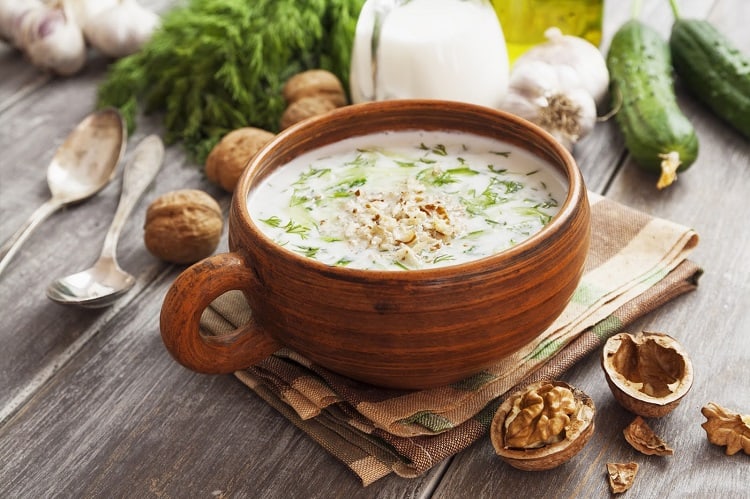 This cold soup is popular in Bulgaria and it contains yogurt, garlic, cucumbers, dill, walnuts, sunflower oil, and water. It has many varieties, so you can tweak it according to your favorite ingredients.
For example, sometimes nuts are used instead of bread and cucumbers are replaced with lettuce. This soup was mentioned in a mid-20th century Bulgarian dictionary and the word tarator is said to have Persian origin.
Different versions of this soup are found in different regions, such as in Greece, where it's called tzatziki and made with strained Greek yogurt. In Turkey, tarator is known as cacik and it's made in the same way as the Bulgarian tarator but it doesn't contain water.
This is a simple soup to make. Mix together the cucumber, dill, garlic, and oil, then stir in the yogurt. Make sure you mix all the ingredients well, then add some cold water and mix it well so that there are no lumps in the soup. Use the chopped nuts as a garnish.
Related Questions
Can you store soup in the refrigerator?
You can store soup in the fridge for about three days, but always taste the soup before reheating it.
What's the benefit of eating cold soup?
Since cold soups aren't cooked, they contain raw ingredients such as herbs and vegetables, and their nutrients are preserved.
Conclusion
You might think soup is boring, but it's clearly not!
After reading this guide to the best and most famous soups from around the world, you can infuse your homemade soups with tasty, exotic ingredients to make them delicious additions to your meals.
Sources: