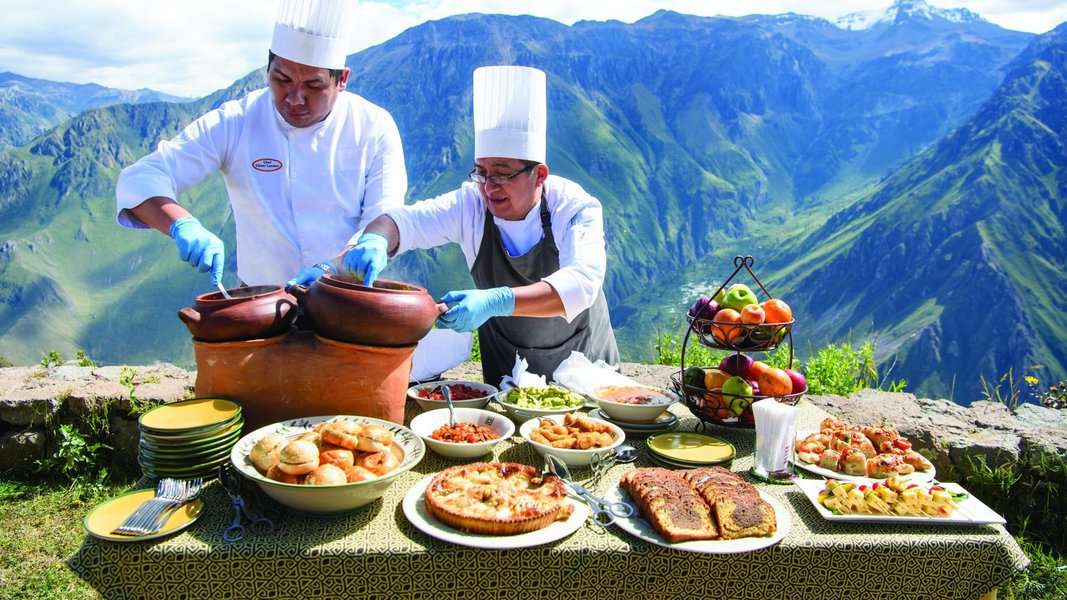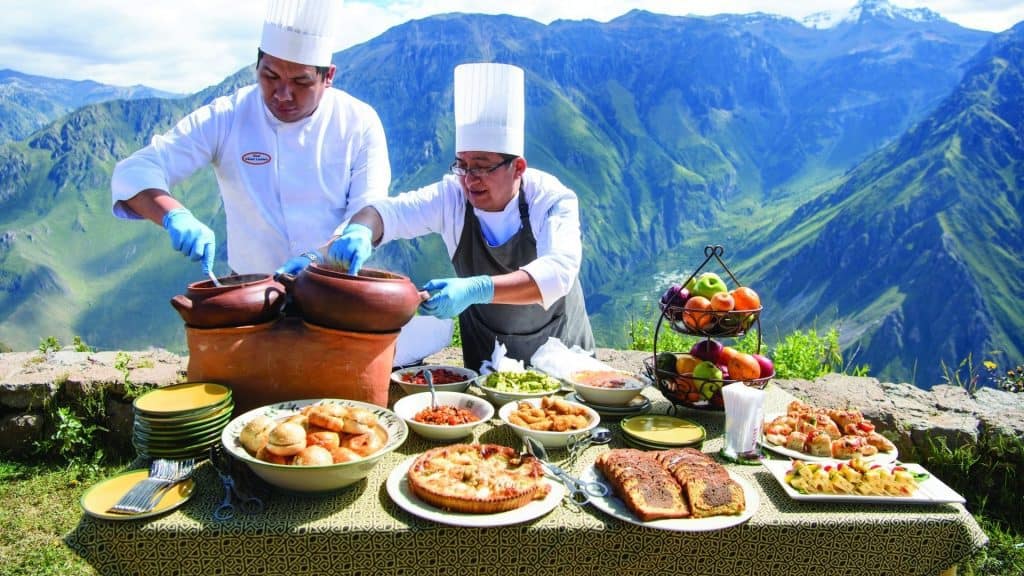 What Is Food Tourism?
Food tourism is not just about food. It features a range of activities that use food as a way to connect people with other people, time, and places.
Food is therefore a powerful way to better understand a place, an era in time, and the people who enjoy that food.
Can anyone do food tourism?
Anyone can partake in food tourism, whether you sign up for cooking classes, plan your own journey through different cafes and restaurants, or book guided tours.
There are many examples of food tourism, such as visiting local markets, taking a street food tour, sharing meals with local people, taking a cooking class, visiting exhibitions that explain local cuisine and its history, and going to traditional restaurants.
With that in mind, let's explore how to get started with food tourism. We'll start by looking at food tourism pros and cons.
Food Tourism – What Are The Advantages And Disadvantages?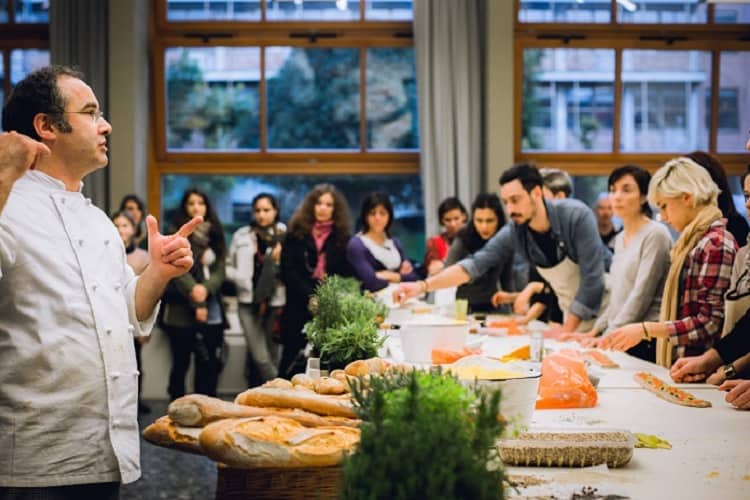 Food tourism has many benefits, but there are some things to know about it. Let's check out its pros and cons.
Pros
Cooks who go on culinary tours can get new ideas for their own restaurant menus while increasing their knowledge of different foods, ingredients, and cooking techniques. 
Food tourism can be very beneficial for food vendors and restaurants by encouraging greater sales. 
Food tourism can increase knowledge and interest in local cuisine and culture which can bring more money into communities. 
Food tourism encourages the experience of traditional cuisine. This also helps to preserve the local heritage of various places around the world. 
Cons
There are language barriers if visiting a foreign country that could inhibit the knowledge of local, traditional cuisines.
Communities that don't have resources such as electricity and water could be negatively impacted by food tourism. For example, these resources could be redirected to crops to sustain the tourists' demand for local food.
Best Food Tourism Activities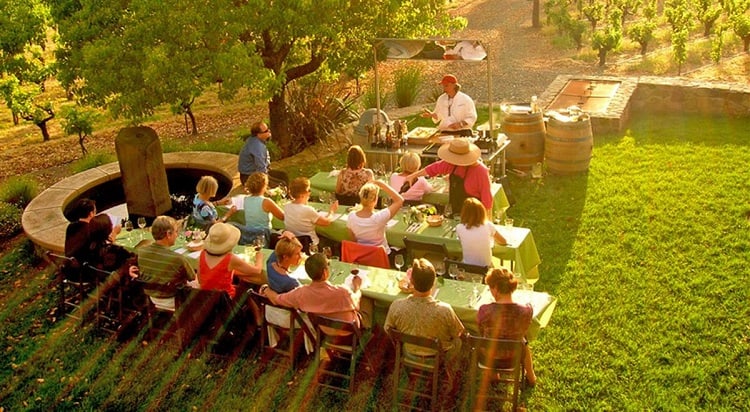 If you want to try food tourism but you're not sure where to start or how to go about it, there are some good ideas to help you out. Here are some of the best food tourism activities.
Food Tours
This is a guided tour to restaurants, street vendors, local markets, and specialty food stores. The itineraries are often focused on letting people have an immersive experience.
For example, by letting food tourists have a guided tour through traditional neighborhoods. The great thing about a food tour is that it gives you the chance to not only explore the cuisine in a place but also the location and locals.
Cooking Class
If you can't travel to an exotic location, you can take a cooking class and feel like you're there!
You can sign up for group or private cooking classes, depending on what you find most comfortable.
The great thing about cooking classes is that you can find ones that are ideal for beginners or more advanced cooks so there's always an opportunity to increase your knowledge.
Food Festival
Many cities around the world host food festivals where you can view themed food stalls offering meals and drinks that are related to the specific region's culinary traditions and customs.
This is an easy and fun way to sample the local foods while gaining information about their history and symbolism.
Food Markets
Heading to a local food market is a fantastic example of food tourism that you can do in a relaxed way and in your own spare time. Here you can try different ingredients and interact with local community members as well as food producers.
You can go independently or book a guided visit to a local market. Some cooking classes also include visits to local markets.
Food/Beverage Tasting Sessions
Tasting sessions are common when it comes to beverages, such as when it comes to wine or beer tastings. However, there are also tastings that are available for food where you can be guided by an expert to learn more about certain foods and how they're used.
Sometimes these sessions can be more about ingredients than dishes, so they can be quite specific and give you a lot of information about exotic ingredients.
Food Factory Tour
This type of tour is interesting because it gives you the chance to explore food production from the point of view of the producer instead of the consumer enjoying the final product.
These tours take you on a journey to see how a company started its business, and how their foods are made.
Food Production Tour
This type of tour generally occurs in rural areas. You can visit local food producers and enjoy the beautiful countryside views at the same time.
Food producers will organize the tour and do the guided tour themselves, or you could use an agency through which you organize the tour. Food production tours can include journeys into the production of various foods, such as fruits, meat, cheese, and wine.
Best Food Tourism Destinations
While you can enjoy food tourism anywhere, there are some locations around the world that offer especially noteworthy experiences.
Here are some of the top food destinations to visit during your next travels.
Tokyo, Japan
Japan is a country that offers unique cuisine you have to try. Back in 2013, traditional Japanese cuisine was added into UNESCO's Intangible Cultural Heritage list. Food is not just about keeping hunger at bay – for Japanese people, it's a way to bond with loved ones.
Toyko's cuisine is highly varied, as you can enjoy sticky rice, Wagyu beef, sushi, ramen, and other interesting dishes. In this city, you'll find more places to eat per square mile than in New York!
When visiting Tokyo, take a food tour to explore the cuisine.
Great choices include half-day tours in which you'll learn how and where to eat like a local, and taste regional as well as modern Japanese dishes.
New York, USA
New York is one of the best food destinations in the world because it's packed with lots of different, delicious food. You'll delight in the street food and the Michelin-starred restaurants alike.
You can also find unusual foods, such as crif dogs, which are bacon-wrapped hot dogs, and New York style pizza. This type of pizza is known for having a thin crust and being sold in wide slices.
When visiting New York City, make sure you try the Brooklyn Bus Pizza Tour and the Taste Harlem tour which takes you on a historical tour through Harlem so you can sample the various cuisines that are popular in this neighborhood, such as African and Caribbean dishes.
Another good one to add to your itinerary when visiting the city is Urban Adventures. This tour takes you around the Lower East Side, Chinatown, and Little Italy so you can sample dishes that were inspired by immigrants. Enjoy a bite of pretzels, cheese, and dumplings!
Bangkok, Thailand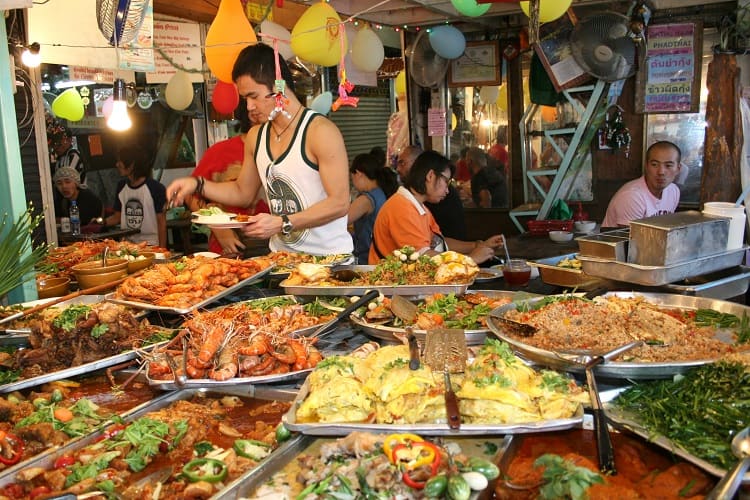 Bangkok is one of the most interesting exotic food locations. Here you'll find a variety of delicious dishes to sample, such as Tom Yung Goon (spicy Thai soup), Som Tam (Thai green papaya salad), and Khao Op Sapparot (pineapple fried rice).
Bangkok is home to many sweet flavors, so you'll find meals contain ingredients like coconut milk, pork, and palm sugar.
When visiting Bangkok, make sure you do a food tour. There are many to choose from.
Some examples include a chef-designed tour that gives you the chance to try traditional Thai dishes; and a Thai street food tour, which is great because the city is packed with street vendors and stalls just waiting for you to sample their delicious foods.
Delhi, India
Delhi is renowned for its cuisine, and it's sometimes called the food capital of the country. Here you'll find eclectic street food to sample, such as aloo chaat (a savoury snack made with potatoes), chole bhature (fried bread with chana masala), and dahi bhalla (deep-fried lentil fritters).
There are also renowned restaurants where you can sample both Indian cuisine and international food.
When visiting Delhi, make sure you take advantage of one of the food walk tours that will allow you to explore different parts of the city while enjoying locally-renowned foods and learning more about the culture.
Buenos Aires, Argentina
While Buenos Aires might be known for its wine and steak, there's so much more to explore in the cuisine, thanks to its vast array of street food. A highlight is choripán sandwiches, which are made with crispy bread and sausages.
While you're visiting this vibrant city, you'll also want to check out the wine bars and restaurantes "a puertas cerradas" that are located inside a chef's home.
Food tours in the city include a tasting at the Casa Del Dulce de Leche, which is the only place where you can sample different varieties of this caramelized milk specialty, and enjoy different cheeses and wines in Tierra Mendocina.
Tuscany, Italy
Tuscan cuisine is inspired by traditional farming regions so it's rustic, delicious, and simple.
Here you'll enjoy delicious foods, such as Panzanella (salad containing bread, tomatoes, balsamic vinegar, onions, and basil), tagliatelle al tartufo (tagliatelle pasta with butter, garlic, black truffle, and parmigiano cheese), torta di ceci (a chickpea flour pancake served in a sandwich), and Tuscan pecorino cheese.
Food tours in Tuscany include wine tours, walking tours in which you can sample a variety of the local food, and unique tours such as truffle hunting!
The Four Types Of Food Tourists – Which One Are You?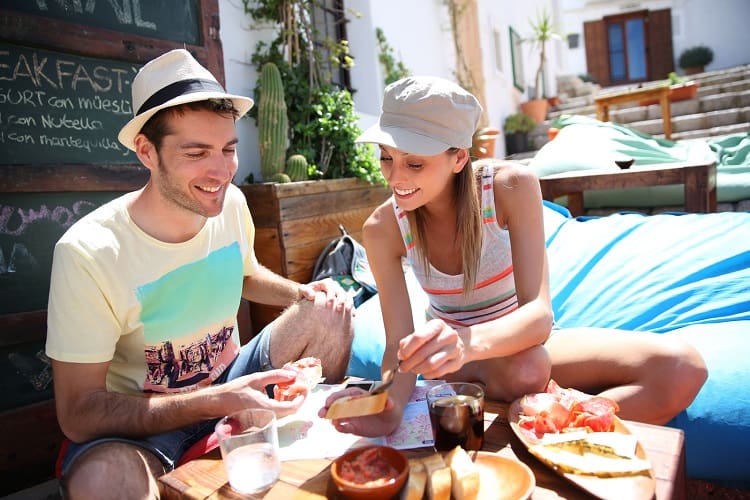 It's been said that there are four types of food tourists. Let's explore them in greater detail.
Recreational Food Tourist
This type of food tourist likes foods that are familiar and give them a sense of comfort.
They might steer towards restaurants with a predictable menu, for example.
Diversionary Food Tourist
This food tourist enjoys being social and exploring the best nightlife spots.
They don't want to put in energy or time to learn about cuisine but would rather go to the best local restaurants that are highly recommended by others to experience the food for themselves.
Existential Food Tourist
This is someone who searches for regional and local foods and likes to eat where the locals eat.
An existential food tourist will prefer heading out to a rustic, hidden gem of a place instead of something that's fancy or well-known by everyone.
Experimental Food Tourist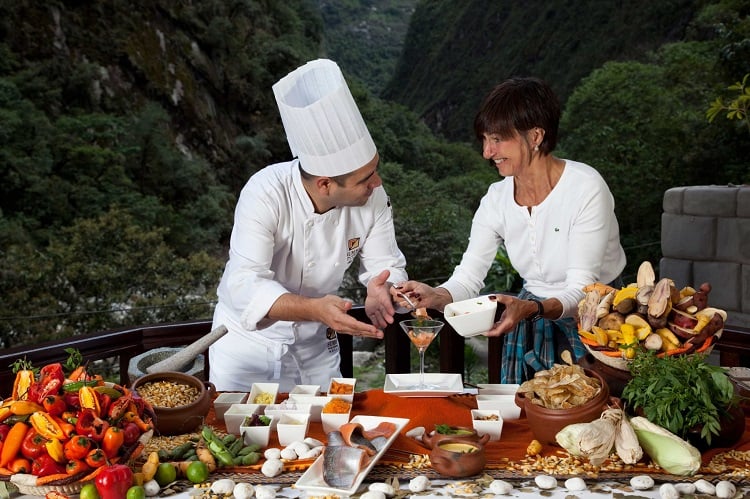 This is someone who's trendy and wants to try the latest foods and ingredients on the market.
He or she will therefore gravitate towards the restaurants in the area where innovative foods are featured on the menu.
Related Questions
Why is street food popular in many cities around the world?
Street food has been growing in popularity across the world as a result of how it offers people an easy, budget-friendly way to sample some of the best food in the region.
What country has the most Michelin stars?
France is the country with the most number of Michelin-starred restaurants in the world.​​
Conclusion
If you want to get a greater understanding of food in different cities or countries, food tourism is a fantastic way to do so.
In this article, we've looked at what food tourism is as well as provided you with common activities that form part of it. Don't delay – go book that cooking class or food tour as soon as you can!
Sources: