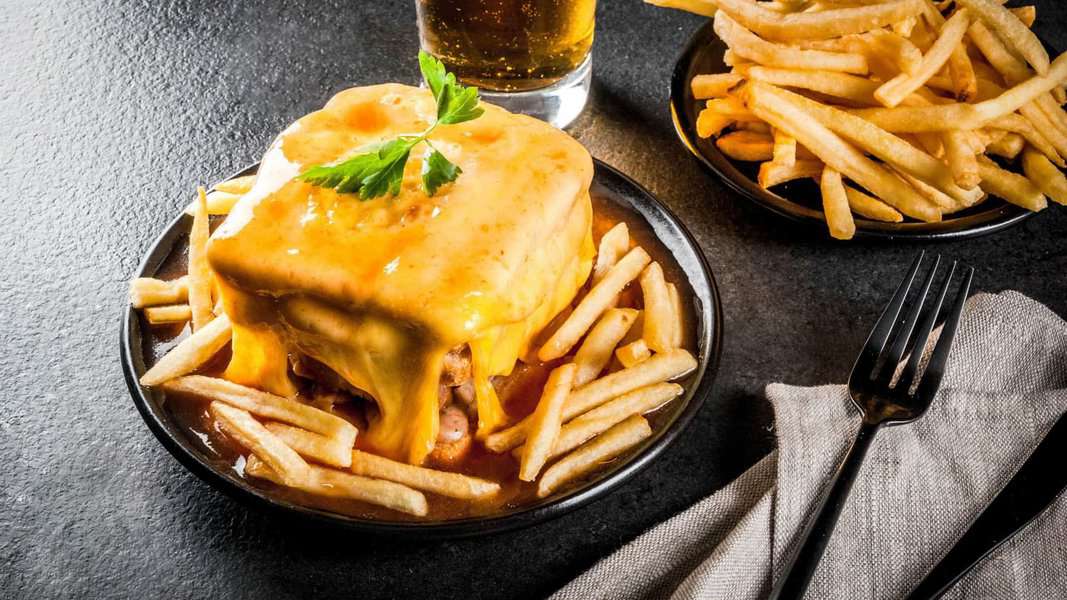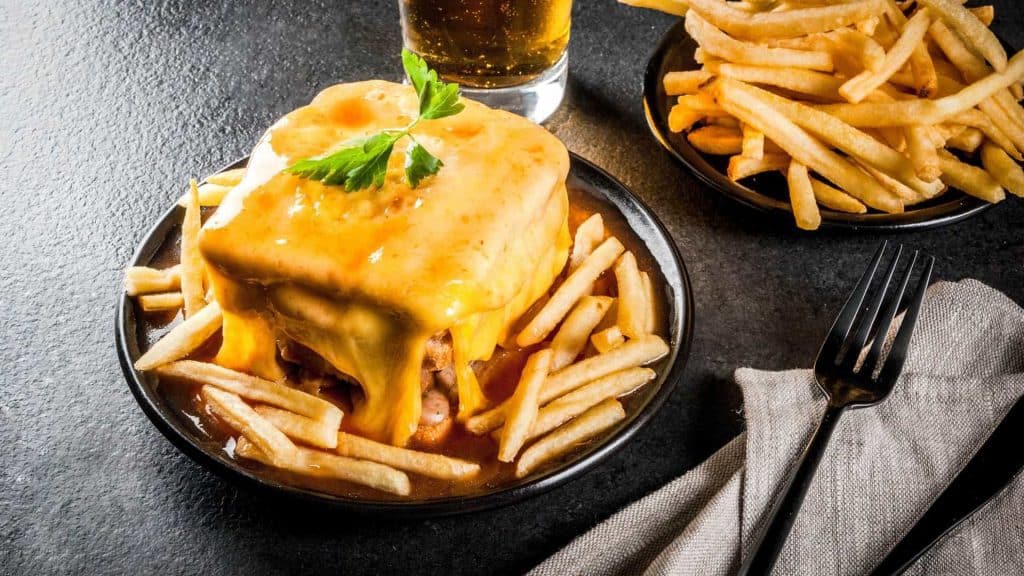 Is Francesinha The Best Sandwich Ever?
Sometimes you're in the mood for a delicious sandwich that's packed with tasty ingredients and oozing with a spicy sauce.
If that's what you're currently craving, you need to get your hands on a francesinha sandwich because it's a total snack game-changer.
What is a francesinha sandwich?
This is a type of sandwich that originated in Portugal. It contains two types of sausage, steak, ham, and cheese between two layers of bread. It's then covered in a fried egg and sauce containing beer. 
While that sounds like quite a lot of ingredients, there's more – the sandwich is usually served with fries that you can use to dip in the egg and gravy!
If this sandwich isn't a mouthful, I'm not sure what is. But it's delicious, spicy, and packed with protein, so if it sounds good to you here's everything to know about this unique and scrumptious sandwich.
Brief History Of The Francesinha Sandwich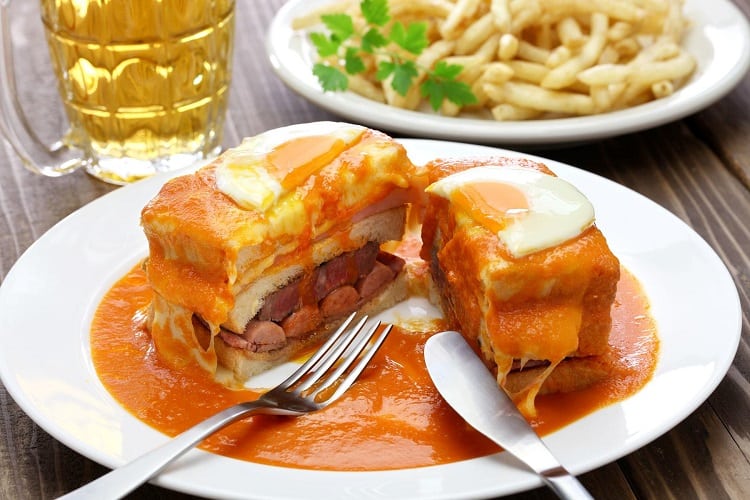 After reading about what a francesinha sandwich contains, you're probably filled with questions such as how did this monster sandwich come about?
The francesinha sandwich goes all the way back to the 1950s. During that time, a Portuguese man called Daniel Silva was living in France and it's thought he modelled the francesinha sandwich on the French dish, Croque Monsieur. This is a type of French sandwich made with cheese, ham, and a béchamel sauce, and it gets toasted in the oven.
When Silva returned to Portugal, he changed the dish by infusing it with Northern Portugal ingredients and then served it at his restaurant, A Regaleira, in Porto.
Back then, the original francesinha recipe was not as complex as today's one. It made use of bijou bread and baked beef. It became hugely popular and soon spread all across Porto. It's been changed and tweaked over the years and decades, but is still one of Porto's most popular foods. 
Today, the francesinha sandwich has many variations. It can be changed to accommodate various food preferences, so it's the perfect sandwich to make if you want to let your creativity run wild. You can also find vegetarian versions of the sandwich that make use of vegetable sausages, tofu, and vegetables.
Why is it called the francesinha, you ask? The idea for the sandwich name was based on how Portuguese women were seen as conservative during the '50s, but French women were more liberal. Silva named the sandwich after those French women he admired. When translated, "francesinha" means "little Frenchie."
Interestingly, there's nothing little about this huge and decadent sandwich!
How To Make Francesinha At Home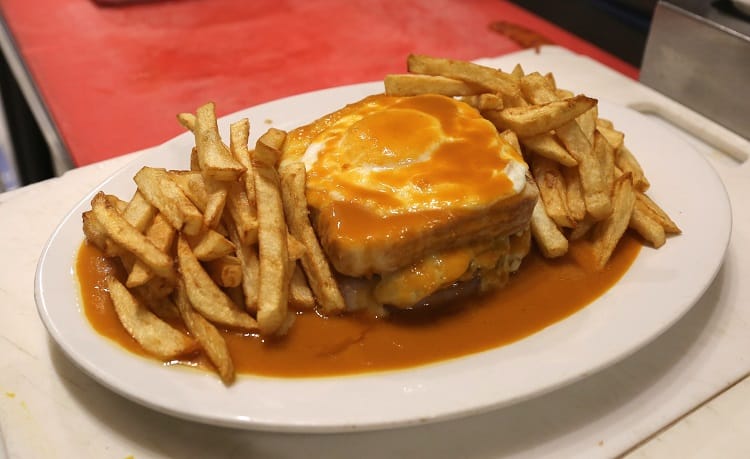 If you'd love to try a francesinha sandwich, you can enjoy it in many restaurants in Portugal. If you're not going to be travelling there any time soon, don't worry. You can find various recipes for francesinha on the net.
Here's a great recipe to try. It has ingredients for the sauce and the sandwich. Since the francesinha is all about having juicy, spicy ingredients, the sauce is so integral to its deliciousness.
Ingredients you'll need
For the sauce:
1 small onion (sliced)
2 garlic cloves (chopped)
400ml beef stock
1 teaspoon olive oil
1 tablespoon lard
1 tin diced tomatoes
1 bay leaf
1 piri-piri pepper
½ cup red port wine
500ml beer
2 tablespoons Worcester sauce
Salt
Black pepper
For the sandwich
2 slices soft bread
1 cured pork sausage
1 pork sausage
1 beef steak (thin and tenderized)
2 slices ham
1 egg
5 slices cheese
Instructions
Start by putting a saucepan on medium heat on the stove.
When it becomes hot, you can add the garlic, bay leaf, lard, and olive oil.
Allow it to cook for a minute. Then, add the onion. Let this simmer on the stove for about eight minutes.
Add the tomatoes and beef stock to the saucepan. Let it boil, then allow it to simmer for 10 minutes.
Add the wine, beer, Worcester sauce, and piri-piri. Cook it for 10 minutes.
Blend all the ingredients in the saucepan with a hand mixer.
Allow the sauce to simmer for half an hour. It should look like gravy, but not as thick.
Once done, season the sauce with black pepper and salt. Set it aside.
Then, put a frying pan on the stove, using high heat.
Cut the sausages in half and butterfly-cut them. Fry them in their own fat. Use the extra fat in the pan to fry your steak. Then, fry the ham slices gently. Put the meat aside
Toast the bread slices in the oven at 325 degrees Fahrenheit.
Once the bread is toasted, you can start constructing your sandwich. Place one bread slice on a plate, then add a slice of cheese, the ham, the steak, the sausages, and the other bread slice on top.
Fry your egg, then put it on top of the francesinha sandwich.
Lay the other cheese slices on top, but make sure the egg yolk is visible. You want to be able to dip your chips in the egg.
Boil the sauce you made earlier and drizzle it over the top of the sandwich. What's great about doing this is that the sauce will be hot so it will melt the cheese.
When you're ready to serve your francesinha sandwich, you can do so with fries on the plate. Make sure you have a knife and fork handy for this massive, juicy sandwich – you won't be able to eat it with your hands unless you don't mind making a big mess!
Extra Tips To Ensure Your Francesinha Sandwich Is Delicious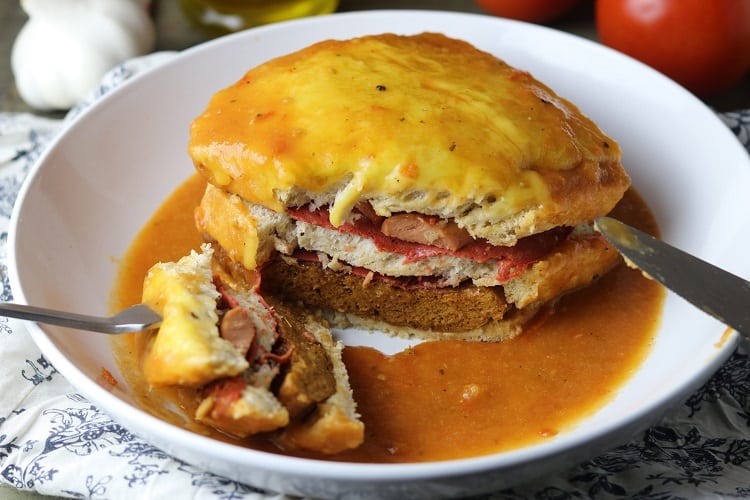 Make sure that you choose a cheese for the sandwich that melts easily. This will make it more delicious when you pour the hot sauce over the sandwich. Good cheese choices include gouda, provolone, and aged cheddar.
If you don't want to use ham in your sandwich, you can use salami slices instead.
If your sauce is too thin, you can bulk it up by dissolving some cornstarch in water and then adding it bit by bit to your sauce. Let the sauce come to the boil. If it still seems to thin, add more. Note, however, that the consistency for your sauce should be thick enough that it drops off a wooden spoon in a constant drizzle that forms thick drops.
If your sandwich is packed with lots of ingredients (which it's sure to be!) and the bread doesn't keep it level and in place, then you should use toothpicks to hold it together. This will ensure that it won't fall apart when you pour the sauce over it.
If you're adding mushrooms or other heavy vegetables to the sandwich, it's ideal to cook them in a skillet beforehand so that they are juicy and full of flavor. This also ensures they'll remain firm before the sauce covers them. Note that mushrooms and eggplant are fantastic meat alternatives if you want to make a vegetarian francesinha sandwich.
When preparing the bread for the sandwich, you might be tempted to toast your bread slices with cheese on top of them to kill two birds with one stone. But this will cause the bread to become soggy when you pour the sauce over the sandwich so it's best avoided.
Related Questions
What should you drink with a francesinha sandwich?
A good beverage idea when indulging in the francesinha is to opt for a light, cold, and refreshing drink. This will give you relief from its spicy ingredients, so consider a drink such as soda, beer, or sangria.
How many calories are in a francesinha sandwich?
Brace yourself – a francesinha sandwich can easily contain many calories. One that's packed with lots of ingredients can be up to 1,300 calories or more! Of course, you can reduce its calories by being more mindful of what ingredients you use.
Conclusion
The francesinha is one of the biggest, most decadent sandwiches you can eat.
This beloved Portuguese meal that takes inspiration from the French croque monsieur contains a variety of ingredients that you might not previously have thought worked well together in a sandwich, such as beer, eggs, and pork. But, the result is a satisfying and delicious meal.
While it's high in calories and fat, with some calling it a heart attack on a plate, it's a Portuguese treat that you have to put on your food bucket list.
Sources: