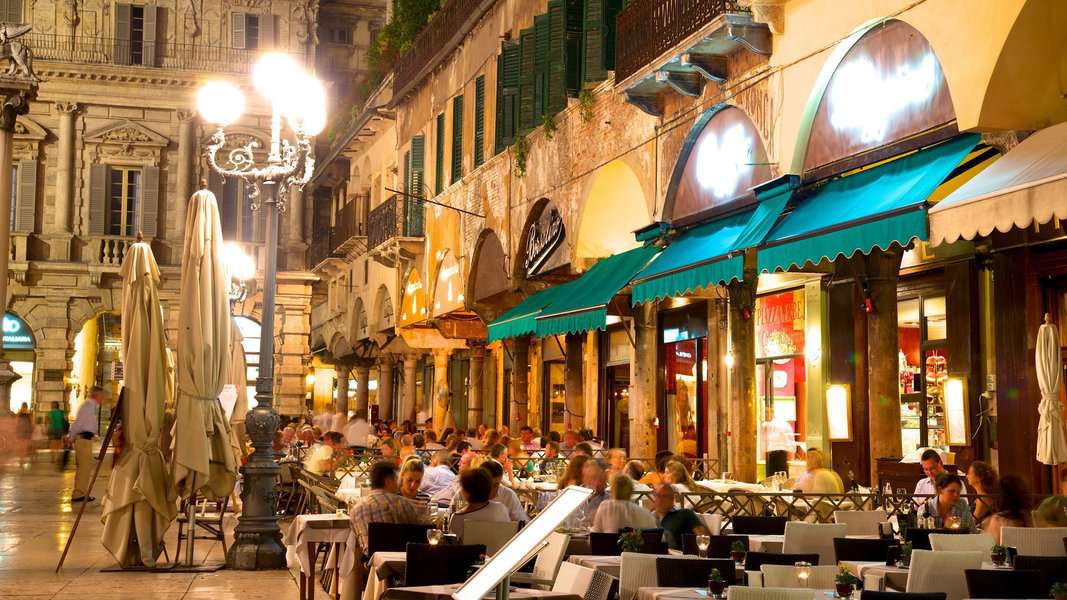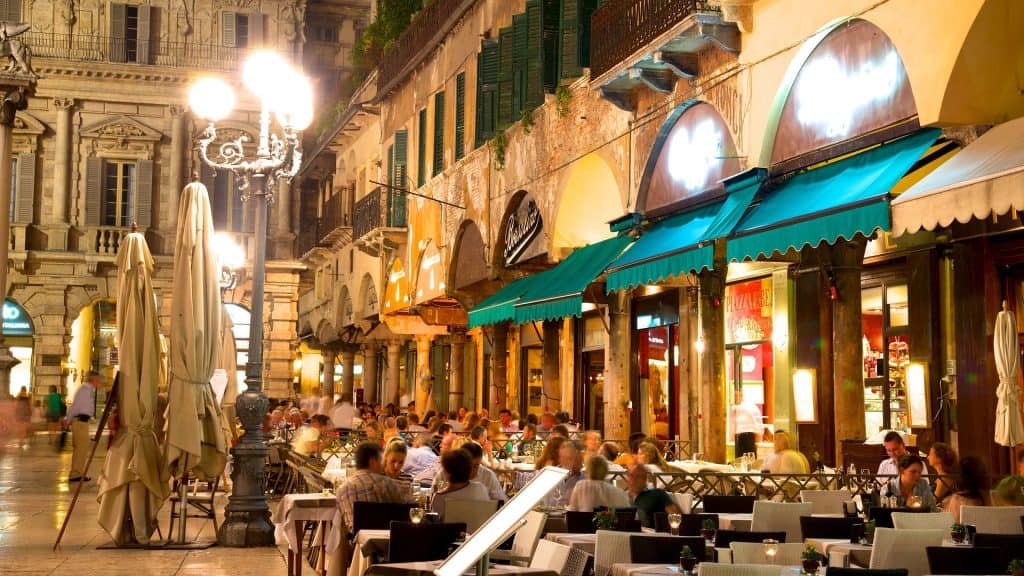 12 Must-Visit Restaurants In Verona, Italy
Verona is a historical Italian city that's revered for its art.
It's famous for its connection to Shakespeare's Romeo and Juliet, which was set in the city – and there's even the famous Juliet's balcony on display that's a must-visit on your travel itinerary. But this city is also well-known for its many delicious dishes.
What food can you expect in Verona?
You can find a variety of local wine and traditional meals, which make this city a unique destination. Foods such as polenta, risotto, gnocchi, and donkey meat are some highlights that you'll find on restaurant menus.
Where should you eat when visiting Verona? Don't worry – there are plenty of places that will whet your appetite, some of which boast Michelin stars.
Top 12 Best Restaurants In Verona, Italy
Osteria da Ugo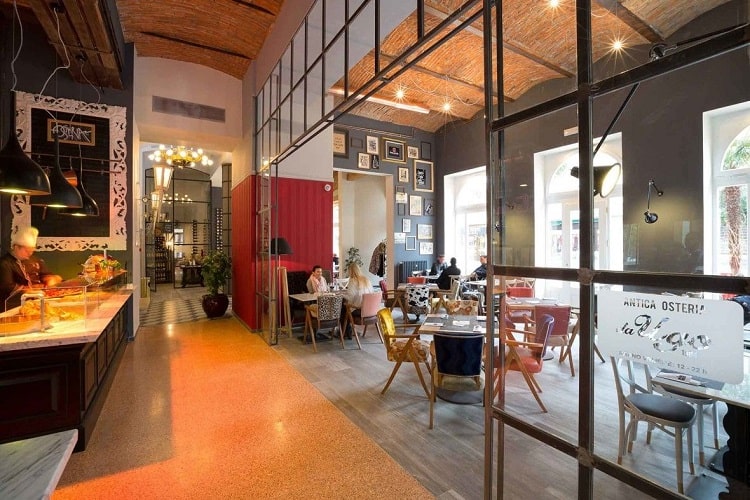 This hidden treasure in Verona is concealed in a backstreet, but it's a popular and well-known haunt for the whole family. Here, you'll get to sample all the specialties of Verona, such as maccheroncini pasta (that's shaped like tubes), prosciutto, and desserts like fruit tarts.
The restaurant boasts Mediterranean and Italian cuisines, and it also caters to various lifestyles as there are vegan, vegetarian, and gluten-free foods on offer.
Osteria da Ugo is not just a great lunch or dinner spot after a day of travelling around Verona. It also offers a slice of history to enjoy. It's located a few steps away from the famous House of Juliet (Casa di Giulietta), which attracts many visitors.
Through a blend of reality and legend the alleged House of Juliet was identified in the city.
Casa Perbellini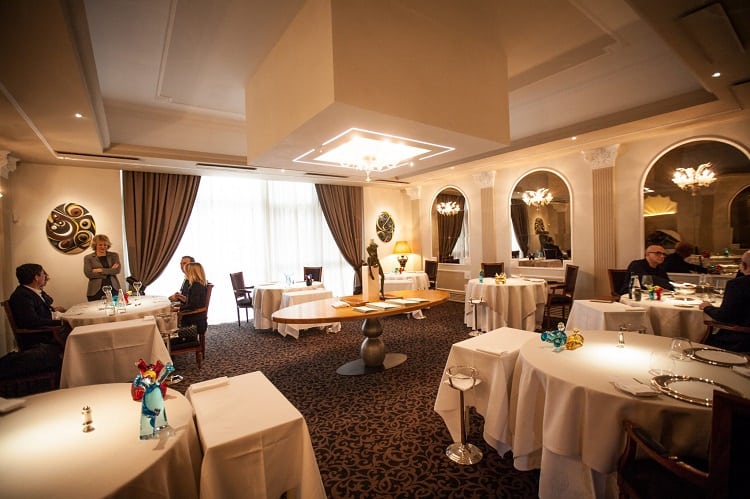 Casa Perbellini follows the philosophy of creating an intimate, homely atmosphere. This is achieved by how a small number of tables are positioned in close proximity to the chef, Giancarlo Perbellini, so you can watch your dinner being prepared.
This is the restaurant to try if you want to customize your meal. You'll be able to use the "Choose Your Pleasure" menu option that enables you to pick the main ingredients you want in your food so that the chef uses them.
You'll also be able to enjoy creative recipes, such as sea bass tartare, or more traditional meals, such as mille-feuille pastry.
The restaurant is located in the historic San Zeno square, which is situated next door to the Arena di Verona. This is an ancient Roman theater where the internationally-renowned opera festival is held every year.
Osteria al Duca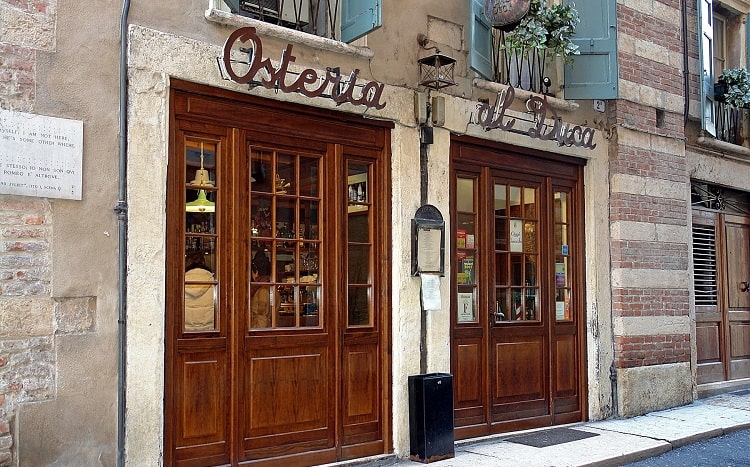 Since Verona is so well-known for its connection to Shakespeare's Romeo and Juliet, you're likely to find many restaurants that bring this story to life and allow you to explore it. One of the best ones is Osteria al Duca.
It is located in what used to be stables in the house where the fictional Romeo was said to have lived, which is pretty cool for Shakespeare fans! The food on offer is healthy and wholesome, which is sure to make you feel like you're at home.
The menu includes delicious meals such as bigoli (large pasta with donkey ragu) and pastissada (a horse-meat stew served with polenta).
Romeo and Juliet aside, Osteria al Duca offers other historical gems that are a stone's throw away. It's a few steps away from the Arche Scaliger Tombs, which are Gothic monuments that were built to honor the Scaliger family, a noble and rich family that ruled the city from the XIIIth to the end of the XIVth century.
Hostaria La Vecchia Fontanina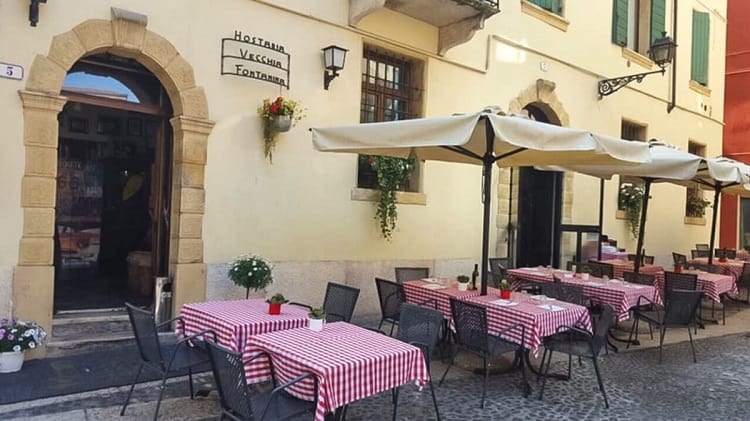 If you want to enjoy dishes that are beloved in Verona, but you want to enjoy some unusual foods too, you'll love Hostaria La Vecchia Fontanina. The restaurant menu contains interesting choices, such as spaghetti with smoked ricotta and nettles, and horse steak with truffles.
When it comes to desserts, the restaurant boasts all homemade desserts to end your meal properly – make sure you try the delicious semifreddo, an Italian delicacy that has a frozen mousse texture.
The restaurant is also a quick walk away from the Piazza delle Erbe, which is the magnificent square in the city that used to be the town's forum during the Roman Empire. The square is surrounded by monuments and buildings that have marked the city's history.
It is a lively square filled with pubs, restaurants, and bars.
Tosca Cafe Bistrot
If you've been sightseeing all day and want to relax by eating delicious food in a relaxing setting, Tosca Cafe Bistrot is a good choice. Take a seat at an outdoor table and enjoy wine, coffee, and regional pasta dishes.
You'll find a variety of delicious foods to enjoy here, such as toasted rice in an Amarone sauce and Monte Veronese cheese, and chicken curry if you're missing some of your favorite foods from home.
The restaurant is another one that's within walking distance of the Casa di Giulietta, as you'll be able to enjoy it after a four-minute walk. It's also closely located to the Ponte Nuovo, which can be translated as New Bridge, along the Adige river. Here, you'll get beautiful views of the city.
La Taverna di Via Stella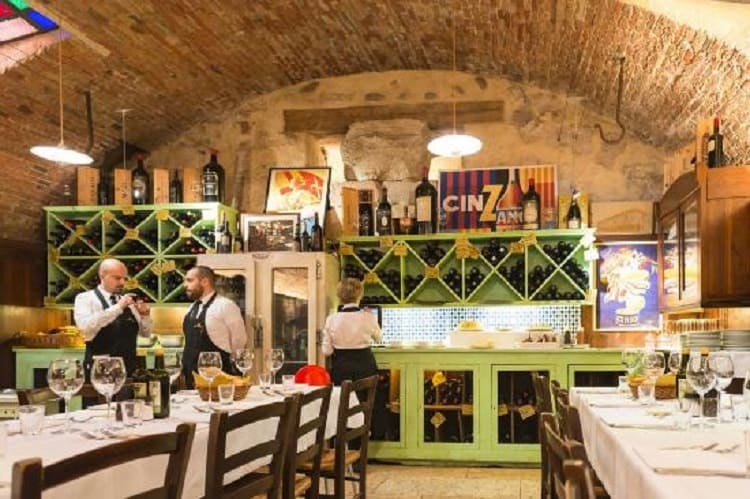 If you want a traditional yet homely place to dine out, you'll love this restaurant as it pays homage to the tradition of wine cellars in the city. The ambiance is warm and relaxed, and you'll love the simple dishes that are delicious, such as the handmade pasta and risotto.
You can sample tasty cheeses from Lessinia, a mountainous region north of Verona, and wine from an extensive list, such as the historic Valpolicella wine. Valpolicella is the most famous wine district located in north-eastern Italy's Veneto wine region. There are also wines of international origin on offer.
La Taverna di Via Stella is located right in the historic center of the city (Città Antica) where you'll be able to view the Roman-styled cathedral while enjoying feasting on Italian classics.
Pescheria i Masenini
Creative and traditional cuisine can be enjoyed at this restaurant, with the main focus being on seafood dishes. It's located right in the Piazzetta Pescheria, which used to be a fish market close to the beautiful Adige river.
This is the fish version of the meat restaurant established by chef Elia Rizzo who's got two Michelin stars to his name. He teamed up with two partners to make Pescheria i Masenini a big success.
This is the restaurant to dine at in Verona if you want to try creative fish dishes, such as tuna tartare with anchovy sauce; and sea bass carpaccio with pink pepper, pine nuts, and green apples.
Don't worry, you'll still get to enjoy delicious desserts to end off your meal, such as crunchy almond parfait and honey cannolo with grapefruit mousse.
San Basilio alla Pergola
This Michelin-starred restaurant in Verona offers carefully prepared meals that are both local and modern.
It comes highly recommended as it provides a memorable experience of Verona's popular cuisine. Enjoy gnocchi, semifreddo, and delicious house wine while you eat dinner under the grapevine in the garden. The apple tart with red wine caramel is a highlight on the menu that's definitely worth trying.
San Basilio alla Pergola is found right outside the walls of Verona's historic center, which is a UNESCO heritage site. It's also a short distance away from Porto Vescovo. This is the gate of the previous medieval walls of the city that was designed in 1520.
The exterior of its central arch is decorated with luxurious marble that is meant to resemble an ancient Roman triumphal arch.
Corte Farina
If you want to enjoy the taste of authentic Italian pizza, you'll want to head over to Corte Farina. There are tons of different types of pizzas on offer to make your mouth water, including traditional ones and light pizzas that are made with organic dough and offer a healthier, low-calorie option. 
Sit outside on the beautiful terrace and indulge in the delicious food. Afterwards, head over to see Porta Borsari, which is a majestic door of the Roman walls of Verona that used to be the main entrance to the city in the Imperial Era.
It dates back to the 1st century AD so it's sure to end your dinner with a slice of history to make your time in Verona even more memorable.
Osteria Verona Antica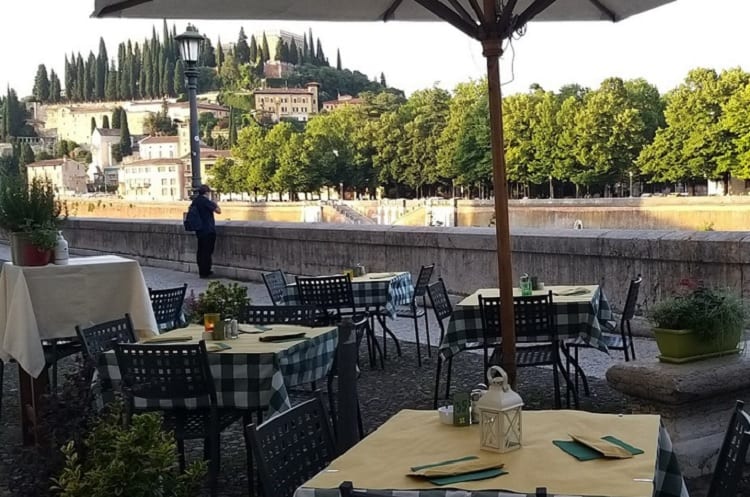 The theme of this restaurant is in its name: antica (antique). Here you can enjoy a variety of traditional dishes. These include pesto with smoked ricotta, bigoli that are handmade spaghetti with donkey minced meat, and carbonara polenta.
This polenta dish is an ancient, traditional meal in Verona. It features yellow, soft polenta with alpine cheese, black truffle from Lessinia, and wood mushrooms.
Another traditional meal to try is the Sbroeton de Verona, a hot soup with potatoes and onions.
This tavern is located in Via Sottoriva, which is one of the most beautiful and charming streets of the old town. It's a short distance away from the ancient Roman forum, Piazza delle Erbe.
12 Apostoli
This restaurant, named 12 Apostles, is a family-run business that's been around since 1921. It's a Michelin-starred restaurant that's famous for being the meeting place of musicians, writers, painters, actors, and philosophers.
Inside the restaurant, enjoy the beautiful and immersive visionary paintings while enjoying food at the round tables. The restaurant is a stone's throw away from Piazza delle Erbe. What's really unique and charming about this restaurant is that it's hidden in the alleys so you'll have to get there by foot or taxi as it's in a limited traffic zone!
The menu has a variety of interesting highlights, such as lemon cake, pigeon-stuffed chicken, and risotto with wild garlic. There is a focus on heartily-made homemade pasta and soups.
After dinner, make your time there even more extraordinary by exploring the restaurant's underground wine cellar.
Trattoria Al Pompiere
This is a sophisticated yet warm restaurant with an interesting history behind its name.
It was first built by a retired firefighter who never named it, therefore it became known by its patrons as "Al Pompiere," with "pompiere" meaning fireman, as an honor to its creator. In 2000, the restaurant was renovated by the new management.
Located in the heart of the old city, within close proximity to the House of Juliet, eating at this restaurant is a real treat. You'll get to sample 35 types of cured meats and approximately one hundred types of cheese.
The menu contains highlights such as Risotto all'Amarone and the world's best tiramisu. The rissoto is special because it contains Amarone della Valpolicella, a famous red wine from Verona.
Related Questions
How many Michelin-starred restaurants are in Italy?
Italy has 371 Michelin restaurants, and it's the third country with the most Michelin-starred restaurants in the world, coming in behind France and Japan.
What, exactly, is polenta?
Polenta is an ancient food that originates in Northern Italy, and it's usually made with coarse corn flour that's cooked in water.
Conclusion
If you're going to be travelling to Verona, you won't find it difficult to enjoy many scrumptious meals.
There are a variety of restaurants focused on providing tasty, local, and traditional dishes. Best of all, they're all located within close proximity to jewels of the city, so you can immerse yourself in the delicious cuisine and interesting history.
Sources: