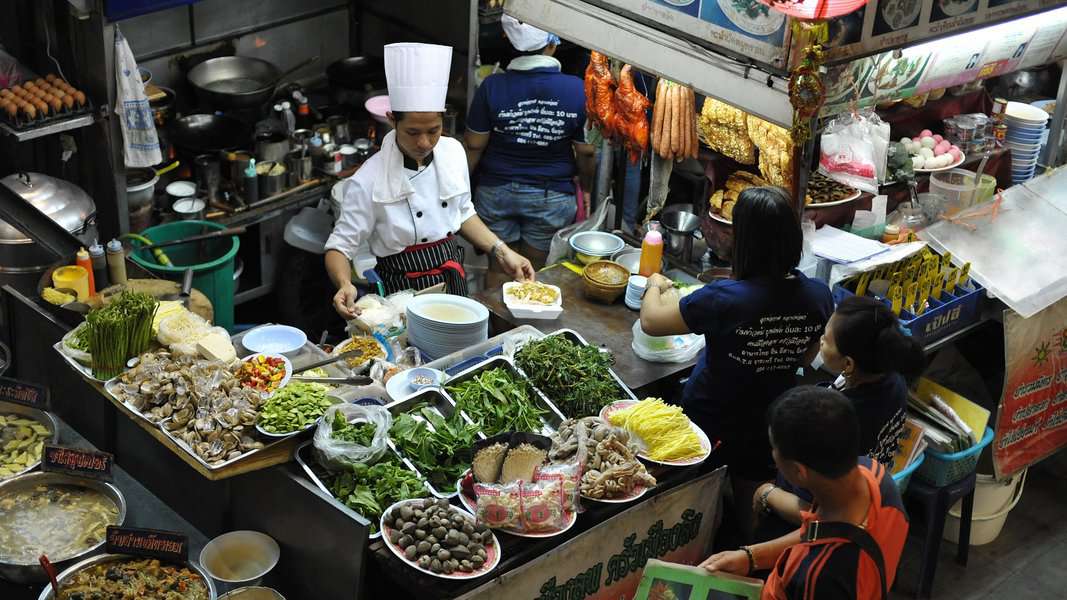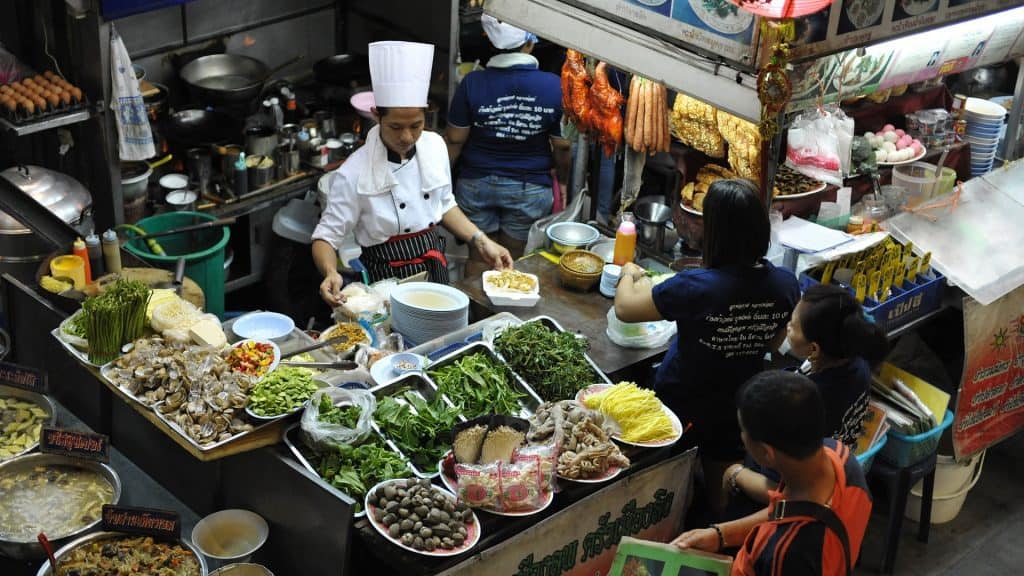 Everything You Need To Know About Thai Street Food
Sometimes there's no better way to experience the local cuisine in a new country or city than by checking out its street food.
If you're in Thailand, you'll want to explore its street food. It is a delicious mix of snacks, beverages, fruits and ready-to-eat meals that are sold at food stalls or on food carts.
Why is street food popular in Thailand?
There are many reasons why street food is so common in Thailand, such as that people prefer socializing and eating with loved ones in the street instead of eating in their own homes.
Let's explore Thai street food and what it's all about. We'll look at how street food is part of the country's culture and then discover some of the most delicious types of street food to try when travelling to Thailand.
Street Food In Thailand: Is It A Big Part Of The Culture?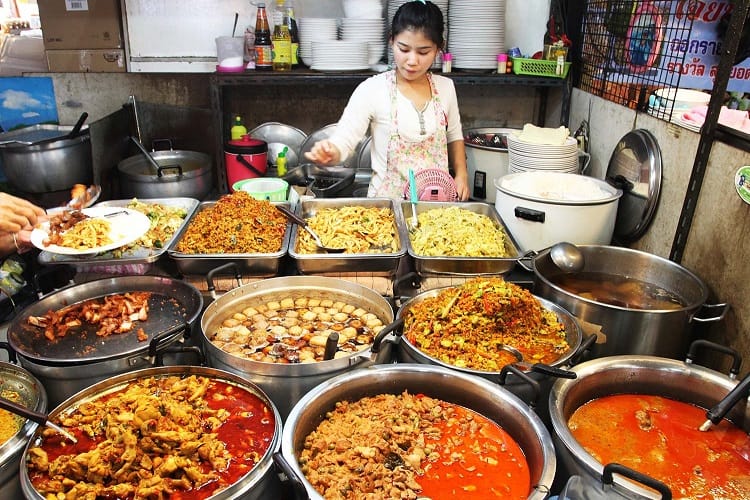 It's been said that people in Thailand like to eat small meals regularly throughout the day, and this is why street food culture is so popular. Vendors tend to sell small food portions that can be eaten on the go.
Thailand has used street food as an important part of its cuisine and culture for a long time, and a reason for this is because of how the country contains many navigational canals and rivers which have resulted in floating food markets.
While these floating markets aren't as much of a part of the life of the locals as they once used to, they're still popular with tourists.
Interestingly, these floating markets have been replaced with road-side food stalls that are commonplace in all parts of the country.
Why Is Thai Street Food So Popular?
Not just popular with the locals, Thai street food is a big hit with tourists visiting from around the world.
What makes it so popular according to some sources is that most street food vendors are specialists in the snacks and dishes that they provide, and therefore the food that you get on the street is sure to be more fragrant and delicious than what you'll get in a restaurant.
8 Must-Try Street Foods In Thailand
There are a variety of different foods and snacks to sample and enjoy when travelling around Thailand. Here's a rundown of some of the best ones.
Pad Thai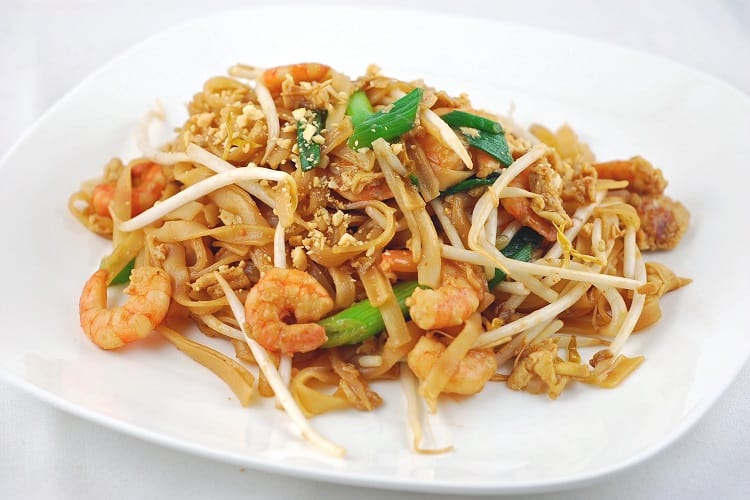 You can't visit Thailand without tasting Pad Thai, which is one of its most famous dishes. It's a stir-fry that contains sweet and savoury ingredients, such as bean sprouts, fried egg, lime, peanuts, and tamarind. These ingredients are tossed with noodles to further make the dish satisfying.
You can also add extras to your Pad Thai, such as tofu or shrimp.
You'll sometimes find that this dish is served wrapped in banana leaves. Some people have said Pad Thai is the "burger of Thailand" because it's cheap, available everywhere, and delicious.
Som Tam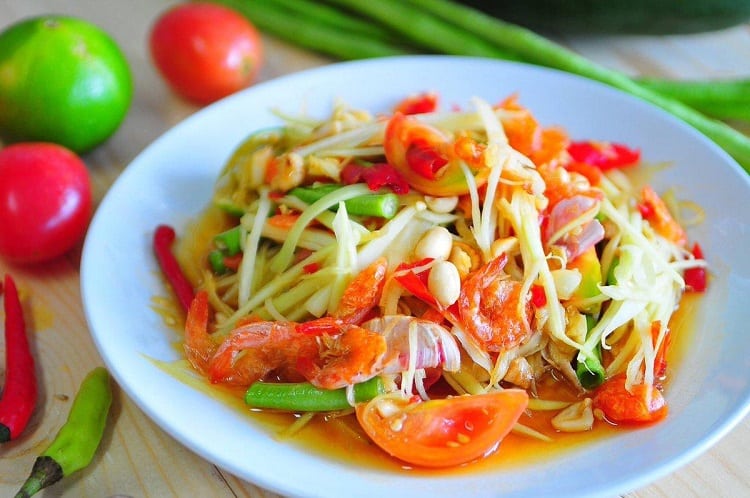 Som Tam is a fresh salad that you'll find in many street food carts across the country even though it's linked to the north-east region of Isan.
It's both light and fresh, so it's perfect to buy on hot days. It contains shredded green papaya, tomatoes, carrots, garlic, peanuts, chilies, and lime juice. The ingredients are blended with a pestle and mortar to release their flavors.
If you're not a fan of very spicy food, you should ask the vendor for "mai pet" which means not spicy.
Massaman Curry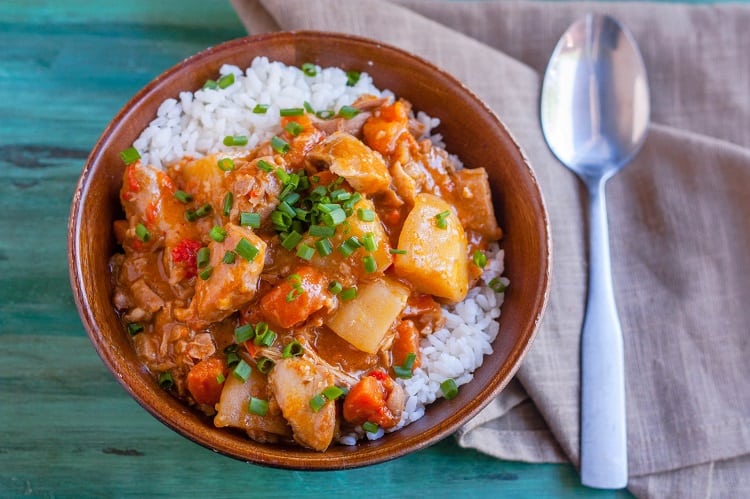 Thailand is famous for its curries and you don't have to restrict yourself to ordering curry from a restaurant. You can enjoy it on the street when exploring the country.
Massaman curry contains coconut milk, a protein like beef or chicken, potatoes, bay leaves, roasted peanuts, and cinnamon. It's full of flavor! It's usually served by street vendors in a large pot.
Massaman curry has Muslim roots, so it usually contains beef but it can be made with chicken, duck, or tofu – pork is often excluded. This curry is especially common in the south of the country where there exists a large Muslim population.
Satay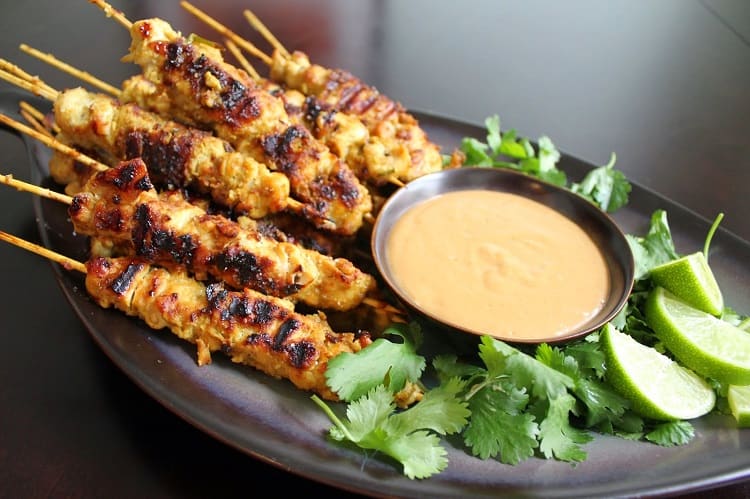 You might see Thai locals looking for quick and easy food to eat on the go, and this is where satay comes in.
Satay is skewers of meat that are often served with peanut sauce so you get a good blend of spicy and sweet flavors. The meat is marinated and grilled over hot coals on a narrow metal grill.
You can choose from a variety of meat options, such as fish, chicken, pork, and beef. Tofu is also available if you're a vegetarian. A popular satay is Moo Ping, which contains grilled pork.
Note that many street vendors will serve you a set of 10 skewers, which makes it an ideal snack if you're travelling in a group.
Kai Jeow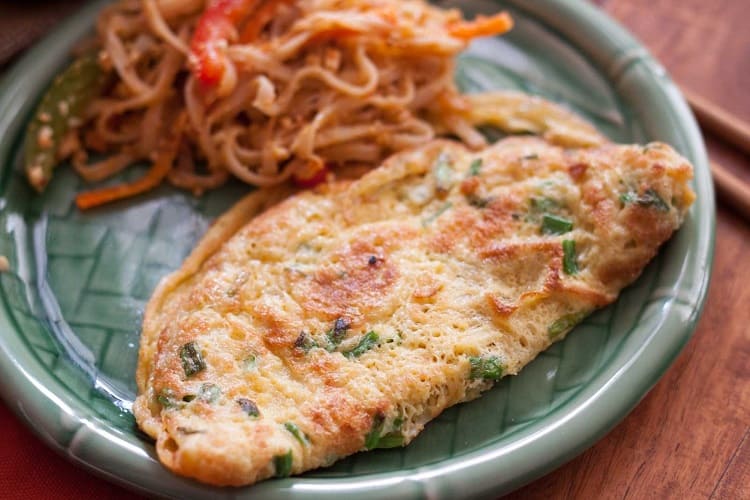 If you want to enjoy a quick omelette for breakfast or brunch, you'll have to try Kai Jeow. It's fluffy and crispy, so it's a delicious treat.
What makes it especially tasty is that it gets cooked with chilies, chilli sauce, and fish sauce. It's then poured over rice.
This delicious omelette takes less than 10 minutes to make and you can make it even more satisfying by enjoying it with rice or vegetables.
Gai Tod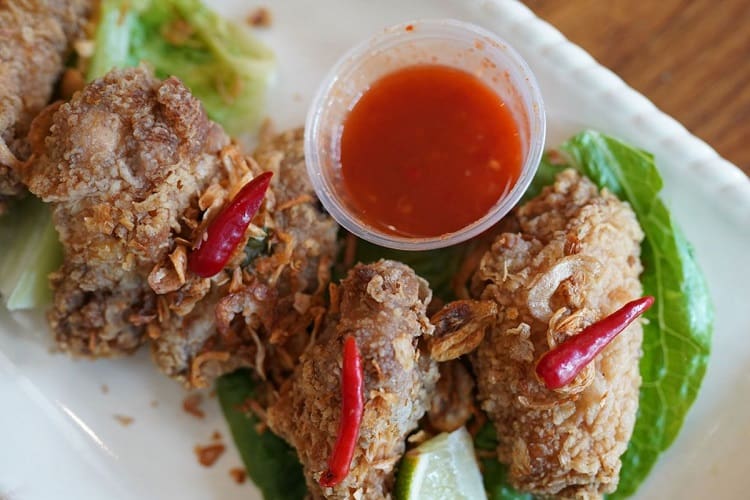 When you see Gai Tod you'll think it's fried chicken that you can get back home, but don't be fooled by its appearance – it's fried chicken that's bolstered with delicious flavors.
The fried chicken gets dipped in a blend of oil and shallots so it's light, non-greasy, and very tasty. To make it even more of a taste sensation, you can dip it in chilli sauce.
Roti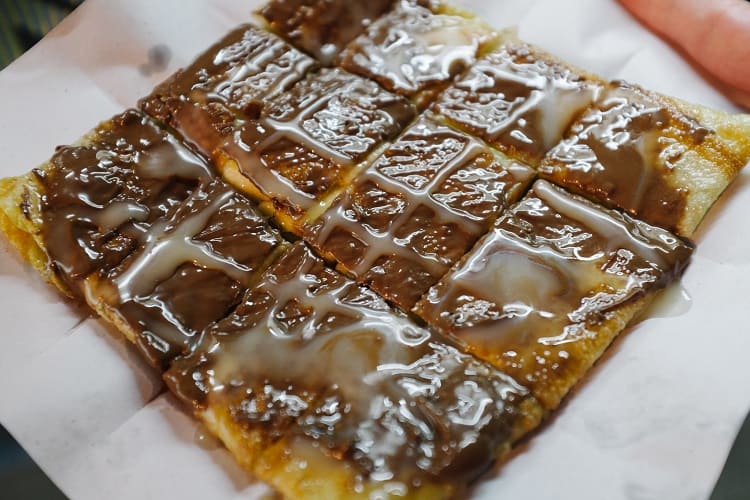 When you hear "roti," chances are you think about Indian food. But Thai roti appears regularly in street food stalls and it's popular because it's served with sweet ingredients.
The roti becomes like a pancake that's filled with chocolate sauce, bananas, and condensed milk.
You'll love watching how the vendors make it. They start by stretching the dough so it's thin and then frying it on a hot plate. They then fold it around the fillings and chop it up so it's in convenient bite-sized servings you can eat on the go.
Khao Neeo Mamuang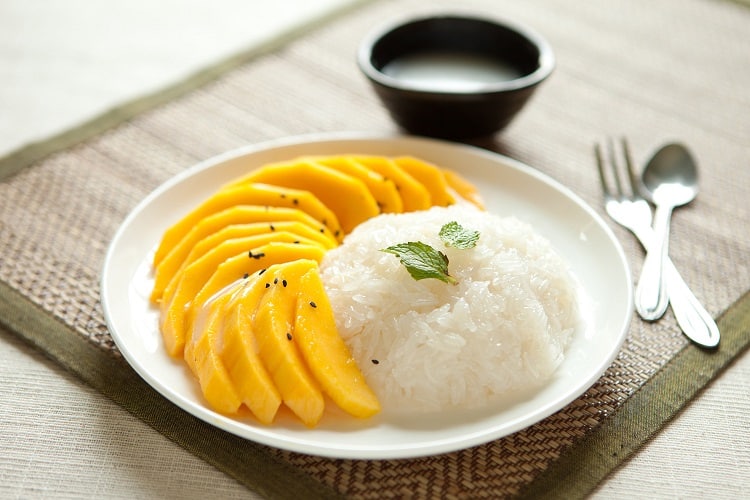 This is mango sticky rice that's actually served by local street food vendors as a Thai dessert. It contains fresh coconut milk, fresh and ripe mangoes, and glutinous rice.
The rice is steamed, drenched in coconut milk, and then served with fresh mango. It's a tasty and refreshing snack to try, especially if you're visiting Thailand during April and May as this is the country's peak mango season. Be sure to look for it!
This sticky rice pudding is widely available as it's a popular dessert to end off a Thai meal.
Is Street Food Safe To Eat?
It's normal to worry about the street food that's on offer in any country you're visiting. As long as the correct hygiene standards are met, there's no reason why street food should be unhealthy or dangerous to consume.
To ensure you stay safe, you should pay attention to some important things when visiting food stalls. Here are some to bear in mind.
Look For Signs Of Cleanliness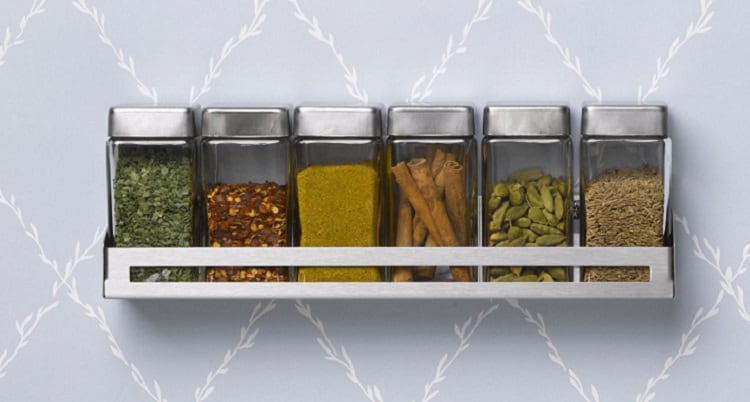 Look around the stall to find any signs of cleanliness or a lack thereof. Check the workstation, the crockery, and utensils.
The workstation should be tidy and organized, as well as hygienic – it shouldn't show any signs of dirt or raw food that's next to cooked food, which can be a health hazard. There shouldn't be any food waste or spills on the workstation, either.
If there are many pests around the workstation, this is a sign of unpleasant odors and a lack of hygiene.
Check the vendors too! They should look like they follow personal hygiene rules. This is important because they will be handling your food.
Watch The Vendor Prepare Your Food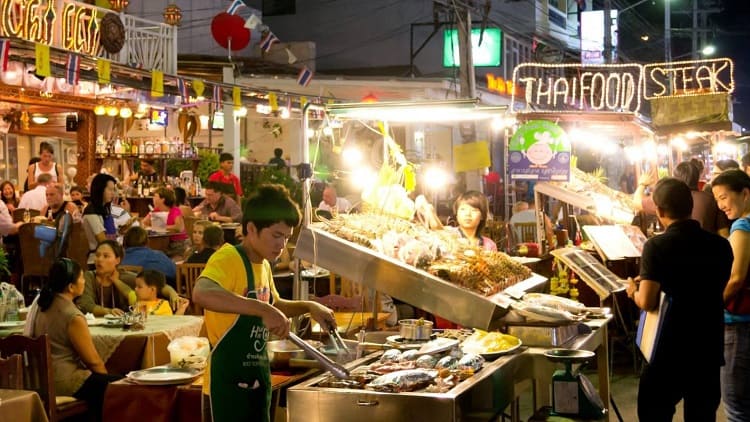 Watching your street food get prepared puts you in the valuable position of being able to see that your vendor cooks your food properly – this is especially important with meat- or fish-based dishes. But even if you're ordering fruits or vegetables, you should keep a close eye on how well the produce gets washed.
Another important sign that should make you feel safer to consume the food is that the vendor prepares your food from scratch instead of serving it up from a pot. This guarantees that the food hasn't been lingering around for too long at unsafe temperatures which can harbor bacteria.
It also gives you the chance to see how the vendor handles the food, something you won't have any clue about if you're getting food that's been prepared already.
Be Careful About Meat Dishes
If you're buying meat-based dishes, these can be riskier because of the bacteria risks, such as salmonella.
A smart tip is to order meat dishes that contain smaller cuts of meat, fish, or pork. This is because it's more likely that these smaller pieces have been properly and thoroughly cooked.
Again, make sure you can watch the meal being prepared and cooked in front of you so you know that the meat is fresh.
Be Careful With Bagged Produce
If you're buying a bag of delicious food for your upcoming hiking trip, you should always ensure that the fruit has been chopped and peeled in front of you. This ensures that the fruit is fresh and the knife which was used was clean.
An extra tip to keep you safe is to wash the produce with some bottled water before consuming it.
Make Sure Drinks Are Safe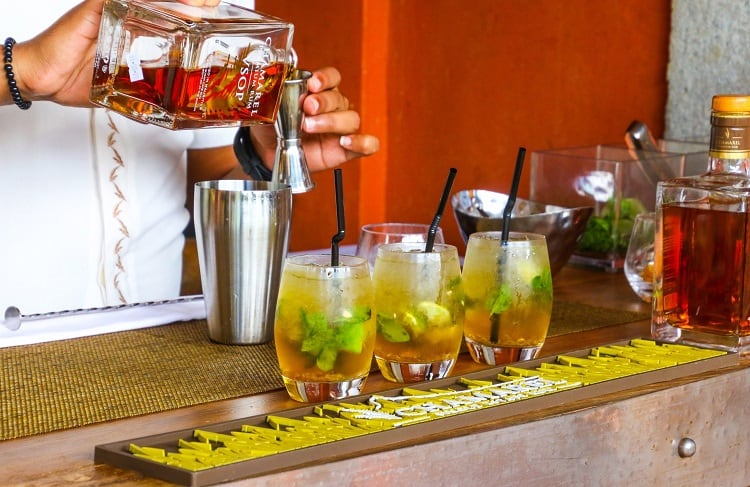 While much attention is paid to ensuring that street food and snacks are safe and hygienic, you should also keep an eye open for how your beverages are prepared and made.
Sometimes vendors will use sweeteners or syrups in beverages such as smoothies to mask the taste of fruit that's gone off, so your best bet is to avoid these types of beverages altogether.
Check the equipment used to make delicious beverages, such as blenders. Do they look clean? Are they cleaned between servings?
Check How Busy It Is
If the food stall is very busy and you've seen it that way for days, that's a good indication that the food prepared there is healthy and delicious and people keep coming back to it.
If it gets the stamp of approval from locals, that's an even better sign that it's worth trying.
Related Questions
How many street food stalls are there in Bangkok?
Bangkok, the capital of Thailand, has approximately 500,000 street vendors.
What is gaeng phet?
Gaeng is a Thai word that refers to curry and soup because it means liquid. Phet means hot.
Therefore, gaeng phet can be a hot curry or soup.
What's a typical Thai meal?
A Thai meal usually consists of salty, sour, sweet, bitter, and spicy flavors.
It's common for meals to contain a fish or meat ingredient, noodles, and vegetables.
Conclusion
If you're travelling to Thailand, make sure you explore the street food that's on offer.
Filled with delicious savory and sweet snacks, this is a must to give you a greater understanding of Thai cuisine and the country's heritage.
Sources: